**After giving my four guest writers a chance to shed light on their feelings on the tournament, I figured I better round this up myself and get the job done right. Okay just joking (sorta.) All of the writers did a great job, and their time is appreciated here at Ed The Sports Fan. I promise you'll be seeing these four again soon. Remember to leave comments at the end of all posts, or feel free to e-mail me at
eddiemaisonet@gmail.com
- back to our regularly scheduled programming**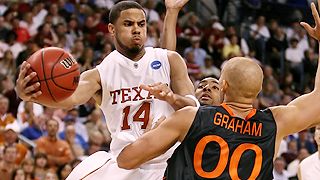 Does an Oklahoma boy really think Texas can go all the way to the final?
Ok, it's Ed's turn.

After watching the first four days of the tournament, I've come to realize a couple of things. First off, UCLA has paid off all of the referees in their last month of basketball. From the phantom foul call against Stanford, the Josh Shipp "over the backboard" shot against Wazzu, and the clear foul on Donald Sloan and the Texas A&M Aggies, they have put me in a coronary.

Second, my two teams to get to the championship game (Tennessee & Texas) must not like me for picking them, as they both nearly lost to Miami & Butler. I would assume that they were too good to struggle against such teams, but maybe in my future "Picking the NCAA Bracket" rules, I should never pick teams that have odd shades of orange as their main colors.

Finally, where are the superstar college freshmen at? Okay, Kevin Love and UCLA should've been home a long time ago, and after watching Derrick Rose and Memphis, he's not the leader of that team. That distinction would go to Chris Douglas-Roberts. Point is, UCLA & Memphis are the only teams with a freshman phenom player with a complete squad around him (UCLA - Collison, Mbah a Moute, Shipp, Westbrook, etc. & Memphis - CDR, Dorsey, Anderson, Dozier, etc.), and thus not putting a large responsibility on them. Okay, I'm off the soapbox...onto my picks for week two.

EAST REGIONAL (CHARLOTTE, NC)


Tennessee better step their game up, fast...
No. 1 NORTH CAROLINA vs. No. 4 WASHINGTON STATE, Thurs., 7:27 ET

UNC vs. Wazzu...Hmmmm, this seems like a piece of cake on paper, kinda like Patriots vs. Giants. Well, what was the game plan for stopping the Patriots all year? Slow down the game, and score when you have the ball. Well, UNC sure looks like the Patriots. They've scored over 100 points in two games thus far in the tournament, and they're doing it with ease. Wazzu, on the other hand, has given up 81 points combined in two games (40.5 ppg.) Is there any Eli-to-Tyree in Wazzu? Well, Derek Low and Kyle Weaver work wonders for the slow-paced Cougars and are rounding back into their early season form, and they'll connect one more time late in the game. However, UNC has Tom Brady and Randy Moss; errr...I mean Tyler Hansborough and Ty Lawson for the hail mary touchdown. Final Score: UNC 20, Wazzu 17.

No. 3 LOUISVILLE vs. No. 2 TENNESSEE, Thursday 9:57 ET

Tennessee's been playing like crap, and Louisville's looked great. With the news that Chris Lofton is hurt, it would seem like it would make a difference, but he's been a non-factor in the last month. This game is going to rely more on the Volunteers energy on defense and slashing to the basket. Louisville has come on strong since their team has recovered from their injuries, and they can go all the way. However, here are my concerns: who's their go-to guy when they need a basket? On top of that, their defense has struggled against athletic front lines, something that Tennessee definitely has. My bracket depends on this...Final Score: Tennessee 70, Louisville 66.


MIDWEST REGIONAL (Detroit, MI)


Villanova plays swarming defense, but can they slow down Kansas?
No. 3 WISCONSIN vs. No. 10 DAVIDSON, Friday, 7:10 ET

Wisconsin is in my "team with a couple of awkward-looking white boys and players who slip through the cracks" pantheon (Wisconsin, Stanford, Wazzu, etc), and in times past, I've done well in picking against these teams. However, this theory has blown up in my face. Now they're paired against the George Mason of 2008 in Davidson. By the time this games airs on Friday, you'll probably be tired of hearing about the Darlings of Davidson and Stephon Curry and Jason Richards, and so will Wisconsin. Bo Ryan will have the Badgers ready as Curry goes for 35 in defeat. Final Score: Wisconsin 67, Davidson 60.

No. 1 KANSAS vs. No. 12 VILLANOVA, Friday, 9:40 ET

Kansas, Kansas, Kansas. Okay, I'm already not a fan of Kansas, because they robbed Stacey King (Lawton, OK, stand up) and the '88 Oklahoma Sooners in the National Championship (now throwing darts at Danny Manning's picture.) They've always been an arch-nemesis of Oklahoma in Big 12 play, and they have found plenty of ways to mess up my brackets in the last five years. Now here comes Villanova. They are riding the wave of Ed Pinckney and the '86 Wildcats. Nova hung tough in a loaded Big East and were robbed of 2-3 wins. I think I hear an upset special coming...Final Score: Villanova 84, Kansas 78


SOUTH REGIONAL (Houston)


Joey Dorsey and the Tigers have a lot of haters, better start shaking them off...
No. 3 STANFORD vs. No. 2 TEXAS, Friday, 7:27 ET

The Twin Towers 3.0 (Lopez Bros.) vs. Double-A (Augustin & Abrams.) This is simple: Texas' bigs matchup better versus the Lopez brothers than does the Stanford backcourt (Marquette gave their guards a ton of problems.) As long as Coach Rick Barnes stays on the game plan...wait, when does Barnes stay on the game plan? Oh, crap. This will go to the wire. Final Score: Texas 89, Stanford 86

No. 1 MEMPHIS vs. No. 5 MICHIGAN STATE, Friday, 9:57 ET

Why is everyone in America picking against Memphis? For God's sake, they have lost ONE GAME all season (by three to then number two Tennessee). Well, they haven't played anybody. Hello? They're 7-1 against non-conference teams in the tournament, including wins over Georgetown and UConn. 7-1! Compared to UNC, who has played THREE teams non-conference in the tournament (BYU, Davidson, Kentucky.) Its not their fault that the conference is down. They lost one game by three to a then number two team in the nation. Yeah, they're streaky and they can't shoot foul shots, but Michigan State has Drew Neitzel and who else? Don't worry, I'll wait...Final Score: Memphis 90, Michigan State 79.


WEST REGIONAL (Phoenix)


I do live in Cincinnati, and they have my frat brother on the squad. So...
No. 7 WEST VIRGINIA vs. No. 3 XAVIER, Thursday, 7:10 ET

West Virginia looks really good, and they got two signature wins over top-flight programs who were not at their peak (Arizona & Duke), and Xavier has just plodded along, getting their wins as they come. Would you feel comfortable picking one team over the other? I don't. This might be the game of the week, because they are the most evenly matched. Look forward to watching Josh Duncan vs. Joe Alexander (by the way, did you see Joe talking noise at Duke after rejecting their shots? "Get that $&*! outta here" got me very excited.) Final Score: WVU 67, Xavier 63.

No. 1 UCLA vs. No. 12 WESTERN KENTUCKY, Thursday, 9:40 ET

I hate UCLA, and Western Kentucky has nothing to lose. This choice is clearly out of spite. Final Score: WKU 77, UCLA 76 (as the refs plot out a way to give the game to UCLA.)
20-year anniversary of the National runner-up Oklahoma Sooners, featuring my man Stacey King, Mookie Blaylock, and Harvey (not Horace) Grant. Man, I didn't realize that Oklahoma had three players go to the NBA on this team. WE SHOULDN'T HAVE LOST!!!