**Today is Part Three of our Guest Writers Series.

Deon Hampton - aka $tunning Rome. A Langston (OK) University alum, Mr. Hampton is an award-winning writer who has been published in Denver & Tulsa newspapers. A big Denver Nuggets and Syracuse Orange fan, he's never one to turn down a debate. Check him out at his myspace page @
www.myspace.com/195567358

Jamuel Wallace - aka J-Roc, also a Langston University alum, Mr. Wallace currently works in communications in Tulsa, OK. The former statistician at LU, "J-Roc" has been known to engage in his fair share of arguments, and today he breaks down the last week of college basketball here on the Ed The Sports Fan. Check him out at his myspace page @
www.myspace.com/mrwallace99

Back to scheduled programming**

Stunning Rome likes Chalmers. Rush? Not so much.
$tunnin Rome/Ricco Love is in the building. However, for the next three weeks, I simply want to be known as "Mr. Bracketologist."
Now that we have gotten that out the way: Now that the tournament is down to the Sweet 16, let's look at some of the awaiting matchups.
East Region: North Carolina should beat Washington State. If you really look close, Washington State started the season hot, but stumbled late. They have a nice perimeter game. However, their defense isn't that strong and playing against the Carolina athletes is going to be too much for those guys to handle. North Carolina wins by 14.
Tennessee against Kansas is going to be a good game. I'm going with Kansas by a slight margin... Does anyone notice how Brandon Rush is still attempting to be the man of the Jayhawks? He jacked up 17 shots in the first round! Everyone knows he wasn't supposed to be around this year, but his ACL injury forced his return to campus. The problem is when you attend a basketball factory such as KU, up-and-coming players such are Mario Chalmers, etc. aren't always willing to wait to be the man. Besides, McDonald's All-Americans hardly play past their sophomore year these days...
I know I got of track a little bit, but that's why I'm Mr. Bracketologist. Kansas wins by six.
Ok, Tennessee does have the overrated Lofton, who hasn't improved his game any since high school, and the three Smith guys, but it's not enough. Lofton will take 12 three-point shots and probably only make about three. He's still living off of the game-winning March Madness shot he hit in the tournament in 2006.
Wisconsin vs Davidson. Davidson is so last year. We heard the same stories about them in 2007, which explains why Duke, North Carolina, etc. scheduled to play them this season.
I like Stephen Curry, and while everyone is talking about how good he is (he basically maxes out as a Jannero Pargo in the NBA), everyone is talking about the shooting slumps he's getting out of, instead of why he has them in the first place. He won't be able to shoot poorly in the first-half against Wisconsin and make up for it later. He needs a strong start, solid middle, and finish the game strong if his team is to win. I can go on about this tournament for days, but I won't. Wisconsin win by seven.
====================================================================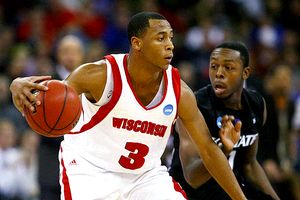 Someone is not a big fan of the Badgers...
J-ROC - March is my second favorite month of the year behind the month of June. Because of March Madness, I decided to write about what I seen so far, in terms of basketball with the NCAA Tournament.

EAST

In the East Region, also known as the North Carolina Invitational, North Carolina has ripped through Mt. Saint Mary and Arkansas.
Washington State was also impressive in the first two round taking out Winthrop and Notre Dame.
Louisville has come a long way from how they play in the first part of the season, beating down Boise State and Oklahoma.
Tennessee, in my opinion, is on borrowed time, as they defeated American and snuck by Butler today. They pretty much gave away the game, but they are still moving on to Charlotte.
Random Thoughts:
Eric Gordon should stay in school another year. AJ Graves from Butler is nice. Chris Lofton has been at Tennessee for bout seven years. Oklahoma's football team averages more points per game than Oklahoma's bsketball team.
My Final Four pick from the East: well, it's an easy choice. The Tar Heels will defeated Louisville to advance to San Antonio.

MIDWEST
In the Midwest region, the Kansas Jayhawks are on a roll since losing to Texas back in February. They buried Portland State and UNLV
Villanova, led by OU defect Scottie Reynolds, took care of overrated Clemson and Siena.
Wisconsin won their first two games on the strength of their backcourt, knocking down the three ball.
However, the biggest surprise of the tournament so far is Davidson. They took out America's Team, Gonzaga and a Final Four team from last year, Georgetown.
Random Thoughts:
I HATE WISCONSIN. OJ Mayo needs one more year of college to better his shot selection and decision-making. He reminds me of a young Steve Francis. Stephen Curry is a scorer, but he takes like 30 shots a game. Curtis Terry from UNLV looks like he could pass for ICE T's son. Roy Hibbert is the second-slowest college basketball player behind UNC-Ashville's Kenny George, but he will be a lottery pick this year, and the last thing: based on his resume, four high schools in four years, Michael Beasley, "The Real National Player of the Year," will be the number one pick in the NBA draft this year for the Heat, Grizzles, Sonics or some other sorry-ass team.
My Final Four pick: ROCK CHALK JAYHAWKS will beat Wisconsin to advance to San Antonio.

SOUTH
Memphis, led by super freshman Derrick Rose and CDR, took care of UT-Arlington and held off Mississippi State.
Michigan State's suffocating defense led them past Temple and Pittsburgh.
Stanford, led by the Lopez Twins, defeated Cornell and Marquette.
Texas, behind the backcourt of DJ Augustine and AJ Abrams, defeated Austin Peay and Miami.
Random Thoughts:
TEXAS is really good, even without Kevin Durant. Kentucky should have treated Tubby Smith better. ORAL Roberts will never get out the first round of the NCAA tournament again. Memphis is somewhat overrated. They built their record up by beating up on Central Florida, SMU, Tulane, and Rice. Also, Joey Dorsey is A GOON.
My Final Four pick: Memphis will bow out the Elite Eight for a third straight season; this time, at the hands of Texas.

WEST
UCLA is cruising into Phoenix, as they beat Mississippi Valley State and Texas A&M.
Western Kentucky are also on their way to the Sweet 16 again as they upset Drake in the infamous 5-12 game and held off San Diego.
Xavier, behind OU defect Drew Lavender, defeated Georgia and Purdue.
West Virginia bombed their way to Phoenix, kicking Arizona and Duke's ass.
Random Thoughts:
Duke is losing their mojo like the New York Yankees. They have not won a title since 2001. UCONN is pissing me off right now. UCLA would be scary right now if Jordan Farmar and Aaron Affalo would have stayed in school. Arizona didn't deserve to be in the tournament this year.
My Final Four pick: the Bruins are going to their third straight Final Four after beating West Virginia.

Check for my boy B.J. Raymond #11 - Frat from the Sigma Gamma Chapter of Alpha Phi Alpha (Xavier University)