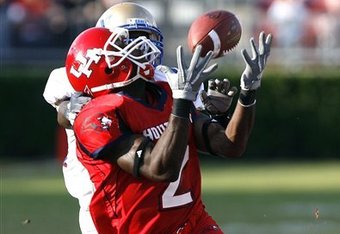 Congrats, Donnie Avery on being drafted. Who are you again?
Okay, people. This draft has been super-crazy (just wanted to offer my 2 cents on it.) I can't wait for Kenny to talk about his Cowboys, JAG to talk about his Bengals, and for George to talk about his Colts. I'm gonna try and be polite on this one.
- How the hell is DONNIE AVERY (no offense, Don; you can play) the first WR drafted? Shouldn't Mel Kiper and Todd McShay be fired for this alone?
- How does Dallas draft Felix Jones (who's been a backup his whole collegiate career. Big ups to Felix though, since he's from Oklahoma) when the number two RB in the draft is sitting right there in Rashad Mendenhall?
- Cincinnati Bengals...didn't you all need a DT? You could've easily traded up to get Dorsey or Sedrick Ellis, yet you sat back and drafted LB Keith Rivers. Suspect, if you ask me.
- How do the Tennessee Titans draft another RB by reaching for Chris Johnson at #24 when Vince Young has NO RECEIVERS? Then you finally pick a WR in the fourth round? Vince, go tell the Tennessee management to kill themselves.
- How does Carolina not draft a QB? Jake Delhomme had Tommy John surgery, David Carr needs to go kill himself, and who the hell is Matt Moore? Draft a QB fast...
- To my Jacksonville Jaguars: you gave up your first, third, and fourth round pick to move up 16 spots for Derrick Harvey. Hmmmm....Derrick Harvey must be a ten sack a year guy to pay that much for him. My expectations have been set.
- Wow, the Pittsburgh Steelers were the only team I saw that was already a good team, and drafted like they knew what the hell they were doing. First off, they made ZERO trades and waited for people to land in their lap. They get Rashard Mendenhall, who might be Barry Foster v2.0. They get Limas Sweed (who landed in their lap), who could be Plaxico Burress v2.0, and in the fifth round, they get the '07 first half Heisman winner in Dennis Dixon. Dennis Dixon = Kordell Stewart. Everyone in Cincinnati just threw up in their mouths.
- Colt Brennan will be a starter in the NFL, watch.
- Don't sleep on the Patriots draft. Did you see what type of players they picked? Three OLBs and two CBs, and they are all fast. Look out, I might see another 19-0 run coming.
- For the Washington Redskins to have never drafted players in like six years (okay, slight exaggeration; five years haha), they somehow drafted three players in the second round who were all first round projected picks. WRs Devin Thomas and Malcolm Kelly, plus TE Fred Davis from USC. All three are players who will eventually be starters. Jason Campbell has no choice but to succeed. Shoot, with Clinton Portis and LaDell Betts, Santana Moss, Antwan Randle El, Chris Cooley, and three offensive standout rookies? Wowzers.
- I'm mad at ESPN pimping the U.S. Army and Caleb Campbell, who was drafted in the seventh round by the Detroit Lions. Campbell, a highly talented safety from Army, was projected to be a fringe late-round pick at most. ESPN highlighted his story earlier in the draft, and then it almost turned into the circus. Don't get me wrong; I'm a military brat and have full respect for our soldiers, and I WILL NOT GO INTO HOW I FEEL ABOUT THE WAR on this website, because I don't have the energy.
However, with the constant footage, and Trey Wingo gushing all over Mr. Campbell about his drafting, they brought in Rod Marinelli for an interview, and the announcers gave him a STANDING OVATION! For what? Ron Jaworski almost fell off the stage to give Caleb a standing O. Ridiculous. Caleb handled himself very well, and I would say that the whole experience has to be overwhelming to get drafted. But the fans shouting U-S-A? Really? Go sit down, applaud the pick, and keep it moving, but once again, congrats again to Caleb Campbell. You are a fine representation of the US Army, and you were drafted because you were a very good player with next-level potential. Don't let anyone tell you otherwise.
- Go buy Grand Theft Auto IV (even though that has nothing to do with the draft.)
Okay, at the time of this article, I have been moving and totally missed all things sports-related on April 28th, including the Celtics/Hawks game. All I gotta say is..."ZAZA PACHULIA!!!!!" (in a Stephen A. Smith voice.) See you back in Boston.
-Ed.
Game Four: Boston v. Atlanta