Dwight, can you please stop dunking on the Raps? Look at Bosh! Look at him!
During the playoffs, I will periodically give a breakdown of the best and worst players in the '08 postseason. PLEASE CALL ME OUT if I miss anyone. My brain has exploded probably about 214 times due to the sheer greatness of the playoffs, and they just started Saturday!!!
**NOTE - The Spurs/Suns playoff series has the potential to be the greatest first round series of all-time. Better than Heat/Knicks (Allan Houston bouncer), Celtics/Bulls (Jordan's 63), Sonics/Nuggets (scarred my childhood; damn you, Robert Pack), Warriors/Mavs (Unfathomable...), and Nets/Pacers (Reggie hitting a 35-footer, and dunking from just inside the free-throw line w/ two hands!!) I've never seen a team score so easily like the Suns, yet at crucial times, struggle to get buckets, while the Spurs seem to be able to get every crucial bucket. Crazy.**
I will give three designations during the playoffs: studs, duds, and unsung heroes. Keep me on my toes, and make sure I don't leave anyone out. Here we go.
Studs:
Dwight Howard, Magic - Superman is AVERAGING 25 points and 22 rebounds a game. Can we say Moses Malone v2.0? This is getting ridiculous. What's the over/under on how many times Rasho Nesterovic gets dunked on in the series? +397? Stop it, Dwight. Just stop.
Chris Paul, Hornets - The MVP---I mean, the one who should win MVP, is AVERAGING 33.5 points and 13.5 assists. Again, this is getting ridiculous. Hey you...Jet Terry, Jason Kidd...ya'll wanna play defense? Seriously, Paul goes in and does what he wants, because no one on the Mavs can guard him. Devin Harris, anyone? Oops, my bad. He penetrates, waits for the defense to collapse on him, and throws Chandler an alley-oop, a Peja three, or a David West mid-range jumper. That happened roughly 75% of the game, the other 20% was CP3 deciding to shoot and get And1s at will. Oh, the other 5%? That was the blowout when he was on the bench.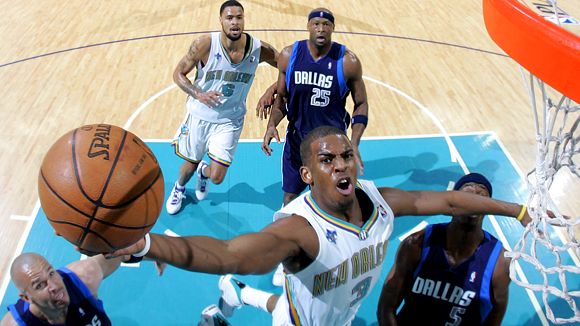 MVP! MVP! Wait...am I supposed to be yelling out loud?

Amare Stoudemire, Suns - Sigh...STAT's hit for 33 points and seven rebounds in both games. The problem is the Suns are not helping him out at all. Other than Nash's defense and Shaq's defense, is there anybody out there? Raja's not scoring, Diaw's a...well, how about he's acting real "feline" right about now. Grant Hill is playing like he's in Orlando; he's not playing. Barbosa's running around like a chicken with his head cut off. I feel bad for Phoenix. They're gonna mess around and get swept.

Tim Duncan, Spurs - Oh, you hitting threes now? Okay, gangsta Tim. That's the most excited I've seen Timmy...ever. Let's make this clear; Shaq has a good chance to guard TD21 on the block, but on the perimeter? Have you seen the Shaqtus? (LOL, ESPN said it; I died laughing.) Anyway, anytime Tim's about 15 feet away, Shaq just looks at him like, "Uhhh...f*ck." It's sheer comedy. Big Fundamental is going big, with 40 points in Game One and averaging 16 rebounds per game.

LeBron James, Cavs - Letter I received in the mail recently:

Dear Ed The Sports Fan,
I'm going to suggest that you never pick The Wizards over me and my witnesses ever again. I'm making a point out of you personally for writing the stupidest (even Sir Charles said it),dumbest playoff bold prediction articleof all-time. I don't care how BOLD it was. First off, this isn't a rivalry. Why? Because Gilbert and his Zeroes have never beaten us. I'm AVERAGING damn near a triple-double (31 ppg, 8 apg, 8 rpg) a game. Quit drinking those rum & cokes. Now excuse me while I wipe my royal ass with your article and Soulja Boy's inside CD cover and get ready to fly to Boston. Ya bastard. Hov!

-LBJ

(blank stare)

Duds:
Caron Butler, Wizards - Not only are you pretty much letting LeBron destroy you at will, but Caron's also struggling to slow down Wally Szcz. Not good. Also, Caron...you are allowed to score, buddy. 13 points and five rebounds a game with 39% shooting aren't gonna cut it, sir.

Mike Bibby, Hawks - Okay, I know you didn't do any talking about the Cs, but maybe you should've. Damn Mike, five points? One assist? You better than that, fam. You are representing all of the light-skinned brothers out there, man!

Richard Hamilton & Chauncey Billups, Pistons - Should "Detroit Basketball" be worried? Philly plays good D, and if the Piston guards are gonna give you a combined 27 points a game and shoot 31% from the field, I guarantee the Pistons won't be in the playoffs long.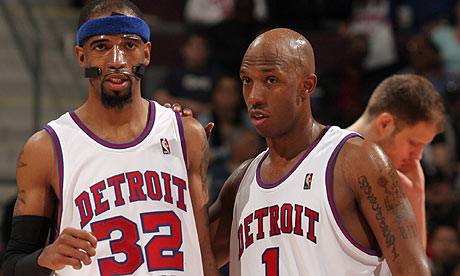 Big Shot and Rip better step they game up, fast.
T.J. Ford, Raptors - Where is El Calderon? TJ has struggled mightily against the Orlando defense with a two-game output of 5.5 points per and shooting 2-17 from the field. Calderon came on strong in Game Two with 18 points and five assists and hit big shots down the stretch to keep Toronto in it. Coach Sam Mitchell might have an interesting decision to make in Game Three, or else Toronto will be done for.

Josh Howard, Mavericks - Hey Josh! Guess what? Dirk can't do it by himself. You're shooting 27% from the floor and just 13.5 points per game. You must've already made plans for the summer, huh?

Unsung Heroes:
Jameer Nelson, Magic - The St. Joe's star is playing like he's back in college with Delonte West. Getting 21 points and five assists per game from Nelson is huge, especially when you add that to the contributions coming from Howard, Hedo, and Rashard. Tough loss for Toronto in Game Two. They might be done.

Michael Finley/Manu Ginobili, Spurs - Duncan put up the big numbers, but they don't win without Finley's killer three and Ginobili's lefty game-winning drive in double OT (by the way, Kenny pointed this out: how do you not make Ginobili drive to his right? He ALWAYS goes left. That was the easiest game winner I've seen in ages.)

Andrei Kirilenko, Jazz - Utah doesn't win their first two games without the defense of AK-47. McGrady's been worn out by the time of the fourth quarter and AK put up a big 21 points in Game One of the series. They'll need him to play big to advance deep into the playoffs.

Reggie Evans, Sixers - Talk about coming up big, the round mound from Iowa gave a big-time effort with 11 and 14. Philly has no real power forward except for Evans and his play will be huge in the potential success of the Sixers vs. the Pistons.

Go ahead and smile, big fella. You earned it.
Linas Kleiza/J.R. Smith, Nuggets - Denver can't waste great bench production as the due went for 38 points (23 from Linas, 15 for J.R.), but we can look at it other way. If they didn't produce like this, the Nuggets probably would've lost by 50. Their new name should be the Enver Puppets.

Which leads me to this: isn't basketball great? Look for my NFL Draft coverage over the weekend. I haven't decided on doing a pick-by-pick blog or not. We'll see...I'm tired; going to bed.

-Ed.