The best matchup in the playoffs? Not Wiz/Cavs. It's LeBron v. DeShawn
Are you drunk?

Okay bear with me, this is a BOLD prediction...

I'm just putting this out there, because this was supposed to only be about the Wizards vs. Cavaliers.

Washington could conceivably wreck this entire playoff series in the East. Please look at the last game from the Wizards-Celtics. Here's the Washington Wizards road map to get to the Finals...

Washington v. Cleveland
Washington v. Boston (sorry Atlanta)
Washington v. Detroit/Orlando (DET-ORL split series 2-2)

Then, if you don't know about Washington's history versus the best team in the NBA, the Boston Celtics.

Washington won the series 3-1, winning the last three consecutively, and now they're fully healthy! Jamison has given KG problems in their entire career, Caron can lock down Pierce, and DeShawn gets Ray-Ray, but lets not get ahead of ourselves...

See, I told you 'Tawn gave KG problems. You thought I made it up?
Now, Cleveland and D.C. split the series 2-2 with Washington's starting five never being the same in all four games. Gilbert's amped up, DeShawn is amped up. Antawn and Caron are healthy and ready. Antawn's trying to get a new contract, they've got young talent, and Eddie Jordan is a very underrated coach.
Okay, so Washington can play "A little" defense. Not a whole lot, though...
Now the counter to this is "Oh, you just awakened a sleeping giant in LeBron." Eh, maybe. I'm just not sold on their team, pre or post-trade. With this series, it's LeBron vs. The Wizards, fully healthy. CLE 5-6 in their last 11 games. LeBron's hurting, Sasha Pavlovic is done for the season, Daniel Gibson's shooting 24% since his injury (16% from 3pt), and Big Z's back is iffy.

My point is...shouldn't we be paying more attention to this? Is it not a huge stretch to say that Washington gets to the Eastern Conference Finals? The NBA Finals?

The X-Factor is Gilbert Arenas. Will he be able to defer when necessary and be a facilitator vs. a dictator? A month ago, I would've said no chance, but when I heard that Hibachi would adjust his contract so they could resign Antawn Jamison, that was major. I've only heard of quarterbacks doing that for their team. Not "me first" point guards with a two-guard mentality. Maybe Gilbert's not so "me first" anymore.

The X-Factor will need to be "Hibachi Hot" but I have faith...
So here's my fearless prediction...

Wizards def. Cavaliers (4-2)
Wizards def. Celtics (4-3)
Wizards def. Magic(!) (4-2)

Wizards vs. Phoenix in the 2008 NBA Finals.

Wow...half of me says I'm crazy, and the other half of me says I am making a legitimate claim. What do you think? Maybe I'm drunk...they do have this guy named LeBron, anything's possible...

-Ed.
P.S. If you're a member of Alpha Phi Alpha, or a jersey enthusiast, isn't the Washington Wizards alternate jersey the hottest NBA jersey in years?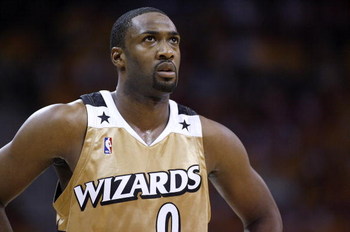 P.P.S. Just for kicks, who remembers Kobe vs. Gilbert?