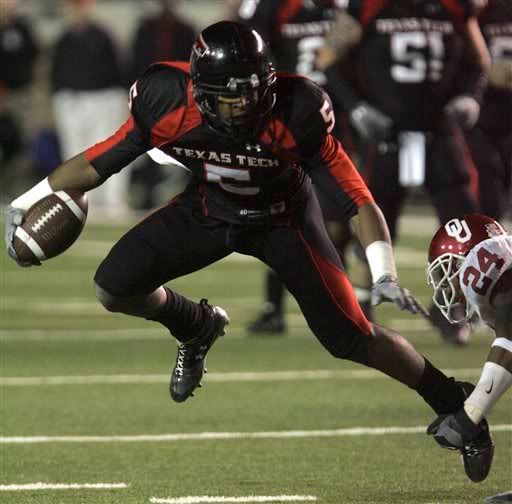 This one's gonna be tough.

I just feel it. I don't have a good feeling about this game, usually I can trick myself into thinking otherwise but all the positive signs are the signs I don't usually like.

Oklahoma's a touchdown favored to beat a team ranked higher than them. Don't like it.

Oklahoma's two best defensive players (MLB Ryan Reynolds & DE Auston English) are not playing in this game. Don't like that either.

Oklahoma's bread and butter used to always be its defense, OU's defense is putrid. Definitely don't like that.

Have you not seen Mr. Pitch (QB Graham Harrell) and Mr. Catch (WR Michael Crabtree), they're ridiculous. Texas Tech's O-Line is very good and they can run the ball. Their defensive front 4 has shown to be disruptive (ask Texas and Oklahoma State) and they make plays on all levels of the field.

I dunno, like I said, I'm not comfortable with this game. OU's offense is ridiculous, but they still really haven't shown me they can run the ball. They have very good runningbacks, and they do well when they get the ball in open space on pass plays, but what about just lining up and getting 4-5 yards? OU's starting free safety (Nic Harris) at the beginning of the season is now playing middle linebacker, WTF??? And have you seen Oklahoma's kickoff return coverage? By far they are the worst in D-1...excuse me, FBS...and it scares the living daylights out of me.

But that's why they plays the games folks...


Oklahoma 100, Texas Tech 99...

What do you think? Ohio State vs. Michigan is this week too...

-Ed.