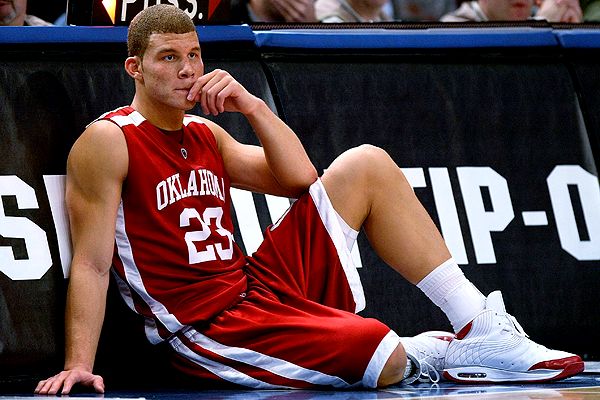 Wayman

Tisdale

v2.0...

That's what the locals say about him.

Strikes fear onto players on the football team...

That's what players on the Oklahoma Sooner football team say about him.

He's the rawest light-skinned dude to ever come out of Oklahoma since me...

That's what I said about him.

Okay, lets calm down a bit. My point is, Blake Griffin is the best player in college basketball today. At 6'10", 251 pounds, dude is rock solid, fundamentally sound, and has a mean disposition. It must be something in the water in the Big 12 conference, because it looks like the best player in the nation will again come from the Big 12. Kevin Durant 2 years ago, and Michael Beasley last year (no, not you Tyler

Hansborough

), Blake Griffin has all the physical parts of the game that Durant and Beasley never possessed.

A post game. A mean post game, plus a rebounding

abilitiy

that is second to none at this point in the season. Griffin is currently averaging 25.7

ppg

and 19.2

rpg

. What??!? Dude's essentially putting up 26 & 20 per night, and propelling the Sooner Nation to a potential Final Four selection. Look around college basketball today, who matches up with him?

Hansborough

? I doubt it. Luke

Harangody

?

Ehhh

...

Haseem

Thabeet

? He might get his limbs broken.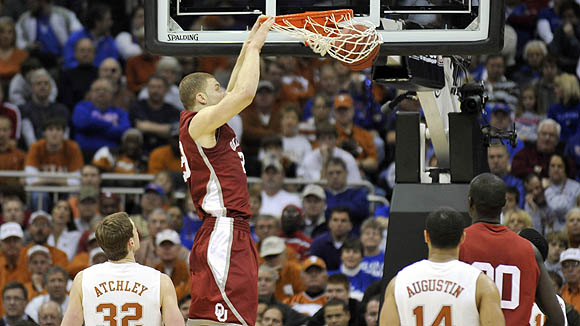 Lets not forget that Griffin

could've

been a top 5 pick LAST YEAR, but chose to play out another year in Norman, to play with his brother Taylor. He's a hometown kid, grew up in Oklahoma City and he loves it there. Wouldn't be ideal, for the Oklahoma City Thunder to get the #1 lottery pick and give Kevin Durant and Russell Westbrook the postman they might have for the next 10-15 years? Yes potentially...

However, I don't want to place Griffin up on the pantheon just yet. His free throw shooting could be a lot better, only at 60% in his Oklahoma career, plus his defense is like Mr. Michael Beasley's. Great on the

weakside

, not that impressive one-on-one. I'd like to think he tries to get out the way so he doesn't accumulate fouls, but I'd be lying, he needs to work on his defense, ASAP. His jumper is suspect too, but he's got good form, and with more work he could be deadly from 15-17 feet.

So what are we really saying here? I can say that Oklahoma is a LOCK for the Sweet 16 this year, and with the right

matchups

could be in the Final Four. I can say that Blake Griffin is a LOCK to be a top 2 pick in the 2009 NBA Draft. Between Blake Griffin, Obama, and myself...we bringing back light-skinned dudes. Just how I like it.

Who are the other player of the year candidates? Leave your comments or e-mail me at ed@edthesportsfan.com, get at me!

-Ed.