R.I.P. Sean Taylor - The Greatest Hit Sticker of All-Time
When I first heard of Sean Taylor, better yet...the first time I saw Sean Taylor was when I watched Florida play Miami in their annual rivalry a couple of years ago. Florida's tailback at the time was Fantasy Hall-of-

Famer

Earnest Graham. Rex

Grossman

was at QB and they ran a toss left. Graham cut it up right inside of the left tackle and got to the second level, cleared the linebacker and broke towards daylight...



BAM

!

Next thing I knew was #26 didn't let him cut to the outside. #26 lowered the boom on Earnest Graham...Earnest Graham. The ball squirted out-of-bounds and Graham came out the game and got chewed out by then ball coach Ron

Zook

. I'm pretty sure Graham didn't hear anything he said because he was still knocked-the-f*ck out...by #26, Sean Taylor.

By far one of the most ball-hawking, headhunting, quickest and savviest safeties I've ever seen. He was almost TOO instinctive. In his first couple of seasons he made some mistakes and overplayed on tendencies. But he improved, and started showing the potential to be the best safety in the NFL.



BAM

!

Then it ended. Sean Taylor was killed last year on November 27

th

by an 18-year old who was trying to get a quick come up. From playing with him on Madden being the reason the "Hit Stick" (flick of the R3 button on PS3) was invented on the video game. Yeah, Sean had some personal issues, and had some growing up to you, but he was trying to do better.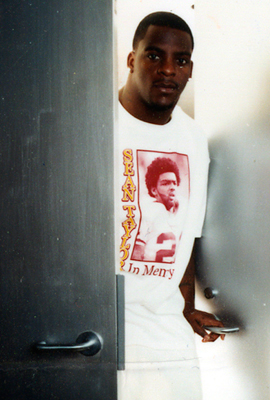 The NFL, NBA,

MLB

, and other leagues have to do better on educating and supporting their players from getting into high-risk situations. But let me say this to the players, STOP DOING DUMB SH*T! We need you for fantasy football, among other things, and its a detriment to a lot of us when our premiere athletes go down. Give thanks to those around you, and give thanks to yourself! Be easy, and have a happy Thanksgiving.

-Ed.

I WAS TRYING TO FIND A VIDEO TRIBUTE AND HERE ARE TWO, ONE'S A VIDEO TRIBUTE WHICH DESERVES 5 MINUTES OF YOUR TIME AND THE OTHER IS...WELL, JUST DON'T EVER LET YOUR KIDS BE A PUNTER AND THEN DO SOMETHING LIKE THIS...