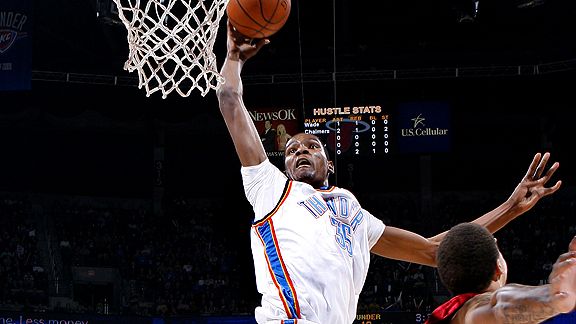 KD35 will RULE the 10's (that's 2010's), believe it...
Wow, we are past the halfway mark already in the NBA. Lets take a step back and reflect on the season thus far. Oh, and I'm pretty sure some of you will be mad at me again for this post, I'm used to it, I'll be ok :D
MVP: Dwyane Wade (From Kenny Masenda on 1/22) With all due respect to LeBron James, he is not the first-half MVP. That honor goes to none other than The Great Dwyane Wade (and yes, I am calling him great. When you channel your inner-Jordan, and lead a team to four straight wins in the Finals, you are great in my eyes, but we can elaborate on that another day). His supporting cast is nowhere near as good as LeBron's, but not only are the Heat in the playoff hunt, they have already passed their entire win total from their God-awful previous season. He already has the complete package offensively, and has committed himself to playing defense this season. I'm not saying this Miami Heat team will win it all, but they'll make it rough on anyone in the playoffs, and that has a great deal to do with the play of Wade.
Think about it this way, he and the Heat are doing it with a rookie PG and no center. Respect is due for Flash.
Runners-up: Kevin Durant (Ed's choice), Tim Duncan
and Chris Paul.
Rookie of the Year: Russell Westbrook. Huh?
Shouldn't this be Derrick Rose, or at least O.J.
Mayo? Yeah, probably so. However, after a horrendous 3-29 start and a firing of P.J. Carl-is-a-hoe. The OKC Thunder are 7-6. Yes, you read that correctly, 7-6. You realize that the Thunder are playing their way out of getting Blake Griffin, right? Part of the reason is Westbrook, who while playing less minutes than Mayo and Rose (37 to 30) is averaging 14, 5, and 5 for the season, plus with new coach Scott Brooks he's averaging 17 per. His case is just as made as Rose's, who's team only has 18 wins, and Mayo's team only has 11 wins.
Runners-up: Rose, Mayo, Brook Lopez, Marc Gasol.
Coach of the Year: Mike Woodson. Stan Van Gunday should probably get this award at the half, but think about the Hawks...they were a horrible 8-seed who took the C's to the absolute brink last season. Then, they actually BUILT on that success. No one wants to see Atlanta in the first round as I think Boston, Cleveland, and Orlando would all struggle to beat Atlanta in 7.
Runners-up: George Karl, Stan Van Gundy.
Most Improved Player: Shaquille O'Neal - Big Shaq is hitting free throws. That in itself would get him the award from me. Over the last month, he's averaged 21.4 ppg, 9.8 rpg, 1.9 blocks, 62% FG, AND 69% FT!!! Good GOD! Is he playing for Orlando again? LA? What the hell is going on in Phoenix. Oh, and he's kissing cats again.
Runners-up: Devin Harris, Paul Millsap, and Chris Duhon.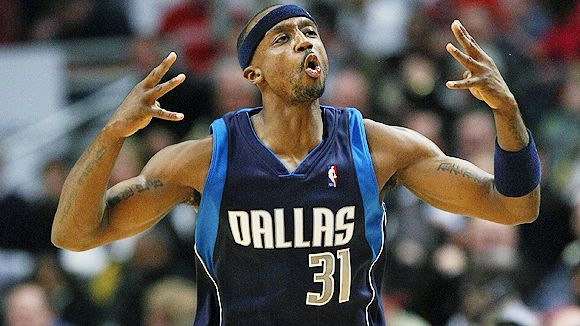 Sixth Man: Jason Terry - Besides Dirk, he is the offense for the Mavs. Averaging 20 and 4 a game off the bench! Also, I'm probably a bit biased of Jet, since I'm a big Arizona fan. Plus, the cat does the "Jet Wings" when he makes big plays and wears the headband and high-knee socks like I used to. (Except he's much, MUCH smaller than me.)
Runners-up: Manu Ginobili, Andrei Kirilenko, J.R. Smith, Charlie Villanueva
Most Outstanding Player: Tie, Danny Granger & Kevin Durant - I would say this is different that the MVP, and with that being said, this honor easily could've went to LeBron. However, with all due respect, you talk about balling out of control with no help? These two are doing it the most. Al Jefferson probably finished 3rd in this vote, but these dudes are doing it all. Granger's been on a tear all season, averaging 26 & 5 per game, with the additional steal and block per as well. All while Dunleavy was out, no post game in sight, and virtually no bench. To me, he plays how Pippen did when Jordan retired for a year and a half. Great defender (Granger's averaging 1.4 blocks/per and 1 steal/per) with deadly range on his jumper (2.6 3's/per). He's clearly defined himself as THE man in Indy, if they can get a legitimate post presence, then he could be All-World, an Olympian, and pushing the Pacers to greater heights.
Then, there's Durant. Kevin Durant is 20 years old. He's younger than OJ Mayo. Think about that. He's serving cats right now in relative obscurity in OKC. Yet, he's averaging 25 and 6 per, and has great shooting percentages (47% FG, 43% 3pt, and 86% FT). What's his peak? Bill Simmons on ESPN touched on it yesterday, and he's dead on. Most athletes reach their peak at 25-29. He's 20!!! Where does he go from here? 30 per game? 33? 38? Does he end up shooting 50%, 52%, 55% FG? 50% from 3pt? 90+% from FT? I'll tell you this, the Thunder need to shut him down for the season so they can get Blake Griffin. The Thunder might be for real in 2010, its scary to think about.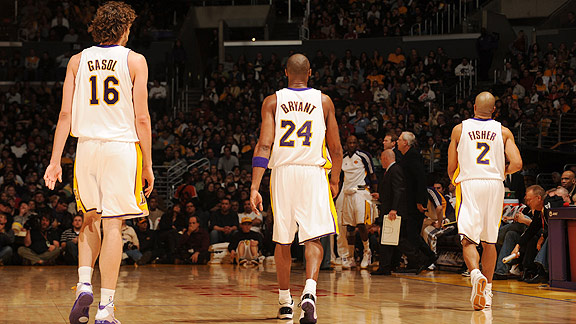 Best Team: The Los Angeles Lakers - If you know ETSF by now, you know that he doesn't like Kobe. However, Kobe and Co. have led this team to playing the best in the first half. They have played a large amount of games at home, but they've been winning the big games against the best teams in the league. Celtics, Cavs, Magic, Spurs. Victories against all of them. However, I think what makes this team great are the big men, with Gasol leading the way. He takes so much pressure of Kob its ridiculous. Throw in the hyper-active big man Andrew Bynum and multi-faceted Odom and they're loaded. Their frontline is what makes LA very good, and the shot-making ability of Kobe makes them great. Am I wrong?
YOU AGREE OR DISAGREE? AM I NUTS? EMAIL US OR LEAVE A COMMENT, THANKS!
-Ed.
www.edthesportsfan.com