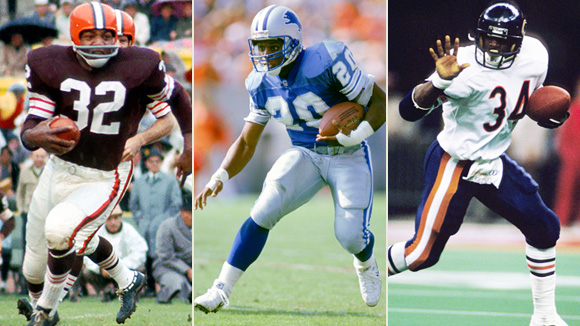 This is what happens when someone challenges you (
Antone
) and your girlfriend is working all night and can't go to sleep...
Now, I will preface this by saying that I have used all statistical calculations and as little bias as possible (like, me hating the Dallas Cowboys would be an issue) when making this list. For argument's sake, you must've played 5 years in the league, eliminating 1-year wonders and random fluke seasons. Bonus points will be given for longevity, and records held. Note that the key stats used for this list are rushing yards per game, rushing yards per carry, and total yards from scrimmage (excluding kick and punt returns). I put about 3 hours of research into this, so be mindful that I didn't just draw names out my ass. This list is to cause a stir, but I felt that I could put together a

fact-based, non-biased, statistical analysis

on the best backs in the NFL. Here are the top 10, if NFL was never played again, the best ever. Here we go.....
10. Marshall Faulk (Colts, Rams)
#8 All-Time in Yards Per Scrimmage/Game (108.8)
#1 Total Scrimmage Yards in a single season (2,429)
2-Time NFL MVP

Faulk will forever be remembered as the "Do-It All" Back for the Rams, but don't forget the quality pro-bowl years he put up with the Colts. Per game, he got it done rushing and receiving, and the total yards per game proves it, finishing #8 all-time. Sorry if you don't like it, its the truth.
9. Curtis Martin (Patriots, Jets)
#9 All-Time in Rushing Yards/Game (83.9)
#10 All-time in Total Scrimmage Yards/Game (103.8)
1995 Offensive Rookie of the Year
Martin rushed for over 1,000 yards in his first 10 professional seasons, a feat previously accomplished only by Barry Sanders. He is the all-time Jets leader with 10,302 rushing yards with the team. In earlier years, he was linked romantically to singer Toni Braxton. I should put him way higher on the list just because of this.
8. Edgerrin James (Colts, Cardinals)
#8 All-Time in Rushing Yards/Game (86.0)
#7 All-Time in Total Scrimmage Yards/Game (109.7)
1999 Offensive Rookie of the Year
James led the league in rushing during his rookie and sophomore season. He's currently the record holder for most total yards from scrimmage per game in a regular season career. At 9,226 total yards as a Colt, James holds the Colts' team record for most career total yards rushing. Who knows what's next for Edgerrin, if he would've stayed in Indy, he might be higher on the list. However, the offense you are in doesn't dictate this list, production and numbers does. That's why your favorite #22 won't make this list. (More on this later...)
7. Eric Dickerson (Colts, Rams, Falcons, Raiders)
#6 All-Time in Rushing Yards/Game (90.8)
#9 All-Time in Total Scrimmage Yards/Game (105.5)
1986 Offensive Player of the Year
Fans and commentators consider him one of the greatest running backs in NFL history, known for his effortless, fluid style of running. He is the only running back in the history of the NFL who is known to have webbed feet. (WTF) Dickerson became the seventh back to gain more than 10,000 yards and the fastest ever to do so, reaching the milestone in just 91 games. This is the dude that Adrian Peterson is compared to, so he gotta be on this list. (In 10 years AD will be on here too...)
6. Walter Payton (Bears)
#7 All-Time in Rushing Yards/Game (88.0)
#5 All-Time in Total Scrimmage Yards/Game (111.9)
1977 Offensive Player of the Year & MVP
Payton was known around the NFL as "Sweetness". He is remembered as one of the most prolific running backs in the history of American football. Payton, a nine-time Pro Bowl selection, once held the League's record for most career rushing yards, touchdowns, carries, and many other categories. One of Payton's signature maneuvers was the "stutter-step," a high-stepping, irregularly paced run. He developed this as a way to distract his pursuers during long runs, saying that it startled them into thinking and gave him some advantage over players who were actually faster runners. Plus, he popularized the "stiff-arm" as he killed cats for many years with the moves.
5. Clinton Portis (Broncos, Redskins)
#5 All-Time in Rushing Yards/Game (92.0)
#6 All-Time in Scrimmage Yards/Game (111.1)
2002 Offensive Rookie of the Year
In interviews, when Portis refers to himself in the third person, he always calls himself by his last name. Portis was known for often wearing various costumes at Thursday press conferences that represent fictional characters he has developed, including personas such as "Southeast Jerome", "Coach Janky Spanky", "Bro Sweets", "Choo-Choo", "Sheriff Gonnagetcha", "Dr. Do-itch Big," "Dolemite Jenkins," and "Bud Foxx." This alone, gets him in the top 5! Plus, his consistency since leaving the Broncos has been amazing, netting over 110 yards from scrimmage/game for his career.
4. Terrell Davis (Broncos)
#3 All-Time in Rushing Yards/Game (97.5)
#4 All-Time in Total Scrimmage Yards/Game (113.9)
`96 Offensive Player of the Year, '97 Super Bowl MVP, '98 Offensive MVP
Among the 24 modern-era Hall of Fame halfbacks and fullbacks, only Earl Campbell (6,457, 4.6 yards per carry) and Eric Dickerson (6,968, 4.8 yards per carry) had more rushing yards during their first four seasons; no member of the Hall of Fame matched Davis' first-four-season 56 rushing touchdowns. "TD" stood for more than his initials, and he was the inventor of the mile-high salute (ok, stole it from Mike Anderson) and might've been the #1 or #2 hardest player to stop on Madden. Yeah, I said it.
3. LaDainian Tomlinson (Chargers)
#4 All-Time in Rushing Yards/Game (92.6)
#2 All-Time Total Scrimmage Yards/Game (122.5)
2006 Offensive Player of the Year & MVP
Holds the all-time NFL record for single season touchdowns (31). Became the only player in NFL history to rush for 1,000 yards and receive 100 passes in a single season. LT earned his nickname as he is the model of top-level consistency. Now at the ripe old age of 29, he still ran for 1,110 yards (lowest of his career, yet also received the lowest carries of his career) and 11 TDs. Currently 14th on the all-time rushing list, is there a better all-purpose back? I dunno...
2. Barry Sanders (Lions)
#2 All-Time in Rushing Yards/Game (99.8)
#3 All-Time in Total Scrimmage Yards/Game (118.8)
1994 & 1997 Offensive Player of the Year
Barry Sanders' greatest season came in 1997. After a start in which he gained 53 yards on 25 carries in the first two games of the season, Sanders ran off an NFL record 14 consecutive 100 yard games, including two 200 yard performances, en route to rushing for 2,053 yards. In reaching the 2,000 yard plateau, he became the first since O. J. Simpson to rush for 2,000 yards in a span of 14 consecutive games. He was the first running back to rush for 1,500 yards in five seasons and the only one to do it four consecutive years. AND HE WENT TO OKLAHOMA STATE!! (For the crib) Mr. Razzle Dazzle would've had all the records, but he stepped away when he felt was right after 1998 season when he rushed for 1,491 yards!
1. Jim Brown (Browns)
#1 All-Time in Rushing Yards/Game (104.3)
#1 All-Time in Total Scrimmage Yards/Game (125.5)
'57, '58, '63, and '65 NFL MVP
In 2002, he was named by The Sporting News as the greatest professional football player ever. EVER. He has also made his mark as an actor and social activist, something that the majority of players in the NFL cannot claim. At Manhasset High School, Brown earned 13 letters playing football, lacrosse, baseball, basketball and running track. (WTF) Brown announced his retirement on July 14, 1966 after Cleveland Browns owner Art Modell insisted that Brown report to training camp instead of finishing his work on the movie The Dirty Dozen. He departed as the NFL record holder for both single-season (1,863 in 1963) and career rushing (12,312 yards), as well as the all-time leader in rushing touchdowns (106), total touchdowns (126), and all-purpose yards (15,549). He was the first player ever to reach the 100-rushing-touchdowns milestone, and only a few others have done so since, despite the league's expansion to a 16-game season in 1978 (Brown's first four seasons were only 12 games, and his last five were 14 games). YET HE NEVER PLAYED PAST THE AGE OF 29...ETSF's choice for the #1 RB of all-time. Hell, maybe one of the top-5 men of all-time. (In 1988 Brown founded the Amer-I-Can Program. He currently works with bloods and crips caught up in the gang scene in Los Angeles, California and Cleveland that delivers life management skills to the patrons.)
OMISSIONS
Jamal Lewis - 11th all-time in rushing/game (82.8)
Fred Taylor - 14th all-time in rushing/game (80.5)
Ricky Watters - 11th all-time in total scrimmage yards/game (103.4)
Tiki Barber - 12th all-time in total scrimmage yards/game (101.5)
Emmitt Smith - 13th all-time in rushing/game (81.2), 18th all-time in total scrimmage yards/game (95.5)
Now, I gotta defend this because it seems absurd to leave off the all-time leading rusher. However, his 4.2 YPC average is lower than almost everyone in the top 10. Most of his great statistical numbers came by the touchdown, and LT is only 36 TDs behind while playing in HALF as many seasons. Jim Brown is 49 behind also played in less games per season and 7 less seasons. Jamal Lewis rushed for more yards in a season than Emmitt Smith, and its arguable that he's the best runningback in either Florida history (Emmitt 81.2 rushing/game, 95.5 total yards/game or Fred Taylor 80.5/game, 97.4 total yards/game) or Dallas history (Tony Dorsett 73.6 rushing/game, 94.2 total yards/game while in a two-back offense) Emmitt was a GREAT back, but I've said it before and I'll say it again, he ain't top ten.
LET THE DEBATE BEGIN...
-Ed.
www.edthesportsfan.com