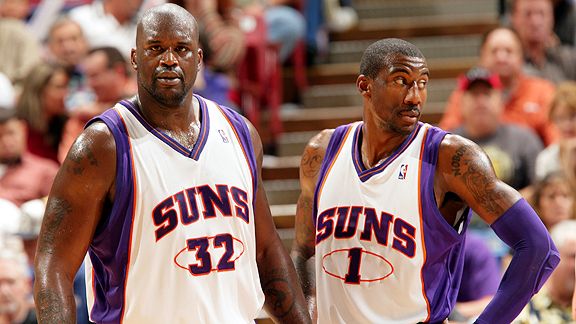 ONE - Identity Crisis: Who Exactly Are The Phoenix Suns Now? I officially don't understand Phoenix anymore. On Tuesday, they put 140 points on the board against the Clippers, and 142 more last night, and in one sequence, The Big Aristotle actually led the fast break! They finally realized they aren't a half-court team, so Nash is back to leading the most fun offense to watch in the league, but they will probably go back to their brain-dead defensive ways. We've seen this before, and even though it's the first time they've done it with Shaq, I still don't see them being able to get over the hump. But on the bright side, at least they didn't trade Amare (yet).
TWO - Turmoil in Lubbock: Is Texas Tech taking Mike Leach for Granted? By no means am I a fan of Texas Tech football, but I know a good fit when I see it, and Mike Leach is 'The Fit' for their style of football. They weren't worth a damn before he got there, and in the nine years he's led the show, they've steadily improved, even being ranked as high as #2 in the country last season. His contract demands may be a little ridiculous, but he's earned the right to feel himself a little bit, and we've seen this story before with different programs: Tech, do the right thing, and give this man what he wants.
THREE - He Got The Juice Now: Who is the best big man in The Big East? Since the start of the season, this answer's changed at least three times. Initially, people were quick to give it to Notre Dame's Luke Harangody. Then, people noticed Greg Monroe from Georgetown. Then, Haseem Thabeet started going crazy. The problem is DeJuan Blair from Pitt has murdered all three of them this season, including Monday's win against Connecticut. He punished their frontline to the tune of 22 points and 23 rounds. He's an undersized big man, but he has a complete game, and truly is the engine for the Pittsburgh Panthers. Right now, my money's on Blair, but by the time the conference tournament rolls around, it could easily be someone else. The big men in this conference are that good.
AND ONE - Lamar Odom Has Gone Nuts: Is He the L.A.'s Missing Piece to get The Ring? 28/17, 12/18, 19/19, 15/20, and 22/7. Those are the point and rebound totals for the past five games from Lamar Odom. I'm telling you right now: if this man keeps this up, nobody will beat this team, and that includes the Spurs, the Cavs, and the Celtics. Since Bynum went down for the season (they are saying 8-12 weeks, but that man will not be back this season, watch), he has gone ballistic. Anyone who has seen him play over the years knows he can truly do everything on the court; it's just a matter of him doing it. This finally may be the time he does so.
Be easy.
-K. Masenda
www.edthesportsfan.com