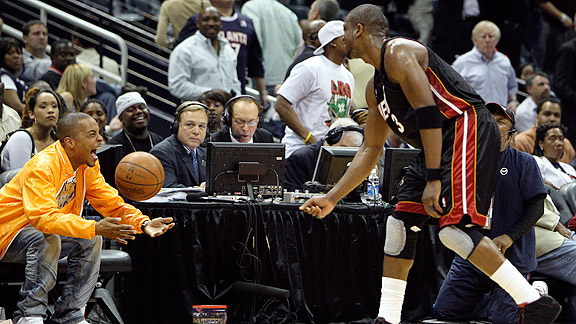 Sometime last week, ETSF and
Cephas from WTFMoments.org
had a stimulating conversation about rappers and how they compare to athletes. What you read below is partially a gmail chat conversation that lasted nearly 6 hours and arguing that rivaled Barack vs. Hilary, Kobe vs. Bynum, and of course Chris Brown vs. Rihanna.
This article, co-written by Cephas, will give the 2009 All-Star teams a comparison of NBA player to Hip-Hop counterpart. Please be advised that Jay-Z is not available for comparison, as the only real comparison we could've used was Jordan. Consider everything Jay's doing now the equivalent of Jordan at the Wizards. Oh, and we already decided that Biggie and 2Pac was Magic and Bird, KRS-One was Kareem, and Rakim was Bill Russell. Also, Plies is Sasha Vujacic. I'm sure you will disagree, laugh, and yell after reading this. Here we go.
East
Allen Iverson = 50 Cent
- Both of these individuals at one time or another were arguably the hottest in their "game". AI not only had some of the hottest non-Nike sneakers (The Reebok Answers, classic) of all-time, but he had crazy handles, and could take an ass whooping like a man. I can't count the number of times I was forced to look away as he took the ball to the hole and earned a trip to the foul line after sinking a fingeroll that collectively made the crowd shriek "WTF". He made a career out of being the lil tough guy you loved to hate, and that you wanted to be like. You hated him because he was everything your mom told you not to be. He was tatted up, had braids, and once kicked his wife out of their mansion half dressed in the winter. Recently he hasn't achieved at the level he has in the past. However, at any moment Allen Iverson could drop 50 on you and then brag about in the post game interview, white T, fitted cap, and jewels in tow.
50 Cent has a similar background. He too hit it big by appealing to America's desire to root for the underdog. It wasn't because of his size or his ability to take a whooping. It was because he got shot nine times, was black balled from the recording industry and then dropped one of the most highly anticipated/acclaimed albums in hip hop history, "Get Rich or Die Trying". Like AI, 50 has fell off a bit. His last few attempts at releasing cd's all but flopped. His reality series was pulled mid-season by MTV . BET began showing the reruns, only to pull them after a few weeks. Like AI, 50 is not to be slept on. He is still good for a hot 16 on anyone's remix. In addition, he has a terrible habit of ending careers and forcing record labels to shelve the cd's of his rivals.
Dwyane Wade = T.I.
- "NO ONE ON THE CORNER GOT SWAGGER LIKE US!" On and off the court, D-Wade may be the smoothest, most fluid athletes in sports history. He has a way of putting forth 110% on court, making it obvious he possess a win at all cost attitude, while simultaneously making you look completely foolish. Plainly put, most ball players are not on his level. Despite this fact and his NBA championship he is rarely spoken in the same breath as his peers Kobe Bryant and LeBron James. Last season was shortened by a severe shoulder injury. Mr. Wade preserved and this season is back to his old ways and a leading candidate for the 2009 MVP award.
"You can look me in my eyes and see I'm ready for whatever anything don't kill me make me better" - T.I. As he awaits a yearlong bid in federal penitentiary Clifford "T.I." Harris stands atop of the rap world. Like D-Wade his is often overlooked when fans debate the top rappers in the game. However, his string of platinum albums, production of artists, and successful acting roles (ATL, American Gangster) speaks volumes to his work. He is the KING. His flow is just as smooth as D-Wade's crossover, but when he chose to get after it on the mic, one could liken his ability to crush a MC to the thunder that D-Wade brings when he dunks on his opponents (see TI on Lil Flip and DWade on Jermaine O'Neal - go ahead, YouTube it...right now.)
LeBron James = Lil Wayne
- "1 Million, 2 Million oh is it my part?" These words were penned by a then 16-year old boy wonder Lil Wayne, signed to Cash Money Records. Now, we see this man in commercials dusting off his Air 1's in a LeBron commercial. Lil Wayne is the most creative MC the rap game has maybe ever seen. He coins pop culture phrases with every song and finds a way to take common everyday words and make them into a collage of metaphors that leave fans wondering "Where did he get that sh*t from?". His platinum selling album "The Carter III" to many marked his arrival as a top MC. However, I would like to argue that at only 26 years old Wayne has a long way to go. His content lacks purpose, and it will only be so long before fans grow tired of hearing about syrup, weed, and women(NOT THAT WE DON'T LIKE THESE THINGS). These shortcomings only solidify his greatness. In spite of them he has established himself as one of the greatest MC's ever and in the possible debate of one of the "top 5 dead or alive".
Similarly, LeBron James is on the precipice of being one of the greatest. Sure he is a man child of an athlete. An unstoppable force of nature that makes his opponents looks like junior high AAU balers, and forces them to succumb to his explosive approach to the game. With this in mind, he still falls short in the eyes of many. In the 4th quarter, Mr. James would not be the individual I would hand the ball to if my life depended on it. Kevin Durant at age 20 has more game-winners than LeBron. To compare Wayne's subject matter is comparable to LeBron's lack of jumper and post-game. These things are the grassroots fundamentals of hip-hop & basketball. His short comings are not a sign of his failure. After all had he went to college for 4 years he would still be very new to the league. With that in mind, he is worthy of being called one of the greatest players of our time, but not the greatest player of all time...yet.
Kevin Garnett = Busta Rhymes
- KG looks like if he wasn't rapping, he might be on someone street corner preparing to smack you in the back of head with a rusty pistol and take your purse. He is grimy! On the court he does it all and does it when he wants to. Do you need KG to score? He will give you 40. Do you need KG to rebound? He will throw in 20 boards. Oh and do you need KG to pass? He got that too. All this from a man that is 7' tall and has been in the game so long that he probably had a high top fade during rookie camp. He has longevity and is just as dominant now as he was 10 years ago. He has been dominate for so long it's almost like he was had 3 careers. There was the young KG with the T-Wolves. Skinny, skilled, talented and on the verge of dominating the league. There was the dominate KG hidden away in the league's worst market with one of its worst teams. Now we have the redeemed KG smiling for no reason showing his championship ring off in Boston.
BUSTA BUST! A real hip hop OG that will drop a platinum album at any moment. He is under appreciated in the game but check his track record. He was a member of the Leaders of the New Skool. A hip-hop group that held its own with the legendary Tribe Called Quest. When he ventured out on his own, he created a style unique to him. No one, I mean no one is as unique as Busta. Don't sleep, he will open hand smack anyone who address him inappropriately. Think about it, he's done TONS of movies (remember him in Higher Learning? LOL) and is killing the game in remixes. Plus, as
J. McFly from Mr. Swagger
would tell you, he does the greatest live hip-hop shows maybe ever. That deserves a ring by itself.
Dwight Howard = Rick Ross
- Dwight Howard is a monster. Literally, the man looks like he stalks and captures the souls of innocent children, all while smiling. Crazy thing is, he's probably one of the better role models in the league right now, yet he is a major bully. Now donning the title of "Superman", he's made himself famous for making the Orlando Magic an elite franchise, and also YUUUUUUULLLLLLLLEEEEE'n in last year's dunk contest. He's only been in the league for 5 seasons, but he has clearly defined himself as one of the best players in the NBA right now.
Rick Ross aka the Biggest Boss is big as hell, some would say big as F*#$ even. Outside of that, he has a crazy delivery and I believe his flow is so sick, that it has the flu. Every bar is a hip-hop quotable. I, on more than one occasion have lovingly looked a young lady in the eye and said "I don't make love, baby I make magic!" It didn't work for me but Ricky pulls it off. His recent beef with 50 Cent is proving that he can hold his own with anyone, and by creating the new diss website www.ThisIsCurly.com (HAHA, its a real site) shows that he has the business acumen to keep up in this entrepreneurial world.
West
Chris Paul = Lupe Fiasco
- Both of these men are young, unique, and have a style that reminds of to a time long gone. Lupe reminds us of the back pack hip hop culture of the early 90's. Sure, he butchered a Tribe Called Quest Lyrics at the VH1 hip-hop honors a few years back. We don't really care anymore, the kid has skills. Lupe is verbally nimble. His subject matter is diverse, thought provoking, and worthy of letting your children listen to because it is just that intelligent. He's focused and his lyrical skills are on par with anyone in the game, and at his age, he has the potential to have a major impact on hip-hop when its all said and done.
Chris Paul plays the game like John Stockton wish he could have, like Magic Johnson would have if he were shorter, and like Pee-Wee Reese would have if he would have stayed off the streets and out of jail. He has handles, a steady jumper, great elusiveness, and a bulldog mentality. I've seen CP3 in person and dude has a major mean streak. He does not play. When you combine all of his qualities, you have a real headache for opposing defenses. Plus, he's only been in the league for 4 years! He's paving his way for a place of the all-time greatest PG's ever.
Kobe Bryant = KanYe West
- Let me begin by stating that Kobe is an arrogant, dry snitch that would be robbed and beaten if he was on the streets. (Ed totally agrees) Let me also say that Kanye is an arrogant asshole who dresses like a 1980's cheerleader, complete with skinny jeans and deck shoes. (Ed totally disagrees) With that said, both of these men are arguably the best at what they do. Kobe will dunk on you, maybe fall back and drain a fadeaway, or if he so chooses he will dish the ball. He's also become more versatile, with the ability to bring up the ball as needed, play on the ball defense, and faciliate the offense. Ok, the last one is questionable, but still. Jordanesque, is an overused phrase but it fits his style of play. More importantly, in the clutch, there is no other person in the league who needs/wants/deserves the ball in his hands.
Kobe's ability to perform in a clutch is very similar to that of Kanye West. If you haven't seen his performance live in your lifetime is not yet complete. Spaceships, moon boots, half-naked white women, are staples at a Kanye show. Mr. West has a list of classic that solidify him as not only one of the best producers in rap, but one of the best MCs in the game. He has transcended what a rapper says (Jesus Walks), what he wears (LV sneakers, shag haircuts, etc.), and what he stands for (GEORGE BUSH DOESN'T CARE ABOUT BLACK PEOPLE - Mike Myers next to him looking like he just shat himself...LOL). His gangsta is on a totally different level, and his pimp hand is way strong, outselling 50 Cent, creative control at Louis Vuitton, and changing the view of collaboration by working with John Mayer, Coldplay, and Estelle.
Amare Stoudemire = Young Jeezy
- These two men are hood! I bet Amare secretly has a thug life tatted on his belly. They are the type of guys you do not want to run into on a dark alley. Every drop step Amare takes is performed with the same passion Jeezy exerted years ago measuring and distributing cocaine. Yeah I said it! Yes, they both have flaws. Amare doesn't play defense, and Jeezy openly backed John McCain at one point. Jeezy has made a career rapping about selling dope, cooking dope, chopping dope, and trafficking dope. Amare made a career on dunking, slamming, jamming, and alley-ooping on anyone in sight. You may not agree with their styles but you can admit, it works for them.
Tim Duncan = Common
- Allow me to begin by stating, I do not like Tim Duncan or his style of play. If his game was a food item, it would be plain oatmeal with extra bland sprinkles on top. It doesn't taste like anything, but when it comes to filling your belly it gets the job done. The only reason one can compare him to the hip hop giant Common is because they are both severely underrated, focused on the traditional basics of their respective arts and have quietly amassed a series of championships. Tim Duncan with 4 rings, Common by living through the life and times of Erykah Badu. (I mean come on, dude was wearing the same Hadji wraps that Andre 3000 was wearing. I thought he was gonna come out with a catcher's vest, military pants, and some Jordan VIII's on one time. He's a legend just for living through his Badu phase.)
Who the hell taught Yao that? And he got everyone doing it!

Yao
Ming =
Eminem
/Justin
Timberlake
- Yao Ming is an international superstar. He is the national treasure of the world's largest, most populated country, China. Don't sleep, Yao has started to hang around some hood dudes while being in Houston (see Artest, Ron and Alston, Rafer) and has develop a mean drop step, nice hook shot, and plays exception defense around the rim. He's clearly one of the best big men in the game. Plus, his pop culture status connects him instantly to several rap artists that are also pop stars. ETSF feels the best comparison was Eminem, as all the Caucasians around the world can hold him as their guy. (See Dave Chappelle's Racial Draft for more evidence) Cephas chose Justin Timberlake. Why? Well there isn't a really a good reason. Justin isn't even a rapper, but hell...he is pop and if you act like you didn't like "Cry Me A River" you're a damned liar.
I hope you had as much fun reading this as we did debating it. Did we get it wrong? Who's your favorite comparison?
-Ed.
www.edthesportsfan.com