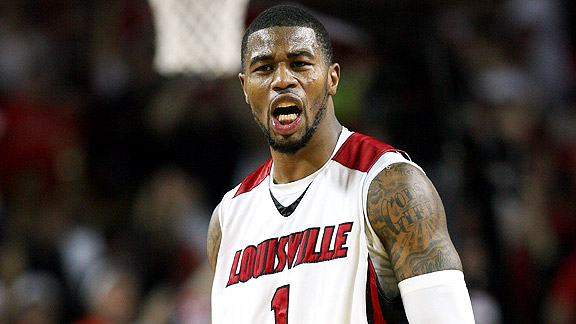 ONE - Terrence Williams: The Best Under-the-Radar Player in the Country
Yesterday, I got word from one of my boys that the co-Big East players of the year are DeJuan Blair from Pittsburgh and Hasheem Thabeet from UConn. Once this happened, I asked "what about Terrence Williams," the explosive all-everything senior from Louisville. Dude will probably make first-team Big East (if not, that will truly be a damn shame), but make sure to watch for this man in the tournament next week. Louisville is my dark horse to make the Final Four, and a large part of it is because of Williams. At some point in the game, you'll see him play up to four positions, and play all of them fairly well. Dare say, he may end up being the 2003 Marquette version of The Great Dwayne Wade.
TWO - Time To Start Dancin': Are You Ready for March Madness?
This is, by far, my favorite time of the year. Right now, conference champions are being decided, and while the big teams are already penciled in, you have North Dakota State, Cleveland State, Robert Morris, and other mid-major schools who all earned the right to go to next week's field of 64. There's nothing like March Madness, and for the people who live it as I do, they'll most certainly agree. Make sure to have a bracket (or two, or three) filled out, but whatever you do, don't pick all #1 seeds to make it to the Final Four. It happened last year, but that will NEVER happen again. Oh yeah, and even though Davidson didn't win their conference, they'll still make the tournament, watch.
THREE - Ron Artest and Kobe Bryant Duel Last Night
Last night, I turned on Sportscenter (my nightly ritual), and after seeing the Texas Tech Mike Singletary go absolutely ballistic, the highlights of the Rockets – Lakers game came on. When they play, it's usually Artest or Shane Battier sticking Kobe, but for this contest, Artest got the honors for the majority of the night. Anyway, after a quiet first half, Kobe proceeds to lose his damn mind, and score 31 points in the second, with quite a few of 'em coming on Ron's head. No big deal, because Kobe pretty much does this to everybody, but then Artest started talking crazy. Look, I hate Kobe as much as the next man, but I wouldn't catch myself saying a word after I got torched by him, but like Ron kept saying over and over last night, he'll see him again.
AND ONE - Staying Put: What does the LT re-signing do for the San Diego Chargers?
LaDainian Tomlinson agreed to restructure his contract to remain with the San Diego Chargers, and even though I am not a Chargers fan, I'm glad this was taken care of. LT is one of the best to tote the rock, and even though he hasn't been able to stay healthy, I still consider him to be a top-three running back in the league. I already have the Chargers penciled in to win the AFC West; beyond that, there's no telling. A lot of factors come into play, including the status of the Colts, Patriots, and Steelers, but the Chargers should still be in the mix, thanks to keeping their franchise player in the fold.
Be easy.
-K. Masenda
www.edthesportsfan.com