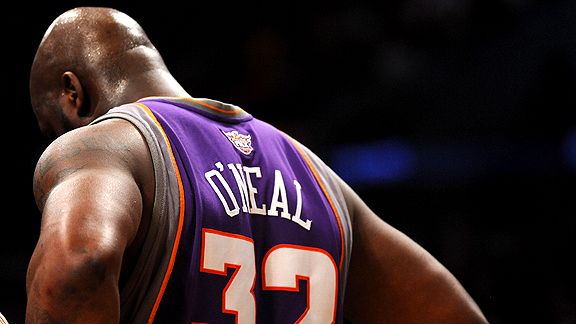 Unsportsmanlike Conduct - Every Monday, Ed The Sports Fan brings you the biggest names over the past week so that you can be thoroughly entertained like when you are at the club and you see two chicks fight and completely reveal their..."goodies" and no one comes to break up the fight. Classic.

1. Kobe gets 49, but the Big Homie gets the W – Shaq looked like he was back from NBA Live '98, using turbo and everything. Very impressive sir, however, I was watching this game until halftime, then I had to run and make some moves real quick. I call my boy Phil, who's an avid Lakers fan, to check on the score. He retorts, "Yeah, Kobe just put up 17 in 7 minutes. Kobe is the greatest." First off, why do all you Lakers fan have to try and preach to me the greatness in Kobe Dean? You already know I don't like him, in fact, I think he doesn't help old ladies cross the street, takes the cream and the clear, drinks the last of someone else's juice, and loves white women. Ok wait...anyway, yes he's great. One of the greatest of all time, but I don't care. When I saw him crash into Bynum's leg when he got hurt last month, Kobe didn't get up and see if his boy was ok. What did he do, he made a hella screw face and was mad at Bynum like, "Dang now we can't win the finals because of your dastardly knee." YOU CRASHED INTO HIM! If LeBron's teammate got hurt, he'd be right there. I'll take LeBron or DWade please, thanks. (Ok, you can begin being mad at me.......now.)

2. Time To Get Paid, NFL Edition – Here's a list of some of the HA-YOO-GE deals that got signed via free agency/trade:

Albert Haynesworth, Washington Redskins - 7 years/$100M
Nmandi Asomugha, Oakland Raiders - 3 years/$45M
DeAngelo Hall, Washington Redskins - 6 years/$55M
Matt Cassel, Kansas City Chiefs - Terms Undisclosed
Brandon Jacobs, New York Giants - 4 years/$25M
Bart Scott, Baltimore Ravens - 6 years/$48M
Brian Dawkins, Denver Broncos - 5 years/$17.5m
Keith Brooking, Dallas Cowboys - 3 years/$TBD

Excuse me while I go take some HGH and go put some tackling dummies on layaway for when I have a son. Anyway, isn't it a recession? Where the hell did the Redskins get all that money from? Secondly, how the hell did the Chieftains pull off that doozy with the Patriots. Belichek must've done Chiefs GM Scott Pioli a solid, because they got Cassel and Mike Vrabel for a 2nd round pick? For real? That's almost as bad as when the Lakers traded Kwame Brown for Pau Gasol...ok its DEFINITELY NOT THAT BAD, but still. However, the biggest two people in the free agent class to be signed to me is Brian Dawkins leaving the Eagles and Keith Brooking signing with the Cowboys. Dawkins first, McNabb might be the QB of the Eagles, but Dawkins was the QB and the heart of the Eagles defense. Definitely one of my favorite players, the Eagles are in trouble unless they go get someone immediately. (Go get Darren Sharper right now...) As for the Cowboys, sigh...look, honestly it might've been a smarter move than signing Ray Lewis because you already got Zach Thomas and Bradie James at the middle backer position, and Keith is an exceptional LB. He isn't as fast as he used to be, but he can still get it done. Great move by the 'Boys. That will be the last compliment I give Dallas for about 4 months.

3. 2 NFL Players lost at sea... – Remember when this happened with Bison Dele aka Brian Williams in the 90's? I've heard in the area of the gulf that Detroit Lions free-agent defensive end Corey Smith and Oakland Raiders linebacker Marquis Cooper were at, that people have turned up missing in the past. I wouldn't be surprised if there were pirates in that area for real, regardless let's hope that these two guys get back home safe.

4. Message for Detroit Pistons coach Michael Curry – Put Iverson on the bench, your team and players will all be better for it. Trust me.



5. The World Baseball Classic - Go Puerto Rico! – This is going to be classic, literally. The World Cup of Baseball is in Puerto Rico and I...will be watching from home. Dammit. However, take the atmosphere of the World Cup and add to that some good ole baseball and talking shit. Oh, and A-Rod's playing for the Dominican Republic with Big Papi David Ortiz...that should be interestante. Let's see if Team USA can be more competitive that the lackluster performance they had last year.

6. With the 1st pick in the 2009 NBA Draft... – My main man, Blake Griffin...look how mad he is after he gets up from hitting the hardwood and taking out computer montiors.




Ladies and Gentlemen, Blake has displayed how true, big, light-skinned brothers from Oklahoma act. Don't tread baby.
7. Unsportsmanlike Conduct - On The President Holding up the Game for 5 minutes... – (From AB.com)

More definitive proof that the president is indeed, black. Exhibit A: Shows up at NBA basketball game. Gets free ticket hookup. Arrives fashionably late, with weedcarriers in tow. Forces 5 minute delay of tipoff. Sits front row, rather than high up in suites (like most Presidents) where he can't be seen or touched. Swills beer. Pops sh*t to hometown fans, long after his team has been mopped off the floor. Leaves early to go hit the clubs.






LOL! Quick note, can we stop saying "My President Is Black?" Trust, I know the song is hot, but got damn. I can obviously see my pres has some melanin. I definitely am still overwhelmed with everything that is going on for our people. However, I would like to try a different phrase. "My President Is Cool." "My President Has Sense, not Cents." "My President Is Smart." I dunno, maybe I'm just off.
WHAT DID YOU THINK OF THE CRAZY WEEKEND? LEBRON VS. D-WADE TONIGHT, WHO YOU GOT?

-Ed.
www.edthesportsfan.com