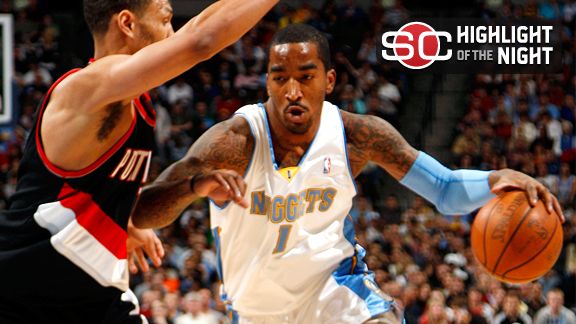 ONE - No Fear: How Much Noise Can Denver and Portland Truly Make This Postseason?
These two teams truly have a shot to disrupt some things in the Western Conference. While some people are ready to crown the Lakers, the Nuggets and the Blazers aren't going to back down one bit. The Nuggets are due to make a run, and while I still think the Blazers are about one more year away, they play with no fear, and truly think they can beat anyone they play against. Needless to say, next weekend should be very, very interesting.
TWO - Charge it to the Game: Is it Time for The Answer to Retire?
Here's the reason why this question is being asked: Allen Iverson will have to go to a team where he either (a) accepts he will not be the man anymore, or (b) go to a laughingstock. I'd rather him hang it up, before he goes to a team where he gets his numbers, but they can't play worth a damn, and cannot win. At the same time, I don't know where he can go, contender-wise, and get a chip. I hope it comes to me sooner than later, but if not, it's been a fun ride.
THREE - Somebody Lied to You, Buddy: The Epidemic of Underclassmen Leaving Early
There's a harsh reality with every NBA draft, and it seems like some of these cats always miss the memo. There are two rounds, each with 30 picks. You have your sure-fire picks, your players that got hot during the tournament, and your overseas players. After all of those, there is not much left to choose from, which leaves some of these fools, who declare early, out in the cold. If they stay their behinds in college, they could probably be lottery picks next season, but there's either some cousin, an agent, a homie, a girlfriend, another family member, or someone else that gasses 'em up, and tells them they should go to the league early. It happens every year, and this draft will be no different, if not worse. Here's a free piece of advice: don't be a fool, stay in school.
AND ONE - Your Wish Has Been Granted: How Will Jay Cutler Fare in the NFC?
Well, the crybaby got his wish, and was traded to the Chicago Bears last week. Honestly, I think this tilts the balance of power in the NFC North in their favor, simply due to the fact that Jay Cutler is just that damn productive. The Bears defense is 100 times better than Denver's, on their worst day, and they already have the running game taken care of. If Cutler can bring the same effort to the Chi that he had in Denver, they'll be alright. If not, the Vikings will be waiting in the wings to repeat. Either way, it doesn't matter what either of them do, because the Cowboys are gonna find a way to get the job done this year.
Be easy.
-K. Masenda
www.edthesportsfan.com