Wow...
I'm salty that I didn't even get to watch the first 3 quarters of the Bulls vs. Celtics game on Saturday, I was out with my 2 kids that I mentor out and about and all I keep getting is these text messages vibrating on my phone. It went on for roughly 90 minutes. This is how it went...
==vibrate==
M*thaf*ckin D. Rose!!!!
==vibrate==
ROSE!!!!
==vibrate==
WTF is wrong with Ray Allen?????
==vibrate==
Rondo might be a top 3 PG in the NBA, yeah I said it.
==vibrate==
Someone go outside and shoot Joakim Noah...
==vibrate==
M*thaf*ckin D. Rose...
You get the point, the weekend was interesting on so many angles, that its hard to put it perspective because this is only the first game of the playoff series. One question though, are these upsets really upsets? Are we witnessing the breakout of our next stars? Is the old guard changing? Since I didn't do an NBA Playoff preview (Really, did you need a playoff preview from us? There were about 459,328 of them online or on tv, blogs were covering it, and my momma said that its "LeBron's time" which left me baffled. We know you are paying attention, we're here to keep you thinking) so my series prediction's will be listed as well.
1. Bulls 105, Celtics 103 - Along with the aforementioned ordeal I was put thru, two things jumped to me immediately. One, you've gotta think Ray Allen won't shoot 1-12 again, but didn't he do that last year against the Hawks? Couldn't find the rim with a flashlight. Two, The Bulls bench scored a total of 10 points on 4-20 shooting. I'd expect both to improve tonight in Boston. Is Boston really better than Chicago at this point, especially with Garnett out of the lineup? Chi-town finished 18-11 after the Salmons/Miller trade, and projected to 82 games, they'd be 51-31...don't underestimate Ben Gordon playing his arse off for a contract either...
Series Prediction - Celtics in 7
2. Mavericks 105, Spurs 97 - I'm not sure if its fair to say the Spurs are dead, when probably their best perimeter player (Ginobili) is out for the playoffs. You take away anyone's best perimeter player and they are going to be affected. With that said, this series has the makings of going 7 pretty easily. No one on the Mavs can guard Tony Parker, yet no one on the Spurs can guard Dirk Nowitzki. Same could be said about Jason Terry and Tim Duncan. So, I leave it up to the role players in this one. In game 1, Jose Juan (Carlos) Barea balled out of control and pushed the Mavs into victory. He's not doing that all series, but who else will step up. I think I like Barea (Puerto Rico stand up!), Howard, Bass, Stackhouse, and maybe even Jason Kidd more than Bowen, Finley, Udoka, Bonner, and Mason.
Series Prediction - Mavs in 7
3. Cavs 102, Pistons 84 - Your 2008-09 Eastern Conference Champion Cleveland Cavaliers...and R.I.P. The Detroit Pistons core. Answer me these questions...Is Rodney Stuckey really a PG? (Will Bynum is the best PG on the Pistons, watch the tape) Do we really believe in the Michael Curry era? (Should've got Rick Carlisle) Is Joe Dumars really the GM we all praise him to be? (Think about it, they missed out on Bosh, traded Billups for Iverson, hired Flip Saunders and Michael Curry, signed Kwame Brown, and is banking on the '09 free agent pool to resurrect the franchise. Who do they go get, Carlos Boozer? Bosh? How much better does that make them? They got one right, signing Rasheed Wallace while he had a couple of years left. Rasheed is still decent, but he's not a main cog. They have no studs on their team now and its their own fault.) LeBron might not break a sweat coincidentally.
Series Prediction - Cavs in 4
4. Rockets 108, Blazers 81 - This series of all series is to me the most intriguing, as realistically everyone is penciling the winner of this matchup to have a realistic (albeit slim) chance to beating the Lakers. However, after having a discussion with Kenny last night, I was informed by him that Houston will "destroy" Portland as long as Houston feeds Yao in the post. Which after careful thought, I must say that I totally agree with him. Think about it, Oden and Przybilla against Yao? Really? Plus, they can throw Artest and Battier on B-Roy? You're counting on LaMarcus Aldridge, really? I really like Portland, but the realization hit me square in the face which leads me to something else about Portland.
How good is Portland really? Let's be realistic about their team right now, besides Brandon Roy, isn't their whole team really replaceable? Look at their team, as Kenny so eloquently stated it for me this weekend, they went so completely left of the "Jail Blazers" that they went for nothing but young talent, which is great, but here are the problems with this team.
- Who the hell is Brandon Roy or anyone else on the team going to learn from. They are the 2nd youngest team in the league, average age is 24. Brandon Roy is the veteran on this team, and he's only in his 3rd year. Imagine leading the company you work for after 3 years. Right, I thought so. There are no veterans on this team, look at the maturation of the Celtics. Big Baby plays his ass off because he knows Garnett will get in his ass. Same with Rondo, who not only had Jesus and The Truth to guide him, but he had Sam "I Am" Cassell showing him how to do the big balls dance as well. This is a big deal, and Portland must address it in the off-season. A Lindsay Hunter, Kurt Thomas, or Richard Jefferson would do wonders.
- Brandon Roy is great, no doubt. However, look at his game, can he really be counted on doing it all by himself. Let's be real right now, I respect my dude J. McFly at Mr. Swagger, who tried to tell me that LaMarcus Aldridge is the most underrated player in the league, but sir that's just blasphemy. He's not underrated, sorry. LA had 7 points and 3 rebounds against Luis Scola (who had 19 and 8) and at this point in his career I'm not sure if he's already hit his ceiling. He's 18 and 7, and he's only 23 years old, but you're in the league to win championships. Is he the answer for a post man? Not sure.
- After B-Roy and Aldridge, couldn't you upgrade literally every position on the court? Portland needs a PG in the worst way, Steve Blake is not a #1, Jerryd Bayless is too young, and who the hell is Sergio Rodriguez? Travis Outlaw believes he should be getting as many shots as Carmelo Anthony (!) so best believe he won't be a Blazer next year, lol. Nick Batum is there to play defense, that's it. Rudy Fernandez might stick, but as long as he/the team realizes that he's a role player then they are ok. Pryzbilla is great off the bench, and Oden is...well Oden. Or as I like to call him, the real life Benjamin Button. (Did you see his '92 crescent moon part?) Point is, they need to make a move for a major cog, players 3-12 are expendable, treat 'em as such. Go get Vince, or Ray Felton, or Andre Miller, Shawn Marion, or someone that can have an immediate impact. Truth is, they wouldn't have this problem if they had only done one thing differently two years ago...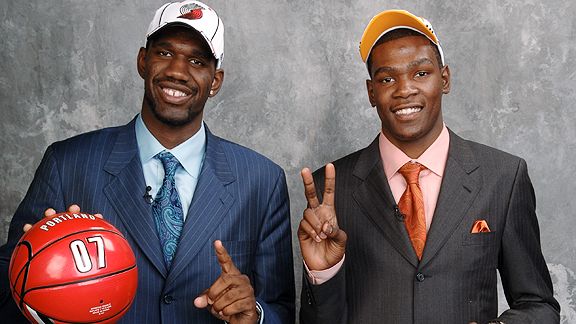 - Which is drafting Kevin Durant instead of Greg Oden. Go ahead and put Durant on the Blazers right now and think about the implications. Now instead of being Roy, Aldridge, and an iffy Oden...you're now Durant, Roy, and Aldridge with the same team! My head just exploded. How much of a monumental error could this be? You knew Oden had knee troubles, and you knew Durant was a gifted scorer, you thought Travis Outlaw was the answer at the 3? I'm done.
Oh yeah...
Series Prediction - Rockets in 6
Part Two tomorrow, let me know your thoughts...
-Ed.
www.edthesportsfan.com