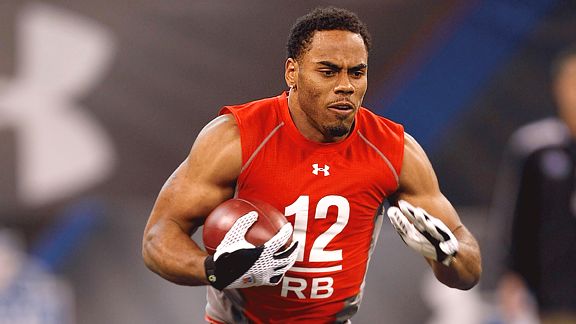 This story is run in conjunction of (Full All Out) Blitz Magazine.

Sometimes you've got to deal with what life puts in front of you. For Rashad Jennings, he's handles these situations like any runningback would, he acts instead of reacts.
1-on-1 with a linebacker in the hole, shake him and bust it (open) outside.
1-on-1 with a defensive back, put the shoulder down and bust it (open) outside.
1-on-1 with a Dad diagnosed with diabetes (and having to have his leg amputated), pack up at Pitt and move home to Lynchburg, VA and attend Liberty University.
Don't let the small school fool you, Rashad Jennings is about as legit as they come. He was originally penciled in to be the starter at runningback at Pitt a couple of years ago (opening the way for LeSean McCoy), however, family troubles made the burden too heavy and coming back home was the only option for Jennings. You see Liberty University is 10 minutes away from his hometown of Forest, Virginia, and being close to his mother and father was of most importance. Some decisions are hard for some people, this one was a no brainer.
Three seasons at 1-AA (I still refuse to call it FCS) Liberty later, Jennings left his mark as only a runningback with bad intentions would. Amassing over 4,000 yards in rushing with 42 touchdowns to his credit, statistically he's on par with the rest of the top tailback prospects.
Measurables? At 6'1", 230 lbs. he definitely looks like an NFL back. At the 2009 NFL Combine in Indianapolis, he ran a sub 4.6 40-time and has worked hard enough to now push himself to be a 2nd-3rd round selection. After reviewing all of the information available, if there is someone to compare him to it would probably be Tim Hightower from last year's draft. Nice size and good combine numbers out of a small school, with big upside. With private workouts finished up with Denver, New England, NY Jets, Philly, and New Orleans, he's definitely a desired asset.
I had the chance to talk with Rashad earlier and discuss his thoughts on the draft, life at Liberty, and his potential contribution to an NFL team.
Ed The Sports Fan: How you been? T-Minus 6 days until the draft, how you feeling?
Rashad Jennings: Every emotion in the world is running through my body, from the highs to the lows. I remember I was the kid on the sideline "picking my nose" just wondering what would happen next. (Laughs) It's a comfortable yet exciting feeling though, being able to do what I said I wanted to do as a 6-year old is a liberating feeling.
ETSF: Some sources are projecting you in about the 3rd-round, and I see you as the "Tim Hightower" of the draft and could be a real value pick. How do you feel you can contribute to an NFL team?
Rashad: Whichever team selects me, my first priority will be to help the team win. Winning over the respect of the players in the locker room, and doing whatever it takes to get us a victory is the biggest thing.
ETSF: Who was your favorite team growing up?
Rashad: Well, when I tell people everyone laughs, but my favorite team growing up was the Arizona Cardinals. Everyone around here was either Redskins or Cowboys fans, but I really liked Arizona!
ETSF: (laughing) Wow, didn't expect that one. Favorite player?
Rashad: Definitely Eddie George.
ETSF: What would you say the toughest or hardest things you've dealt with growing through the draft process?
Rashad: Waiting for the actual draft, waking up everyday not knowing what will happen on April 25th. Also not knowing what type of recognition and success I would've had at Pitt. At the end of the day, football is football, and I feel like I would've been successful wherever I played.
ETSF: Tell us what you got out of the Senior Bowl earlier this year.
Rashad: The coaching was the best, getting the opportunity to work with (Jacksonville coach) Jack Del Rio and (Cincinnati coach) Marvin Lewis was the best. I feel like I'm very coachable, and being able to learn simple techniques and tips worked wonders even in practice. Imagine what I could do in a real game. Plus, the pros come out and worked out with us as well, and Maurice Jones-Drew roomed with me while at the Senior Bowl. That was fun.
ETSF: What's the first thing you're going to do after you hear your name called?
Rashad: (Laughs) Probably ball out and start crying, feeling elated. Being thankful for my family and truly being happy. After that, just focusing on getting on that plane and going to work.
Rashad will be graduating with a double-major in Sports Management and Business, and will be walking the stage May 9th.
Who are the sleepers in this draft? Are the small school players becoming in style in the NFL circles? Let us know your thoughts!
-Ed.
www.edthesportsfan.com