Once again, we've come up with another original here, something you will never see anywhere else. From the folks who brought you the first-annual ETSF All-Goon Team, we're bringing you the first-annual ETSF Grown-Ass Man Team.
Having a grown man's game is one of the biggest compliments you can give a basketball player. For one, you will see no jump-shooters, or three-point specialists on this list. The only one-dimensional types I consider to have a grown-man game are rebounders and defenders. In order to have a grown man's game, you have to be willing to mix it up, have a nice balance of old-school and new-school style in your arsenal, and you cannot, by any circumstances, allow anyone to punk you, or even think they can hold you. Basically, when they look on the schedule, and see your team and your name up, the only word that will fall from their mouth is "sh*t."
PG – Chauncey Billups – Mr. Big Shot has occupied this spot for the past four-five years. He's the prototypical grown-ass man point guard. He can shoot, play D, go to the hole, back you up in the post, and is the definition of a leader. Just look at what he's done with Denver; this team was forgettable last season, but they are smashin' everyone in their path right now, and it's largely because of Billups. On top of that, he's about nine games away from having Ed change his name from The Sports Fan to The Soothsayer, since he picked them to win the championship, before it was popular to do so (Back-up PG: Deron Williams).
SG – Dwyane Wade – Honestly, you can go either way with this pick. For me, I go Wade for the simple fact he can do everything you want a two-guard to do, on top of play good on-ball defense, help-side defense, and will dunk on you in a split second. He'll also do it with that half-smirk/half-dead look on his face, which, in my opinion, translates to "bit*h, you can't hold me." He doesn't have to say it; he just lets his game do the talking (Back-up SG: Kobe Bryant).
SF – LeBron James – The King has been a grown-ass man ever since his first dunk in Arco Arena, back in 2003. Since then, he's added something new to his game that pretty much solidifies his standing on this list for the next 100 years. He can beat you in so many ways, and, on top of that, can make it look pretty damn easy (Back-up SF; Caron Butler).
PF – Kevin Garnett – KG was born for this position, and while some people may get it twisted by looking at his numbers, look at the fact he literally changed the game when he came in the league. Honestly, I can't think of another player who can play the three, the four, and the five-spot, and play ALL OF THEM GREAT. Don't waste your time trying to think of someone who has, who can, or who is: there simply isn't another man like Kevin Garnett in the game of basketball (Back-up PF; Big Al Jefferson).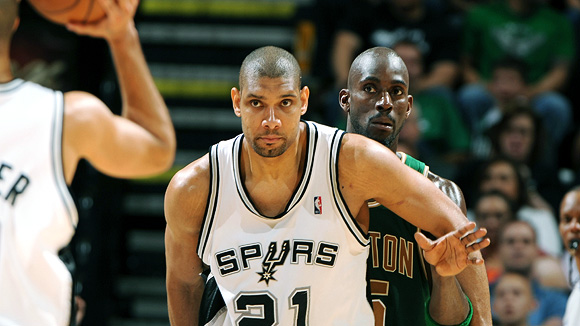 C – Tim Duncan – The Big Fundamental's nickname says it all. He's the one person who can embarrass the hell out of you without even leaving the ground. He even found a way to make bank-shots look cool. If that can't be appreciated, then I don't know what to tell you. Tim Duncan has one of those games where, if he wanted, he could still be a monster at 40 years old, and if he chooses to leave the NBA, he'll just go to any 24 Hour Fitness, any rec center, or open run, and bust everyone's ass in there, without even trying (Back-up C; Shaquille O'Neal).
Coach – Gregg Poppovich - Have you seen the way this man scowls on the bench? That's enough of a reason to be the coach of this team alone. Plus, he blatantly says he's going to win the championship on every odd year. Ok that was made up but still, he's a great coach, and coached Mike Brown over in Cleveland to be the best in the East. (Assistant Coach; Jerry Sloan)
Who's on your Grown-Ass Man Team? Let us know!
-K. Masenda
www.edthesportsfan.com