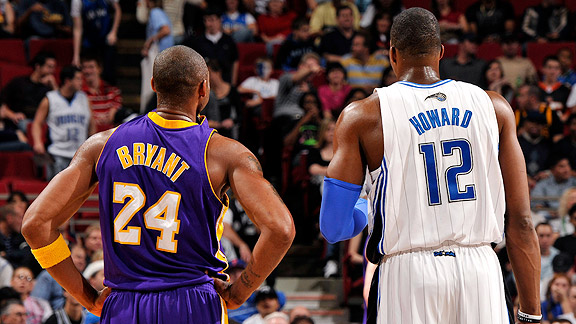 You may or may not have read some of the classic debates on ESPN between Bill Simmons and Ralph Wiley or Bill Simmons and Malcolm Gladwell, where they exchange emails and debate current topics at the water cooler. Well, this debate between Phil and I is about the same, except we both took steroids and took shots of creatine before writing this.
Phillip Barnett is a contributor for Talk Hoops
and has always been a good friend of ETSF. I'm pretty sure you won't agree with either of us on everything, but I'm sure you will enjoy it. Remember, send all hate mail to him, not me.
From: Phillip Barnett
Mon, Jun 1, 2009 at 2:50 PM
To: Eddie Maisonet

Ed,

One of the best things and worst things about living in California is the fact that about 40 percent of the people you meet aren't from here, and of those 40 percent, about 90 percent of them love sports, and of that 90 percent, I'd say about 98 percent of them hate California teams. On top of that, half of the state is no where near a city large enough to support a professional sports franchise, so we have actual Californians out here who hate California teams. The conjectural cherry on top is the fact that the actual cities that are large enough to support professional sports teams are in areas that support not one, but two basketball teams. Which means, there are three teams not nick named the Lakers with fans who loathe the franchise like George W. loathed reading, there are Californians who just hate the big city and everything it represents, including the sports teams, non-Californians living out here trying to take advantage of something who love teams in other cities -- and then there is you. I'm not sure if I know anyone who hates the Lakers more than you do, whether it's wanting to "jab Kobe in his sleep" or advising Lakers fans to take shots of bleach, your hatred for every thing Forum Blue and Gold is unprecedented in my eyes.

With that being said, you have the Magic in six. Now, I want to believe that you're picking the Magic because you really think they're going to win this series, but something is telling me that you just WANT the Magic to win in six because of your hatred for the Lakers. I have to know which it is, we can get into why later, but now, can you please tell me where this deep rooted hatred for the Lakers originated.

-Phillip

From: Eduardo Maisonet Mon, Jun 1, 2009 at 3:46 PM
To: Phillip Barnett

Phil,

First off, I heard that 74% of all statistics are made up.

Secondly, I can definitely attest to your geographical issues of circumstance. I grew up in Oklahoma which is undoubtedly Dallas Cowboys country. I also loathe the Dallas Cowboys. Being a military kid, however, there was an opportunity to grow up with folks who were fans of other teams. That helped the sports environment that I grew up in.

Now, in regards to the Lakers, here's my issues. First off, my issue isn't really as much with the Lakers as it is with Lakers fans. See, I'm an 80's baby. 1983 to be exact, and I can't sit here a straight face and tell anyone that I remember Magic, Worthy, Kareem, and the rest of the greatness that was Lakers basketball. I was roughly 5-7 years old when they were still going up and down the court. I WAS WATCHING CARTOONS! The first person I can remember watching on television were Michael Jordan, Reggie Miller, and Shawn Kemp. I loathed Jordan, didn't hate him though. Kemp and Miller because my original favorite players.

However, when the Lakers finally fell off for good, they were just another regular team to me. I actually kind of liked them in the mid-90's as they amassed a squad of Eddie Jones, Vlade Divac, Elden Campbell, Ced Ceballos, and my main man Nick Van Exel. Nick was my dude, and the only reason I'd ever root for the Lakers. However, that team was never meant to be. Shaq and Kobe came in '96. Phil came a couple of years later and the rest is history. Now maybe the fanfare built back up because of the star power that Shaq and Kobe brought with them, bringing "Showtime" back to the City of Angels is a big deal. Truth be told, we need the Lake Show to be good just like we need the Knicks to be good too. But goodness, all the shaft-riding and sheer number of Lakers fans is ridiculous. People I know from NY, Boston, Chicago, and other geographical locations LOVE the Lakers. Why? Aren't the Bulls, Celtics, Knicks in your own backyard? What's the deal?

That reason and the chronicles of Kobe debacles were a major turnoff. You said once, "Why should we care if we like what dude does off the court?" Well I think its a great reason! Makes me feel like I would like him more if I hung out with him. For me not liking Kobe, from the airballs in the playoffs, to the mimicking of Jordan, to the failed rap career (and undoing of Tyra Banks), to the snitching on Shaq, changing the jersey to #24 (to be one better than Jordan), and the desire to exodus Andrew Bynum from his team was just way over the top.

Kobe's not like the cherry on top of the reason why I hate the Lakers, he's more like the Rock of Gibraltar. I honestly don't think Orlando will beat the Lakers, but I am rooting for them to beat them, and if they did I'd love to see them do it on Kobe's floor in Staples Center.

-Ed.

From: Phillip Barnett Mon, Jun 1, 2009 at 5:21 PM
To: Eduardo Maisonet

Ed The Kobe Hater,


I can understand how you can hate Lakers fans, because I hate the majority of them myself. Only a Lakers fan would wear a Celtics jersey because it matched the Air Force Ones he just bought. It's disgusting, but it's Los Angeles and only Lakers fans. I've recently seen some dude wearing a Samaki Walker jersey! I can go on forever about dudes wearing Shaq jerseys or Kobe's number 8. Do Spurs fans wear Jerome Kersey jerseys? Do Bulls fans wear Dennis Hopson jerseys? Absolutely not, Lakers fans are stupid -- not all of us, but it's a large percentage (eh, 86 percent).

Those 90s teams are the reason I love the Lakers so much. I grew up watching basketball during a time when the Lakers weren't winning championships. I had my dad telling me how great things were in the 80s, but they won their last championship when I was learning to walk. Eddie Jones and Nick Van Exel is still my favorite backcourt in NBA history. I was one of those fans who chanted "EDDIE! EDDIE! EDDIE!" (not for you, for Eddie Jones, my favorite Laker of all time) in the Great Western Forum. It was a sad day when they moved to Staples, but the hurt didn't last long because they won that Larry O'Brien that same season.

Speaking of the 90s, that decade featured one of my favorite goon squads of all time, the 98-99 Jailblazers (Isaiah Rider, Damon Stoudamire, 'Sheed, young Jermaine O'Neal and Bonzi Wells, how could you not love that team?). I read your blog about the moves Denver and Cleveland need to make this off season and you mentioned the idea of having Chauncey, Melo, J.R. K-Mart and 'Sheed on the roster, which I would love because I have the same affinity for goon squads you do. What's your favorite goon squad of all time?

As for the Kobe thing, we'll never agree on the dude. I have a love-hate relationship when it comes to Kobe. Of course, as a Lakers fan, I love watching him operate on a basketball court. His attention to detail when it comes to footwork and the form on that shot, is second to none. However, I hate the fact that most Lakers fans fail to recognize when he has a bad game. I'll never defend a 12 for 32 night for Kobe, ever, and I find my self arguing against the dude more than I'm defending him (well, not in the playoffs) because he does make mistakes just like everyone else does. He is better than Lebron though. You can't convince me other wise until he gets some footwork, a post-game and a mid-range jumper.

What happens to Kobe's legacy if Orlando somehow does pull off the upset?

-Sincerely, the man who does not want to be called Phil until he's retired

From: Eduardo Maisonet Mon, Jun 1, 2009 at 10:03 PM
To: Phillip Barnett

Phil, (You made me do it lol)

Big ups to my faded Reggie Miller #31 Pacers jersey that's hella faded but in my mama's closet right now! (Mama I hope you didn't throw it away, please...)

Yeah the mid-90's teams were something to behold. Who could forget Magic Johnson, Del Harris, and Kurt Rambis trolling the sidelines trying to motivate multi-millionaires with ridiculous tactics and screw faces. Truth be told, then GM Jerry West did what he had to do. He went out and created a new foundation for his team, by bringing in a big man in Shaquille and a wunderkind in Kobe, the groundwork was laid. Jerry West is a genius, and that's probably what killed it for me and the Lake Show. Jerry West and then Mitch Kupchak afterwards, were some smart dudes. Getting guys like Ron Harper, Brian Shaw, Rick Fox, Robert Horry, Glen Rice, Mitch Richmond, etc. etc. etc to buy into the system is something of legend and it makes me wish my favorite team (The Thunder, yeah I said it) would buy into the same philosophy. Kudos to your organization for surrounding your stars with world-class talent. Something I can't say about the team in Cleveland...


As far as the goon squad is concerned, yes Yes and YES! Rasheed almost makes perfect sense for the Nuggets (although I'm about 4300% sure they'll never do it) and the JailBlazers are another reason I hated the Lakers. Scottie was supposed to cement his legacy with the Blazers, and one collapse in the 4th quarter cost them that opportunity. Rasheed Wallace was THE BEST POWER FORWARD IN THE LEAGUE, period. No one can tell me anything different. Pippen was the old lion, Stoudamire was the long range assassain, and they had dogs on the bench (Steve Smith, Jermaine O'Neal, Sabonis, JR Rider, Bonzi Wells, Detlef Schrempf, Brian Grant, Stacey Augmon, and the mercurial Gary Grant!). That comeback was utterly amazing, and it left an organization deflated. The 2004 Pacers were the same way, with Jermaine O'Neal, Ron Artest, Stephen Jackson, Jammal Tinsley, Al Harrington, Jon Bender, Fred Jones, and even Reggie Miller leading the way. That team was a problem. Both teams shoulda won championships. Why don't teams try this philosophy more often? Yeah they're volatile but they are damned fun to watch.

Kobe, Kobe, Kobe...he's amazing. I can't lie, I'll never be one to say he sucks, just like how I felt about Jordan. Kobe is an amazing shot maker, he can make any shot on the floor with ease. He's a more fluid athlete than LeBron, I can admit that. He's not any better or worse of an athlete than LeBron, they're just built different. The thing about LeBron is, he's so great and he can't do everything Kobe does. Yet he does it at such a level that it doesn't really matter. I think LeBron is a freak version of Magic Johnson, he's got all of his charisma, personality, and leadership but just so happens to be built like a defensive end with 4.4 40 speed. Who's better? I dunno, they're equal. How about that?

Kobe's legacy is destroyed if they lose to Orlando. I've come to this realization about the Lakers a little while back, the Lakers are the best team in the league, period. They have the best frontcourt in basketball (people don't really realize how good Gasol, Odom, and Bynum are, two-thirds of the league don't have a better big man than the Lakers WORST big man), they have the best coach in basketball in Phil Jackson, and they have the best closer in the game in Kobe. If they lose to the 3-point Unibombers aka the Orlando Magic, then Kobe's in major trouble. He ain't finished, because the Lakers are surprisingly going to get better next year, but its going to be a major deflator.

This is going into Simmons/Ralph Wiley/Malcolm Gladwell territory...I'm picking the Magic in 6. I've ignored the fact that they beat Cleveland 3-1 in the season series and it showed up in the postseason. Orlando beat LA 2-0 this season, not letting that info go by me again. Magic in 6, who you got?

-Ed.

From: Phillip Barnett Tue, Jun 2, 2009 at 4:22 PM
To: Eduardo Maisonet

Ed the Thunder Fan,

I have this weird love/hate relationship with Reggie Miller. I usually don't like NBA players who make their careers just shooting the three ball, but Reggie was a different species. I respected Miller because, even though he may have been the boniest player of all time, he was raw. I still remember him beating Kobe's ass on the scorers' table. However, I can't stand the dude on TNT. I feel like he's assigned to call every Lakers' game during the regular season (and the damn 1st round of the playoffs) and so I hate him now. As a Reggie Miller fan, is it easier to listen to him just because you loved him, or is he just as annoying to you as he is to the rest of us?

I hate Del Harris. Four All-Stars, no Finals appearance. I yelled profanities every time we saw him on the sidelines during that epic Bulls-Celtics series. True story.

The Goon philosophy is a good one to have. There aren't too many things that could make me love the Lakers more, but if after Kobe retires and they go out and field a team like the 2006 Warriors (won that epic 1-8 first round match-up with the Cavs on sheer goonery alone -- is goonery a word?) or the mid-90s Knicks, I would love them just that much more. The media tends to get on teams like that, but I think the fans love it. I mean, would hockey or football even exist if people didn't like goons?

I agree about Kobe's legacy being destroyed in Orlando. I thought it would be after that 39-point loss in the Garden last year, but I don't even hear people talking abut that anymore. Last season's title is remembered as three future HOFs coming together to put together one of the best seasons in NBA history, not as Kobe's failure. However, if they somehow lose to Orlando this year, it will only be seen as Kobe's failure, nothing else -- and nothing will ever change that.

As far as this series goes, I have the Lakers in six. The Lakers will drop Games 2 and 5 and win it at home. I don't see Orlando having the resolve to win a seven game series when four of the games will be in Staples -- and no Jameer Nelson is going to be crucial. The Lakers have struggled against teams with multiple bruisers on the blocks or teams with quick point guards. Without Jameer, Orlando has neither. After seeing Deron Williams, the combination of Aaron "The Mighty Duck" Brooks and Kyle Lowry, and Chauncey Billups, Skip should make the Lakers' trio of points look like they belong in a playoff series.

This exchange is getting pretty epic so here area few more questions to wrap things up. Since we all know ya boy Blake Griffin is not going to be in Oklahoma City, who would you like to see the Thunder pick up in this year's draft? Give me one or two sleeper teams and sleeper players for next season? If you could jab any other NBA player in his sleep, outside of Kobe, who would it be?

Until next time,
Phillip the future champs Fan

From: Eduardo Maisonet Wed, Jun 3, 2009 at 10:01 AM
To: Phillip Barnett

Phillip the DJ Mbenga Fan,

Looks like Jameer might be back for the finals...I wonder if that sways your opinion on the series. Like I said earlier, I'm not going to ignore the fact that Orlando won the season series 2-0 vs. the Lakers this year. I ignored that with Orlando vs. Cleveland and I won't do it again. Yes, Odom has a better chance of guarding Rashard Lewis than does any big man from Cleveland, but its still freaking Lamar Odom. Dude eats Starbursts for breakfast.

With the 3rd pick, the Oklahoma City Thunder selects...Stephen Curry, Guard from Davidson University. Make a note of this right now, Curry will be the 2nd best player to come out of the 2009 NBA Draft. With Curry, they get an additional ball handler, and get a deadly sharpshooter to work off of Durant and Green. Just makes sense to me. Possible other pick, James Harden from Arizona State. He could be Brandon Roy reincarnate. I'm not saying he will, but he fits the mold that Roy had coming out of school. Not great measurables, decent not great athlete, but knows how to score and fit into a system.

LOL @ "jab anyone in their sleep" I might have to trademark that phrase. Hmmmm, I would probably have to jab a couple of other players for totally different reasons.

Carlos Boozer - Have you ever seen anyone in life get within 2-3 feet of the rim and miss layups and close shots more often than Boozer? He is not great representation of the LSC (Light Skinned Coalition, I'll have to break this down for some of you one day) and he cries way to much. He could get jabbed in his sleep.

Pau Gasol - I probably wouldn't jab him, I'd steal a page out of the Jackass cast and take some clippers to his head and beard one time. BZZZZZZZZZZ! Force him to go get a crew cut and a goatee and call it a day. Dude looks like a swarthy pirate on Jack Sparrow's crew of bandits. Plus he looks like he needs a bath.

Mike Brown - For being a fraud for Coach of the Year. If you can't figure out that Rashard Lewis is not a power forward, yet you keep putting slow footed big men on him like Varejao and Ben Wallace on him then you deserve to have your team lose. Moreover than the obvious reason of wasting one of the greatest series performances of all-time via LeBron James, why don't you just move LeBron to the 4 against Orlando. Bring in Wally Szczerbiak or Sasha Pavolvic and let them guard Hedo. Problem solved, plus you are able to spread the court more and get lanes for LeBron to get to the hole or drive and kick. Major jab in his sleep.

If anyone reads this all the way then you are now in the Pantheon of great readers of Ed The Sports Fan and Talk Hoops. We appreciate you.

-Ed.
www.edthesportsfan.com