About a month ago, Kenny and I dreamed of a scenario where we could build an all-time movie basketball team. We dubbed this the
Jesus Shuttlesworth All-Stars
as it consisted of 12 of the greatest movie hoopers of all-time. So of course, me being a football fan and a lover of movies, I said why not do it for the pigskin.
Let me lay some ground rules about this list. One, we weren't going to make a list about football players in movies when said person plays themselves in the movie or an actor is playing the role of a real NFL player. For example, we wouldn't use Ernie Davis (played by Rob Brown) from the movie, "The Express", because he was a collegiate and pro player.
So lets lay it out. Who would be a better running back? Boobie Miles or Darius Washington? Who's your QB? Paul Crewe? Willie Beamen? Sunshine? I left off SHANE FALCO! Paul Blake! Check out our All-Americans and let us know if you agree or disagree.
QB - Paul "Wrecking" Crewe, The Longest Yard (Burt Reynolds only, not Adam Sandler) - Quite possibly the greatest QB to ever live, Paul Crewe went into jail for a betting scandal which he got
caught shaving points. Went into jail and played maybe the greatest game of all-time, going up against semi-pro football players who were all on horse steroids. Rallied his troops which comprised of murderers, rapists, and embezzlers. They had men dressing as cheerleaders, and the warden trying to cheat them the whole time. All I have to say is, "MEAN MACHINE! MEAN MACHINE! MEAN MACHINE!"
QB - Willie Beamen, Any Given Sunday (Jamie Foxx)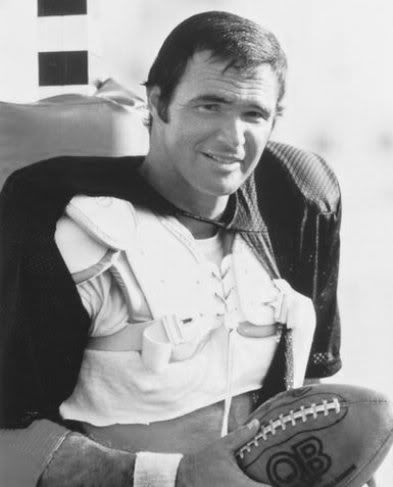 QB - Sunshine (Kip Pardue) or Rev (Craig Kirkwood), Remember the Titans
RB - Boobie Miles, Friday Night Lights (Derek Luke)
RB - Darnell Jefferson, The Program (Omar Epps) - Dude stole a starting runningback position and Halle Berry (MISS BERRY! MISS BERRY!) from the same guy. Was a Freshman phenom who came in ready to do work.
RB - Gavin Grey, Everybody's All-American (Dennis Quaid)
WR - Rod Tidwell, Jerry Maguire (Cuba Gooding, Jr.)
WR - Charlie Tweeder, Varsity Blues (Scott Caan)
WR - Phillip Elliott, North Dallas Forty (Nick Nolte) - For us young bucks, you might not have any idea about what this movie is all about, but Nick Nolte aka Phil Elliott was like the Ed McCafferey in this movie. Supremely tough, hobbled, always hurt, and played with a chip on his shoulder. If you haven't seen this movie (came out in 1979) then go get it ASAP.
OL - Billy Bob, Varsity Blues (Ron Lester)
OL - Manumana "the Slender", Necessary Roughness (Peter Tuiasosopo)
OL - Jumbo Fumiko, The Replacements (Ace Yonamine)
OL - Bud Kaminski, The Program (Abraham Benrubi)
OL - Andre "Action" Jackson - The Replacements (Faizon Love)
3-4 Defense
DL - Andre Krimm, Necessary Roughnessn (Sinbad) - Dude was a professor at Texas State and had one year of eligibility left, singlehandedly held it down for light skinned actors in this one role by himself! He talked sh*t and everything! LOL
DL - Ivory Christian aka "Preacherman", Friday Night Lights (Lee Jackson III)
DL - Steve Lattimer, The Program (Andrew Bryniarski)
LB - Bobby Boucher, The Waterboy (Adam Sandler)
LB - Becky "The Icebox" O'Shea, The Little Giants (Shawna Waldron) - Between "The
Waterboy" and "The Icebox", were probably the two most devasting linebackers in the
history of movie football. Forget STRONGSIDE, RIGHTSIDE! If you didn't have a lisp-talked cajun linebacker and an 11-year old female linebacker with a mean disposition, then you were in trouble.
LB - Julius "Strongside" Campbell, Remember The Titans (Wood Harris)
LB - Gerry "Right Side" Bertier, Remember The Titans (Ryan Hurst)
LB - Luther "Shark" Levay, Any Given Sunday (Lawrence Taylor)
DB - Stefen "Stef" Djordjevic, All The Right Moves (Tom Cruise)
DB - Brian Chavez, Friday Night Lights (Jay Hernandez)
DB - Earl Wilkinson aka "Ray Smith", The Replacements (Michael Jace)
DB - Trumaine Johnson, Wildcats (Wesley Snipes)
KR - Clifford Franklin, The Replacements (Orlando Jones)
PR - Wendell Brown, Varsity Blues (Eliel Swinton)
K - Lucy Draper, Necessary Roughness (Kathy Ireland)
P - Nigel Gruff, The Replacements (Rhys Ifans)
ANYWAY, THIS LIST IS IN FUN. BUT I KNOW WE LEFT SOME FOLKS OFF, WHO ARE WE MISSING?
-Ed.
www.edthesportsfan.com