First off, Ed just got back from Kenny's hometown in Dallas (Arlington, Texas this weekend. If you don't know about getting Frankie, Ricky Bobby, and Ice Cream Paint Job then you need to get your weight up. Dallas, thank you for showing me a great time.)

Now, as the decade comes to a close, its time to start evaluating what has transpired in the '00s (what is this, the double-zeroes? The ot's? 2000's? I dunno.) We will start off with the NBA and its all-decade team. Debate and decide, let us know your thoughts.

Things to consider when looking at this list, how much of an impact did these players have on the NBA? Championships? Consistency? All-Star appearances? Simply being a dominant force for an extended period of time during the decade. All major factors here. Here we go...


Center – Shaquille O'Neal

The Big Homie is easily number one for this spot. He's a four-time NBA Champ, three-time NBA Finals MVP, and has a battle record "How My Ass Taste," which goes right up there with "Ether, Hit 'Em Up, No Vaseline" and other classic battle raps of all-time (okay, I'm totally lying about the battle rap part, but you know what I mean.) No other center has been nearly as dominant as The Big Aristotle. This one's a no-brainer.

Forward – Tim Duncan

Three-time Champ this decade (2003, '05, and '07), All-Star Game MVP, perennial First-Team All-Defense, All NBA, and perhaps the most underappreciated superstar I've ever seen. When it's all said and done, Tim Duncan won't only be remembered as the best power forward of the decade, he'll may even be remembered as the best power forward that's ever lived.

Forward – Kevin Garnett

He's got First-Team All Defense honors, a Defensive Player of the Year Award, MVP, All-Star Game MVP, and All NBA. When he was traded to the Boston Celtics two years ago, he finally captured his first NBA title, along with Paul Pierce and Ray Allen. On top of that, he's the livest, most intense player I've ever seen.

Guard – Kobe Bryant

Kobe Bryant has done everything imaginable on a basketball court; four-time NBA champ, Finals MVP, scoring titles, MVP, All-Star Game MVPs, All-NBA First Team, All Defense, Olympic Gold medalist, the list goes on. Even me, one of the biggest naysayers around, will admit he's been through hell and back, and came out on the flip side. Now with ring #4 in his grasp, he has cemented himself as one of the top 10-12 greatest players in the history of this sport. He's still got 4-5 good years left in him, how much more can he do?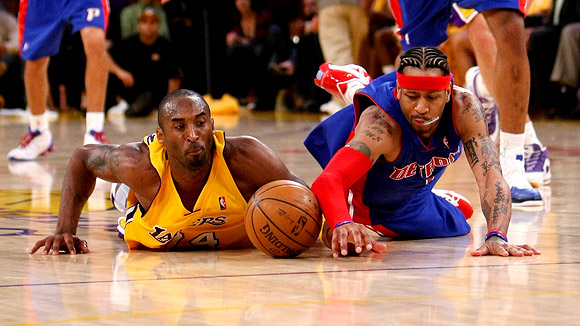 Guard – Allen Iverson

Don't let this latest version of Iverson get you twisted; for the latter part of the decade, he's been one of the top-ten players in the league, and for a period of time, he was arguably the best player in the NBA. He's been the League MVP, All-Star Game MVP, numerous scoring titles, and has been to the Finals. On top of that, his style has always been one-of-a-kind, which easily makes him the most influential player the league has seen in the last ten years.

Coach - Gregg Popovich

Pop's been to The Finals three times this decade, and prevailed every time. For whatever reason, he still doesn't get the credit he deserves. I'm far from a Spurs homer, but respect must be paid to Coach Pop.


Second Team

Yao Ming (C), Dirk Nowitzki (F), LeBron James (F), Dwayne Wade (G), Steve Nash (G)

Third Team

Ben Wallace (C), Chris Webber (F), Paul Pierce (F), Tracy McGrady (G), Tony Parker (G)



USUALLY THERE ARE WITTY WORDS AND QUESTIONS HERE, BUT I'M JUST GONNA SAY..."LET THE DEBATE BEGIN."



-K. Masenda
www.edthesportsfan.com