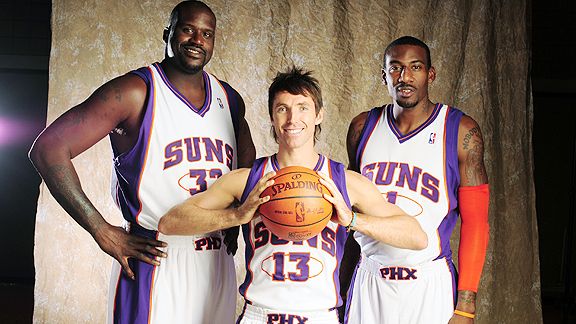 If you didn't read the
ETSF twitter page
yesterday then you all would have realized ya boy Ed is sick as hell. Yep, Kobe playoff scowl sick. While sitting there last night thinking I was about to die, I got to watch a whole lot of ESPN and I saw that Steve Nash got resigned for 2 years/$22M and will have him paid until age 38. This got me to scratching my head...
Ok, its time to go on record and say that whatever the plans were for the Suns, Steve Kerr and "the mgmt." have gone terribly wrong. They have traded away Joe Johnson for Boris Diaw, traded Shawn Marion for Shaq, then traded Shaq for Ben Wallace and Sasha Pavlovic (by the way, I'm going on record as saying I don't like any grown man named "Sasha" yep, I've made my decision. That goes for you Vujacic) and got rid of a top-tier coach in Mike D'Antoni for novice 1st-year coach Terry Porter, then you fire Porter to bring in retread coach Alvin Gentry? You've had like 3 first-round picks in the last 8 years because you couldn't afford to sign them? You have muddled around signing, trading, or just outright letting Amare Stoudemire go away like general managers treat Brett Favre. (I promise that is the last time #4's name will show up in an article until he has a jersey on)
Plus, you just signed your franchise player who's value is sinking by the second, to a deal that will pay him $11M per year. You have not groomed a replacement for him (trust that Leandro Barbosa ain't the replacement) and the player you drafted this year (Earl Clark, Louisville) is being most compared to Lamar Odom and Tim Thomas. Does that sound like a good thing? In other words, let me paraphrase the great Packers coach Vince Lombardi on this one...
"WHAT THE HELL'S GOING ON AROUND HERE!?!?!?!?"
I have no clue, but get used to the Suns picking in the lottery in 2010, I can guarantee that.
-Ed.
www.edthesportsfan.com