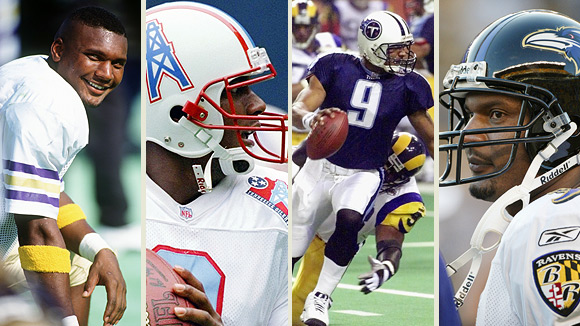 To those unfamiliar with this post, it was a staple here on ETSF. Unsportsmanlike Conduct (12 men on the field) was a weekend recap of the 12 biggest news stories from the weekend. With the sports season slowing down we kinda did away with it, but this weekend is cause for bringing it back. So sit back, relax, and enjoy.
#1. Roger Federer breaks Andy Roddick's spirit and becomes Tennis' all-time champion in majors. - Quite an impressive feat when you think about it, at the age of 27 (this is supposed to be old in tennis by the way, something I never understood. In basketball, your prime is between 27-32...and in tennis your out of it? Weird...) Andy Roddick might've played the match of his life, and he probably beats 999 out of 1,000 of the top tennis players in the world, but he couldn't beat "The Fed" (arguably one of the greater nicknames out). How many more does he have in him?
#2. Manny's back! - Fans (including myself) are happy to see him gregariously having fun out there back on the field. The media (does this include me) are not happy with the adulation he's receiving (I disagree with this) and did you see him bust it down the line last night? Amazing. At the end of the day, folks want to be entertained, and the less we know about the players, sadly, the better.
IN NBA FREE AGENT NEWS...
#3. Rasheed verbals with the C's - Are the Celtics trying to create my favorite team in Beantown? Goodness gracious, you're telling me they could conceivably go Rondo, Allen, Pierce, Garnett, and 'Sheed? Add in K-Perk, and they've got some serious goons! This is like a Goon Squad All-America Squad! LOL...I mean, they had to make this move considering...
#4. Shaq to the Cavs - I know this happened earlier in the week, but as I've let some of you all know offline, I'm not the biggest fan of this move. Its just a visual thing, I have a hard time visualizing this working. When I heard Shaq to Phoenix, I truly believed they were championship bound. Last time I checked, the Suns didn't even make the playoffs. Maybe Cleveland felt like they had to make this moves considering...
#5. Vince to Orlando - Which is just a baffling and totally interesting move, because even though Vince was 20/5/5 last year and brings more athleticism to their lineup, they lost their best young player not named Dwight Howard (Courtney Lee) and their best playmaker in....
#6. The Michael Jordan of Turkey goes to
Portland
Toronto - Hedo going to the Blazers would've made Portland the OFFICIAL darkhorse in the West. (Anything before this year saying they were a darkhorse is absurd. They have one player who is irreplaceable and that's BRoy. They could use an upgrade at EVERY other position. Yes, that means you LaMarcus Aldridge, Greg Oden, and Travis Outlaw) Yet, Portland low-balled him and Hedo pulls a Carlos Boozer and bolts for Toronto. Sneaky move by the Raps, because this could help keep Chris Bosh in the T-Dot. However, all of these moves have now been overshadowed by those damn Lakers...
#7. Ron-Ron Hoodalizes ESPN and goes to the Lake Show - This is a punch to the gut for me, as I'm a HAYOOGE Ron-Ron fan. Been one since St. John's. Him and Kobe were meant to be rivals, and now they're on the same squad? Its like the Batman and the Joker joining forces. At this point, I'm just hoping that Ron forgets that its only practice and breaks Kobe's ribs like he did MJ back during his 2nd retirement.
#8. Add it all up , the elite get richer and the scrubs get poorer - Watch this year, the top teams are going to be really good, and the decent teams that made some moves are going to be even better...and the teams that sat back and did much of nothing, are going to STRUGGLE. Don't sleep on the moves that San Antonio, Washington, Atlanta, Dallas, Golden State and Detroit are making as they all added decent cogs to teams that needed a player or two to go to the next level. Also teams like Phoenix, New Orleans, Philly, and Houston might be done as they are severely behind the eightball.
#9. Tiger Woods wins his own tournament - Ain't that cheating? LOL
#10. Albert Pujols is really, really good. - As the MLB All-Star voting comes to a close, take heed to the season that Pujols (leading vote getter for his hometown All-Star game in St. Louis next week) is having, his full season projections go something like this: 62 HRs, 159 RBIs, .336 avg, 20 SBs, 130 runs, and an OPS of 1.200! Dude's putting in major work, respect his gangsta.
#11. Ed got it in at Atlanta with frat and fam this weekend, Ken got it in at the Essence Festival in N'Awlins. The 4th was reaaaaaaaaal live. Ask us about it offline lol...
#12. Unsportsmanlike Conduct, Steve McNair found dead in Nashville - Truly a sad moment for all fans of sport, I still haven't totally come to grip this. (This might sound bad, but I felt way worse about McNair passing than I did Michael Jackson) I've always considered McNair a true legend, from the way he went about the game and the way he left it on the field. We all know his story coming from the backwoods of Mississippi, going to Alcorn State (HBCUs stand up), and pretty much putting the Oilers/Titans on his back. Making the Ravens' offense legitimate for the first time maybe ever. We already know all this. My boy Law made an interesting point, because the news is that Steve was with his "side-chick" and was in a crib and whip in which the property is in his name, and now he's found dead at the crib? Wait, Steve...you're married with 4 kids right? Law has only one thing to say: he would still be alive if he had been with his wife and kids that night. I couldn't agree more with that statement, so as much as I'm going to grieve the loss of #9, I'm also going to remember what good things I have in my life, and I'd encourage you to do the same.
OH WHAT A WEEKEND! DID YOU LIKE UNSPORTSMANLIKE CONDUCT? THOUGHTS ON MCNAIR? LET US KNOW BY DROPPING A COMMENT OR AN EMAIL @
ED@EDTHESPORTSFAN.COM
, HAPPY MONDAY!
-Ed.
www.edthesportsfan.com