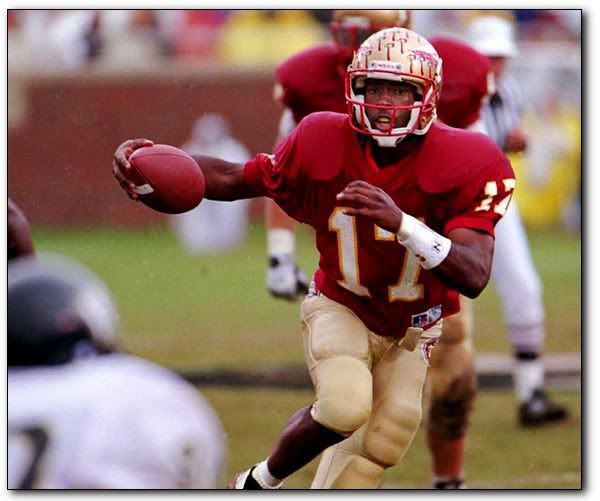 This debate started on twitter, had some vile conversations with
Cephas
from
WTFMoments.org
, and had some Blackberry Messenger debates with Kenny.


So this list will be highly inconclusive, inspiring, inaccurate, mind-blowing, hateful, and truly awesome all at the same time.
This "greatest" list will be qualified as the most dynamic, do-it-all, big-game winning QB in my generation. Please note that no professional success will be factored into this, so just like Christian
Laettener
was lame in the NBA, he was awesome in college. Same rules apply here.


With all that being said, here's the best of the rest.
QB's
that didn't make the top 5.


Eric Crouch, Nebraska
- Probably was #6 on the list of
QBs
, was the dream-killer of Oklahoma in the early '00's. Crouch is the all-time record holder for total offense in the Big 12 with 7,915. He is the 13
th
player in NCAA Division 1-A history to run and throw for more than 1,000 yards in a season.


Josh Heupel, Oklahoma
- QB of the 2000 National Champion Oklahoma
Sooners
. Made every big throw for the
Sooners
and got big time wins against Nebraska, Texas, and Florida State.


Tee Martin, Tennessee
- Peyton Manning
might've
been the better overall QB, but Tee Martin made every big play to get Tennessee a national championship.


Carson Palmer, Southern California
- Carson owns seven
Pac
-10 career records and such
USC
player records as: total offense (a
Pac
10 record 11,621), plays (a
Pac
-10 record 1,824), passing yardage (a
Pac
-10 record 11, 818), passing touchdowns (72, third on the
Pac
-10 ladder), completions (a
Pac
-10 record 927), attempts (a
Pac
-10 record 1,569). Palmer finished his
USC season with a win at the 2003 Orange Bowl where he was selected bowl MVP.


Troy Smith, Ohio State
- During Smith's senior year campaign, he threw for a school-record thirty (30) touchdowns while securing a spot for his Buckeyes in the
BCS
National Championship Game. Following his senior season, he was also awarded the Walter Camp Award, Davey O'Brien Award, AP Player of the Year, Sporting News Player of the Year, and Big Ten Offensive Player of the year.


NOW FOR THE TOP 5...
#5. Matt Leinart, Southern California
- Matt is just the third quarterback in more than thirty years to lead his team to back-to-back national championships. In the process he led
USC to three championship appearances and made every big throw the Trojans needed. The prototypical pocket passer to come out of the '05 draft, he was loaded with stars (Mike Williams, Dewayne Jarrett, LenDale
White, Reggie Bush) however he was the
lynchpin
. Will go down as maybe the greatest
USC
QB of all-time.
#4. Vince Young, Texas
-
VY
10 put together maybe the single-greatest game performance in the history of college football. The 38-35 Texas victory over
USC
in the Rose Bowl was truly magical. After the game, former
USC
and NFL safety Ronnie Lott said "Vince Young is the greatest quarterback to ever play college football." That gets you in the pantheon by itself. In his career he finished with a 30-2 record, and finished #7 on
UT's
rushing list with 3,127 yards. In his final year Young finished the season with 3,036 yards passing and 1,050 yards rushing earning him the Davey O'Brien Award.


#3. Charlie Ward, Florida State
- Ward won the 1993 Heisman Trophy and Davey O'Brien Award as a quarterback for
FSU
, and subsequently led the Seminoles to their first-ever National Championship when
FSU
defeated Nebraska 18–16 in the 1993 Orange Bowl. Charlie was a phenomenal athlete, and was the anchor on a phenomenal Seminole team that was loaded with stars like
Warrick
Dunn and Derrick Brooks. The simple fact that Ward never played pro football almost adds to his mystique, and his senior year he finished with a 70% completion percentage while throwing for over 3,000 yards with 27
TDs
and just 4 interceptions.


#2. Tim Tebow, Florida
- God's 2
nd
favorite quarterback (behind Kurt Warner) is truly a talent from the heavens. Heisman trophy winner, 2-time Maxwell Award Winner, 2-time All-American, and more importantly 2-time national champion winner. #15 is the first Quarterback I've seen who was much more fullback/linebacker than the tall, lean or stiff,
QBs that you usually see. Trust me, there is a huge chance that if I ever do this list again, he will be #1. If he wins another title this year, or wins a 2nd
Heisman
...I gotta put him #1.


#1. Tommie Frazier, Nebraska
- Tommie Frazier is widely regarded as the greatest option quarterback in college football history. Frazier led the
Cornhuskers
to the Sunshine State Triumvirate aka 3 consecutive national championship games ('93-'95) against Florida, Miami, and Florida State. Frazier quarterbacked the Big Red Machine to back-to-back national championship in '94-95, the last team to do such a feat. Frazier was maybe the best big-game QB of our generation as he is the only player ever to win MVP of three national championship games. He finished with a career 33-3 record, and maybe pulled off one of the most back-breaking plays of all-time against the Gators...


The man had blood clots in his legs, and never got to showcase what he could do in pro football, and as much as I hate to crown a
Cornhusker
...he's #1 on this list.


WOW...AGAIN AS ALWAYS PLEASE LEAVE YOUR HATEFUL COMMENTS, LET THE DEBATE BEGIN!


-Ed.
www.edthesportsfan.com


**Please show your support of
ETSF
by voting for us as the Best Sports Blog on the net!
CLICK HERE to vote for Ed The Sports Fan (selection #24) today!
The revolution will not be televised, but its
sho
'
gon
' be live**