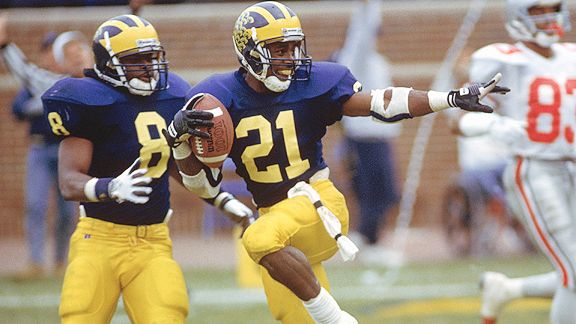 **Quick Note: This is part 2 of the week-long series that covers the forgotten powerhouses of college football. On Monday, we covered the "Da U" aka the Miami Hurricanes, today we cover "Big Blue" aka Michigan. Stay tuned for Wednesday thru Friday as the fallen powerhouses keep on coming. -Ed.**

I was sitting at home, watching ESPN News one day, when something came across the ticker that made me sick. It simply read:
"Michigan plans on using three different quarterbacks in the season opener against Western Michigan."
Oh, how the mighty have fallen. Once upon a time, the Michigan Wolverines were the class of the Big Ten, and one of the best teams in college football. Maybe Lloyd Carr saw the writing on the wall, and got out of there at the perfect time, because they are the complete opposite of what they once were. Opponents would come to The Big House, and know they not only had to deal with a great team, but also had to deal with 100,000+ fans in the stadium.
Back in those days, there were monsters at every position. To give you an idea, since 1994, Michigan has produced Ty Law, Tom Brady, Jon Jansen, Charles Woodson, Braylon Edwards, Amani Toomer, Tim Biakabutuka, John Runyan, Dhani Jones, Tyrone Wheatley, Steve Hutchinson, Jake Long, Lamar Woodley, and many more. They have produced a League MVP and the best quarterback in the decade (Brady), the ONLY Heisman trophy winner on defense (Woodson), and all-pro linemen (Jansen and Runyan), and more Super Bowl winners as well (Cato June and Lamar Woodley). That's why last season's 3-9 season was so hurtful for fans, former players, and alumni of the Wolverines, and exactly why they must improve from last season.
I know Michigan is rebuilding, and I have faith that Rich Rodriguez and staff can make them contenders again, but My God: last season was a disaster; it was pathetic, deplorable, disgusting, and just absolutely terrible. Their schedule isn't completely murderous, so it should help them do well, especially since they are a young team, and still are getting used to the Rodriguez Regime. If nothing else, just get to a bowl game, even if it's one of the ones played in mid-December. Hopefully they will make all the right steps this season to improve, and if so, the Big Ten and college football will be better for it.
What else can Michigan do to improve? Will the Rodriguez Regime = success??
Be easy.
-K. Masenda
http://www.edthesportsfan.com/
**Please show your support of ETSF by voting for us as the Best Sports Blog on the net!
CLICK HERE to vote for Ed The Sports Fan (selection #24) today!
The revolution will not be televised, but its sho' gon' be live**