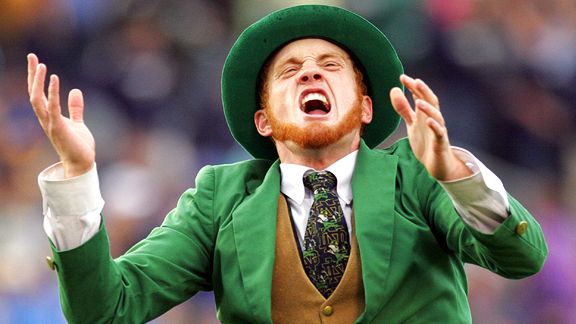 **Quick Note: This is part 5 of the week-long series that covers the forgotten powerhouses of college football. On Monday, we covered the "Da U" aka the Miami Hurricanes, Tuesday we covered "Big Blue" aka Michigan, Wednesday's story was on Florida State, Thursday wall about "The Big Red Machine" aka Nebraska. In today's finale we focus on the powerhouse of all powerhouses, once-mighty Notre Dame. -Ed.**
The title of this post should really say it all, but for some of you young boys out there then know this...at no point in the history of college football, has there ever been a more dominant college football team in the land than the team in South Bend, Indiana. That team, is Notre Dame. Notre Dame is the Yankees, Celtics, or Packers, of this thing we call college football. That in being the historical lynchpin of powerhouses. I honestly don't have enough time in the day to go through the prolific history that Notre Dame has, but I can give you a couple.

The Fighting Irish have won the most consensus national championships (11) and produced more All-Americans (176) than any other Football Bowl Subdivision school. In addition, seven Fighting Irish football players have won the Heisman Trophy.
Yep, The Irish were pretty good.
However, lets be clear...I said were, pretty good.
Notre Dame hasn't had a skill position 1st-round draft pick out of their program in over 15 years...and for a program that had players like Joe Theismann, Joe Montana, Tim Brown, Jerome Bettis, and Rocket Ismail coming out of ND...
That's a big deal. Especially when every kid in America has dreams of playing in the NFL. Fact of the matter is, the only reason Notre Dame is relevant is because the media MAKES them relevant. They haven't been good our father Lou Holtz was coaching over 20 years ago, the years they have been decent have been sporadic as former coach Tyrone Willingham pieced together a 10-2 rookie season with yarn, barbwire, chicken string, and scotch tape. Everything went downhill from there. Then Charlie Weis came in and put together a couple of good seasons with Willingham's recruiting and went 19-5 in his first two seasons, in his last two seasons he's went 9-15.
So what do we make of Notre Dame? They've quietly got some killers in the league that fell in the later rounds...Justin Tuck, Ryan Grant, Julius Jones, Bertrand Berry, John Carlson, and the ever mercurial Brady Quinn are sitting nice on some rosters right now, so they are still getting talent...but are they capable enough to really be a powerhouse again?

I personally have never liked Notre Dame my entire life, but I swear more than Miami, FSU, USC, Oklahoma, Ohio State, Texas, Florida, Nebraska, Penn State...any team you can name out there in college football, EVERY SINGLE PERSON IN THE WORLD has an opinion on Notre Dame. Go ask your co-worker, your mama, your best friend, your child, girlfriend, ask anyone about how they feel about Notre Dame and I guarantee they will have something to say. Doesn't matter if its hate in their blood or pure love, the feelings will be there. What are people's feelings about ND in '09?
We're about to find out in 2 weeks....
DO YOU ALL REALLY MISS NOTRE DAME? CAN THEY TURN IT AROUND? WHAT MUST THEY DO?
-Ed.
http://www.edthesportsfan.com/
**Please show your support of ETSF by voting for us as the Best Sports Blog on the net!
CLICK HERE to vote for Ed The Sports Fan (selection #24) today!
The revolution will not be televised, but its sho' gon' be live**