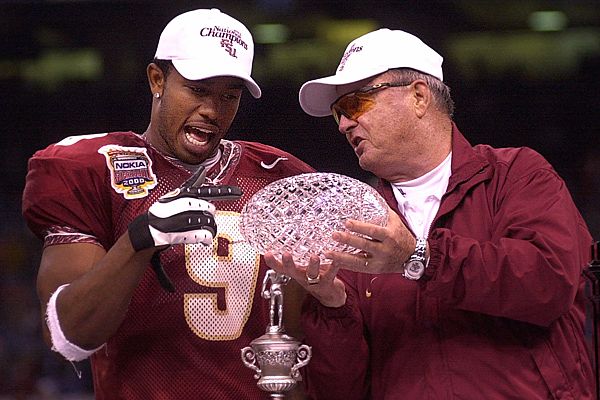 **Quick Note: This is part 3 of the week-long series that covers the forgotten powerhouses of college football. On Monday, we covered the "Da U" aka the Miami Hurricanes, yesterday we covered "Big Blue" aka Michigan, and today we bring you Ken's story on Florida State. Stay tuned for Thursday and Friday as the fallen powerhouses keep on coming. -Ed.**
7-6, 7-6, 9-4.
Those are the records for the past three seasons of the Florida State Seminoles. For some schools, that's pretty solid, but they aren't just "some school." When you are Florida State, and one of the most dominant programs in recent memory, that simply isn't good enough. In their defense, they have won two of their last three bowl games, but none of them were BCS-caliber. Their last BCS appearance was in 2005, when they matched up against Penn State, in the Orange Bowl. In a battle of storied programs, along with two coaching legends, Penn State came out the victor.
While they haven't experienced a complete fall from grace, they haven't won an ACC championship since 2005. They have the pool of talent available, in regards to recruiting in their state, but one problem could be there are so many schools in Florida, that the talent is being spread all over the place. Ed and I had this discussion recently, and it's not even about Florida or Miami getting five-star talent; they are also competing against South Florida, Central Florida, FAMU, and other in-state schools. We all know recruiting is a huge tool in building your program, and if they can find a way to not only keep their talent in the state, but get them to come to Florida State, then they will be one step closer to returning to dominance.
This is a program that has produced one of the most well-known urban legends in college football history: The Great Charlie Ward. They also produced another Heisman trophy winner, in Chris Weinke. We can't forget about Peter Warrick, and how raw he was. Folks would also be crazy to sleep on the fact that one of the greatest athletes of all-time, Deion Sanders, is a Seminole. LeRoy Butler, Terrell Buckley, and Marvin "Hitman" Jones were all Seminoles. On top of that, Ron Simmons, former All-American D-lineman/WCW World Champ/leader of The Nation of Domination/and one-half of the Acolytes went there! Lets look at the list of some of the absolutely sick and raw talent that has come out of Florida State in the past 15 years.
Offense – Chris Weinke, Warrick Dunn, Greg Jones, Lorenzo Booker, Leon Washington, Anquan Boldin, Peter Warrick, Laveranues Coles, Javon Walker, Tra Thomas, Alex Barron
Defense – Derrick Brooks, Everett Brown, Antonio Cromartie, Darnell Dockett, Chris Hope, Dexter Jackson, Bryant McFadden, Peter Boulware, Michael Boulware, Samari Rolle, Ernie Sims, Pat Watkins
Something you might not have known about with Florida State, Fred Biletnikoff played for the Seminoles and put in major work. For that work, he got an award named after him for the country's best collegiate wide receiver. Respect due.
Also know that at one point, Florida State was known for having the...well, really salacious looking women. Especially in the stands...
And if you don't know the story of Myron Rolle, the All-ACC safety who decided to give up a year of playing pro football to become a Rhodes' Scholar, then you need to catch up on his amazing achievement.

Of course, I can't talk about Florida State and not mention of the true legends of college football, The Great Bobby Bowden. I won't even front; Bobby Bowden is, and always has been, my dude. I've always thought he was a great coach, and just a damn cool dude. He's one of those old men I would sit down, and shoot the breeze with all day long. A lot of people wish he would just go away, but if he wants to coach the Seminoles forever (and it seems like it may happen), I have no problem with that. The NCAA's throwing their weight around, and attempting to tarnish his legacy (as well as his unofficial chase of all-time wins against Joe Paterno), but even they can't change the fact he's one of the best that's ever done it. For pure selfish reasons, I want to see them be raw again, and there is no reason they can't.
What's it gonna take for the boys of Tallahassee (sorry FAMU) to turn it around? Let us know!
-K. Masenda
http://www.edthesportsfan.com/
**Please show your support of ETSF by voting for us as the Best Sports Blog on the net!
CLICK HERE to vote for Ed The Sports Fan (selection #24) today!
The revolution will not be televised, but its sho' gon' be live**