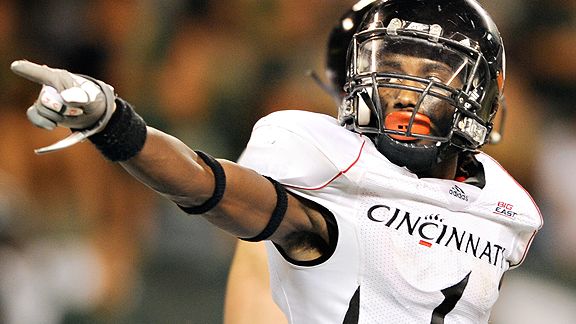 Sometimes you've got to let things sort out a bit, and make a more rational decision. Trust me on this one.
You remember back in school, lets say college, and when you first got to college you saw the girls that had half their ass-ets hanging out and were real fair-skinned with long hair and you immediately thought, "Damn she is bad!" So did you and everyone else. After about a month, you realize that 2 or 3 of your boys had "relations" with the young girl, she's a chain smoker, seems like she's in college just to get out of her daddy's house, and generally is annoying. However, you also can remember that girl who always sat in the front of your English Lit 101 class and you noticed she was kinda cute, but she had on the glasses and kept to herself. Till that day you went to work out in the gym and she had the glasses off and was hitting the treadmill like a thoroughbred? That my friends is Mrs. Ed The Sports Fan...I mean, ummm...you realized she was a diamond in the rough, and a real candidate to be the #1 on your team!
Well, I say all of that to say this...it took 3 weeks to shake some of the contenders from the pretenders. We all thought that Florida, Texas, and Alabama would be major contenders to the throne, and with Oklahoma and USC taking early losses, doesn't mean they are out of it, but one thing's clear...courtesy of my boy Kenny...this thang has been busted wide open. Thus, I have 3 teams who when January comes around, could be that "diamond in the rough" for a national championship.
Miami Hurricanes
- They are everyone's "sleeper" now that they've beaten #18 Florida State and #14 Georgia Tech in consecutive games, they are looking like the 'Canes of old. They have become the darlings of college football again, and deservedly so. With Jacory Harris looking like a young Bernie Kosar out there, magic can happen. They've got a great 1-2 punch at running back with Graig Cooper and Javarris James, plus the defense is looking real mean again...and mean as in, they probably would jab someone in their sleep if they could. That's the Miami I know, and coach Randy Shannon (with the thinnest moustache of all-time) is the glue. They've got 2 major tests coming up in #11 Virginia Tech and #10 Oklahoma. If they win those 2 games...smooth sailing for the 'Canes and the national championship.
LSU Tigers
- This team has been creeping through the weeds this season, but let us not forget that they are only 2 years removed from a national championship in 2007. Last year's team was capable of winning another one, but they were severely weak at QB since the loss of Jamarcus Russell to the draft. However, watching LSU QB Jordan Jefferson, he seems to have a firm control of the offense and is finding people open whenever he wants. The run game is always solid (Charles Scott), receivers are nice (Brandon LaFell), and the defensive front four is loaded as always. The question here is the secondary, as they've sustained some heavy losses in recent years. If Chad Jones, who had 2 interceptions last week (and was the relief pitcher for the 2009 College World Series participant Tigers), can lead the way...Geaux Tigers could be in full effect for the crystal ball.
Cincinnnati Bearcats
- Yes, you heard me, Cincinnati. There is a lot of talk around here in Ohio that the best team in the state does not reside in Columbus, and head ball coach Brian Kelly is starting a revitalization here in the Queen City. If you have not heard of WR/KR-PR Mardy Gilyard, then youtube him, like...right now. Do it. (waiting) Ok, now realize that ESPN's Todd McShay has UC QB Tony Pike as the 5th rated QB in the upcoming 2010 draft. With contributions coming from Jacob Ramsey in the running game and the defense had been fortified by standout linebacker Curtis Young (recorded 13 tackles last Saturday against Oregon State) recently sustained an injury to his knee and will be out 6 weeks. If UC can fill his shoes until he gets back, the Big East is theirs to lose.
WHO ELSE ARE DARKHORSE CANDIDATES TO MAKE A RUN AT THE CRYSTAL BALL? BOISE STATE? CAL? HOUSTON? TCU? LET US KNOW!
-Ed.
www.edthesportsfan.com