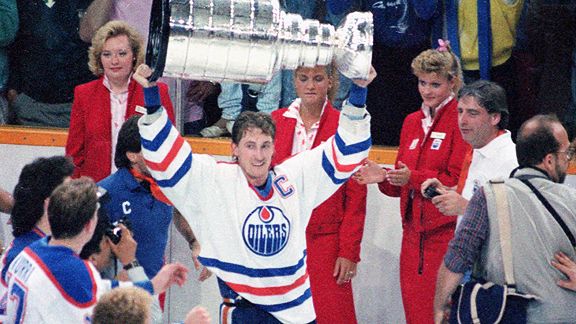 **Ed's Note - To celebrate ESPN's 30 years of existence, the network, along with featured writer Bill Simmons is launching a series of documentaries about some of the biggest or most compelling or most inspirational or most little known sports stories over the past 30 years. Our featured contributor, Phillip Barnett is truly excited about the project, and has decided to review each film. The documentaries will premier on ESPN every Tuesday night at 8 p.m. EST. Please enjoy today's post.**
"Kings Ransom"
By Peter Berg
"Kings Ransom" tells the compelling story of Wayne Gretzky's move from hockey powerhouse, Edmonton Oilers, to the lowly Los Angeles Kings, completely shaking, shocking and restructuring the whole hockey universe the summer after the Gretzky and the Oilers won their fourth Stanley Cup Final in five years. Los Angeles received a star who shone brighter than the league who employed, and Edmonton lost its conjectural identity.
What made the story so interesting was Gretzky's more than obvious struggle with leaving Edmonton, a city he loved but couldn't afford to pay him his worth, to leave for Los Angeles, a city he loved for different reasons, most of them being lifestyle based. Take that and add in the people of Edmonton, his marriage to his Janet Jones.
What it seemed like was Gretzky got a glimpse of what the Los Angeles lifestyle was like and couldn't get enough of it. The weather, the celebrities, fast cars – not Janet Jones, what everyone assumed – is what helped push him to go through with the move to the City of Angles. For some who move to Los Angeles from a small town, the city is the worst, you either have to be there to love it, or you have to have money – and Gretzky had a lot of it to go along with his mass appeal.
Watching "Kings Ransom," I found myself completely intrigued by Gretzky's level of superstardom, something that I've always found fascinating with basketball superstars. I had always known that Gretzky was bigger than the sport, but I had no idea that he had the ability to pull non-hockey fans at the level he did when he was traded to Los Angeles.
It was explained that the Kings were filling up no more than about 6,000-7,000 seats in the Great Western Forum (R.I.P.), which seated over 16,000 spectators. Within the week of the trade, the Kings received around 4,000 requests for season tickets and were averaging over 14,000 fans per game, including the biggest celebrities of the late-'80s.
What made me realize how big Gretzky was is the amount of pull he had with the people of Los Angeles, something people might not really be able to grasp if not from the area. Los Angeles is a city with many things to do; it takes lots of wins or star power to bring people out to sporting events. If the Dodgers aren't winning, they can go check out the Angeles. If the USC starts dropping games, there is UCLA. If no teams are playing well, the nightlife is spectacular. For Gretzky to be able to fill up the Great Western Forum in a city that could care less about the sport of hockey, it says so much about his superstardom. Outside of maybe LeBron James going to the Clippers, I can't think of another athlete in today's sports world who could generate that kind of vibe to a terrible team in Los Angeles. Think Manny Ramirez to the Dodgers, then multiply that by 12.
Gretzky was the Caucasian Michael Jordan, and there is no other instance in the history of all of sports where an athlete as talented in his prime was traded at the peak of his career. Think Jordan, instead of playing baseball, being traded after the '93 Finals to the Miami Heat for $15 million, four first round draft picks, Matt Geiger and Bimbo Coles. It was that big within the scope of the hockey world.
The film was amazing, even for someone who has only watched three full hockey games in his lifetime. Berg did a great job showing the behind-the-scenes talks about the trade that some wouldn't know unless you were closely following hockey at the time. Also, the interview with Gretzky on the golf course about the trade, over 20 years after it happened was fascinating. It's clear that Gretzky still isn't completely satisfied with the way things played out during the second half of his career, going on to say that he could have potentially won four more Stanley Cup Finals if he had stayed in Edmonton. If you haven't seen it yet, as a sports fan, it is a must see.
THOUGHTS ON GRETZKY? MAKES YOU WONDER HOW FOLKS IN GREEN BAY FEEL ABOUT BRETT FAVRE NOW HUH?
-Phillip Barnett aka "I'm So Hideous"
www.edthesportsfan.com