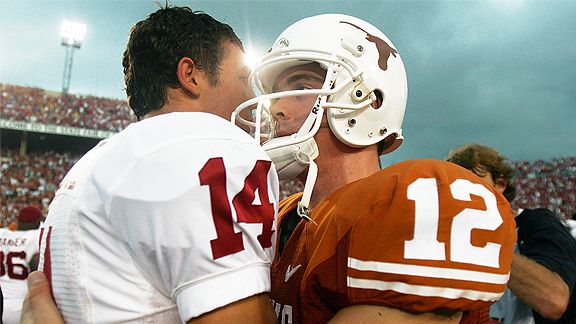 **Ed's note - Readers, don't say that I've never been impartial to certain fan bases after today's post. As you all know, the Red River Rivalry is huge for Kenny and Ed this week as OU and Texas square off for Big 12 supremacy. Today, and maybe today only, we'll have our boy Brandon Lewis aka B-Lew (big time UT fan) give his perspective from a Longhorn fan on the biggest rivalry game of the year (yeah i said it) and a couple of key points. God bless his soul. Thanks for reading!**
First off I would like to thank Ed and Kenny for giving me the opportunity to be apart of this site.
Now down to business…
I have three words for ya: Red River Rivalry!!!
The Texas Longhorns vs. the Oklahoma Sooners
In the beginning of the season, this matchup had all the makings of National Championship playoff, but one unblocked linebacker from BYU dashed any chances of that. Now, it's more so spoiling the Longhorns chances of a trip back to Pasadena.
Nevertheless, this game has a lot riding on it, and I have five reasons why this matchup will dictate the future of the Texas Longhorns.
1. Texas once again has way more talent than Oklahoma, but if it doesn't translate to the field, the Horns coaching staff will once again be in question. Mack Brown has been known to recruit the best (Vince Young, Jamaal Charles, Roy Williams, Michael Huff, Corey Redding, Quentin Jammer, Jordan Shipley. I could keep going, but you get my point…) year in and year out, but he only has only one Big 12 title to show for it, while Stoops has six. So this matchup is a stepping stone in getting number two for Mack.
2. Another 10 win year will mean nothing, if a championship doesn't come at the end of this season. Mack has had eight straight 10-win seasons, but the fans need more. Texas has become a football program where it is a national championship or bust. I believe this game is very crucial for Mack Brown, because this has all the makings of an OU upset of the Texas Longhorns, especially with the way the offense slept through the Colorado game on Saturday.
3. Greg Davis, Horns' Offensive Coordinator, has to let McCoy be McCoy. I'm tired of seeing these four and five-yard pass routes and shuttle screens. It seems like he is not seeing the QB we seen last year that set a record in completion percentage for the season. I believe you had a guy by the name of Major Applewhite that you coached and is now on the staff and has said that McCoy has similar characteristics as he had when playing. Being conservative this Saturday will get the Horns' blown out this week. So Greg, let him loose. You have one of the best receiving units in country; take advantage of that. Shipley, Williams, Chiles, Kirkendoll, Goodwin, and Buckner don't just come around very often. Well, I take that back; you also had Williams, Johnson, and Thomas as well, and we all know how that went. But this is about the future; let's get back to the topic…
4. This team has the chance to be very special even though it seems like the year of 2005, where they ended that season with the "Crystal Ball." Reasons being that the Horns' are going into the game where they are facing somewhat of a depleted OU squad. So this has the makings of another big win for the teams from the 40 acres, but they shouldn't go in the game thinking that it is already won. OU has a Heisman trophy winner under center so this won't be easy win, even though he is not 100%.
5. Finally, this one is for all marbles, and when I say marbles I mean "recruiting". If Texas can when this game, and win convincingly, the power will shift a tad bit going forward. I'm not saying OU will stop recruiting well, but they will take a hit if they were to lose another one in this rivalry. I remember the game in 2003 where OU blasted Texas 65-13, and a guy by the name of Adrian Peterson was in the stands. We all know where he ended up. He also made the comment that the reason why he chose OU over Texas is because they win championships. But we also know when he was there what happened in the Orange Bowl lololol…but that's for another day. Just playing OU fans. Texas has to have this one, this will make it 4 out of 5, but they have to seal it with a Big 12 title as well.
This should be a good one on Saturday, but I just feel that Texas needs this more than OU.
Especially for the future, WE NEED THIS ONE!!!
AND LIKE BERNIE MAC SAID, "I'M OUT THIS MUTHA-----!!!"
B-Lew
www.edthesportsfan.com