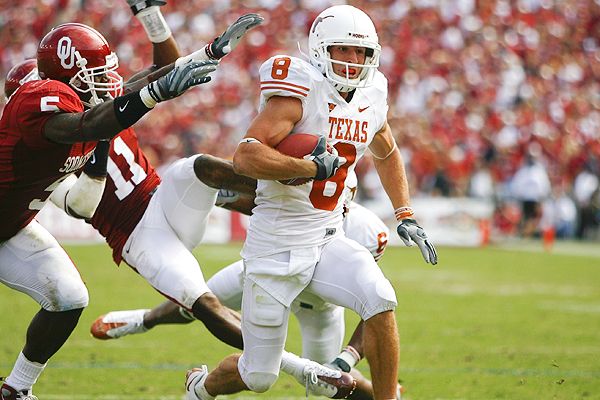 **Ed's note - Sigh...somehow I've been talked into allowing some Texas perspective on ETSF this week in preparation of the Red River Shootout...errr I mean Rivalry. Not sure who decided to change the name, but the term "shootout" is much more appropriate. Today's post is written by maybe one of the most venomous Texas fans I've ever met. Off the chain is a nice way to say it. You may recognize Glenn aka Hookem101709 from some of our comments, and today we let him bless the mic. With no further ado, here's Glenn. Oh, and this ish ends tomorrow, Ed is personally shutting Texas down, thanks.**
Many of you guys don't know who I am, as I do not frequently comment this site, unless we are talking about college football. The Red River Shootout (NOT Rivalry) to be exact as well as when it comes to talking about the flaws and pitfalls of Ohio State which, in my opinion, is one of the most overrated college football teams around (as well as Oklahoma). We will save the overrated arguments for Ohio State at a later time, say Michigan-OSU weekend?
Right now I just want to address another great rivalry: The 104th renewal of the Red River Shootout. Many past Texas greats have played in this game and succeeded: Earl Campbell, Priest Holmes, Hodges Mitchell, Major Applewhite, Vince Young, and Colt McCoy. The latter, Daniel "Colt" McCoy, will be the reason why Texas will win on Saturday. He has yet to put together highlight tape for his Heisman campaign and what better stage than to do it in the Cotton Bowl against his arch nemesis. I, for one, am elated that Sam Bradford is healthy enough to play. That way there are no excuses.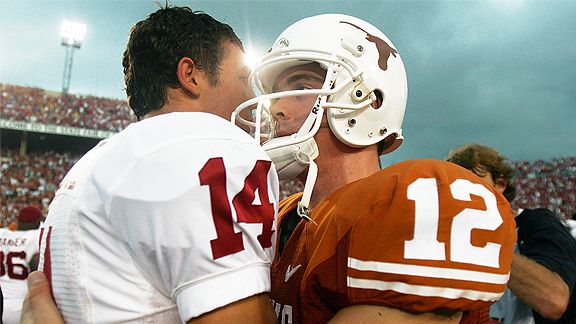 The reason why this game is so large is due to the possibility that, every year, it seems to take on National Championship implications, and this year should be no different. While this rivalry is has the mutual respect of both teams (due to the friendship of the two respective QB's …YUCK) it is a hard-hitting affair for three hours that can make or break one's season. The only exception for that rule was last year's mess when the BCS and the Big 12 tie-breaker gave the nod to Oklahoma to play in the Big 12 Title game last year over a one-division-loss Texas and a one-division-loss Texas Tech. The result of this showed that Oklahoma could not handle yet another BCS game or National Title game (5th straight BCS loss and 3rd straight National Title loss).
Oklahoma fans, please do not think that we have forgotten about that conundrum that kept us away from our destiny against Florida. In my heart of hearts, I am more than sure that had the BCS didn't stand for a Bunch of Cock Smack last year and had allowed Texas to play in the Big 12 Title game, and then the National Championship game, that we would have beaten Florida for our second title in four years. Instead this year Colt, Sergio, Buckner, Shipley and the rest of the Longhorn Faithful will leave no doubt on Saturday. My only regret is that Oklahoma is not undefeated and ranked higher.
So all of you Longhorn fans join me…..TEXAS….FIGHT…..TEXAS…..FIGHT!!!!! And all of you CHOKElahoma fans (sorry Ed and Kenny; I waited until the end), see you in Dallas.
-Glenn aka Hookem101709
www.edthesportsfan.com