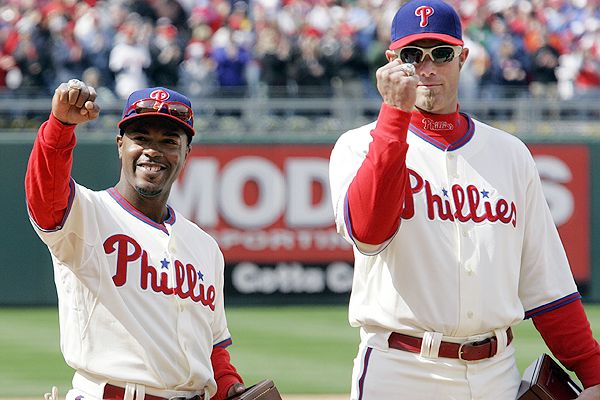 **Ed's Note - Today's post is from special guest contributor
Reverend Paul Revere of The House That Glanville Built
. Its an honor to have him. Also, quick shoutout to all of the new faces I met at the Cincinnati Sports Professionals Network Forum yesterday, it was a pleasure to meet all the new faces. Enjoy the post!**
After a week of being idle, just waiting for their opponent to be finalized for the World Series, the inevitable happened: The Philadelphia Phillies will be heading up to the Bronx to try and defend their World Series crown against the Yankees.
It's a battle between the most storied franchise in baseball history — the Yankees and their 26 world championships — and the losingest franchise in North American professional sports — the Phillies and their 10,000-plus losses. But these ain't your grandfather's Philadelphia Phillies. No, these are the
World Fucking Champions
, a team that has changed the culture of baseball in Philadelphia, and the only team that, according to Peter Gammons of ESPN, could beat the Yankees in a 7-game series. Here's why:
1B: Ryan Howard. Mark Teixeira is a fine first baseman in his own right, providing pop and gold glove defense for the New York Yankees. But he's no Ryan Howard. Not even close. Don't believe me? Well check out these numbers. Whereas Tex is batting a measly .205 with just one home run and 5 RBI this postseason, Ryan Howard is going bonkers, batting .355 with 2 home runs, 14 RBI, a .462 OBP and .742 slugging percentage. He tied Lou Gehrig's record for most consecutive postseason games with an RBI at 8 (something Alex Rodriguez did as well), and Howard is the only player to do it in one postseason. And every single one of those RBIs were clutch, whether it was his emphatic statement against Colorado, telling his teammates, "Get me to the plate, boys," and coming through or dominating the Los Angeles Dodgers to win the NLCS MVP. Where Teixeira wilts under the weight of postseason pressure, Ryan Howard thrives, and I fully expect him to continue that in the World Series.
2B: Chase Utley. If you asked 100 people which second baseman you'd like to have more than any other, 100 of them would say Chase Utley. That is a fact. Utley is the epitome of hustle, and there is no second baseman better at the plate. Sure, Robinson Cano is pretty good, but much like his first baseman, he hasn't exactly come up big when the Yanks have needed him. This postseason, Cano is batting .229 with 5 RBI, a .341 OBP and .371 slugging. Chase Utley, on the other hand, is getting on base at a great clip, with a .439 OBP and .303 average. Yes, he only has 2 RBI, but he's scored 8 runs, getting on base so Howard can drive him in. And when push comes to shove, you know, just know, Chase will come through when you need him. Truthfully, he hasn't even gotten things going yet, and that's a scary thought.
SS: Jimmy Rollins. J-Roll is no Derek Jeter. He isn't as good of a hitter and certainly doesn't have all the playoff experience of the Yankees captain. But what J-Roll does for the Philadelphia Phillies cannot be measured in sheer numbers. For starters, he is hands down the best defensive shortstop in the National League, perhaps in all of baseball. If there's a chance the play can be made, he'll make it. Last time I checked, defense is pretty important this time of year. And even the most diehard Yanks fans would admit that Jeter cannot touch Jimmy Rollins in the field. Well, OK, maybe not. Yankees fans don't ever admit anyone is better at something than Derek Jeter. They're stubborn like that. But defense isn't all Jimmy gives to this team. He is the leader, the man who sets the tone for this loose, confident clubhouse. And no matter how bad he might be swinging the bat, the guy has a
flair for the dramatic
.
3B: Pedro Feliz. Alex Rodriguez is about 8,000 times better at baseball than Pedro Feliz. There is no disputing that. In fact, third base is the one position that the Yanks have the clear advantage. But Pedro does what he's asked to do for this team very, very well. For starters, he plays incredible defense, vacuuming up everything hit his way and throwing darts. Combined with Jimmy Rollins, you'd be hard pressed to find a better defensive left side of the infield. Add in some clutch hits at the 7th spot in the lineup, and Pedro becomes a valuable, underappreciated asset to this ball club.
C: Carlos Ruiz. Chances are, Carlos Ruiz will never make an All-Star game the way Jorge Posada has, but man, this guy turns it on come playoff time. In 9 postseason games this season, Ruiz is batting .346 with 4 runs and 7 RBIs, with an OBP of .500. That' better numbers across the board than Posada, who is batting .258 with 4 runs, 3 RBIs and a .361 OBP. And defensively, well, Jorge has never been good. Not even a little bit. Ruiz, on the other hand, is an awesome defensive catcher, a guy who has a cannon for an arm, blocks just about everything in the dirt and handles the pitching staff better and better every year. He gives the Phillies stability behind the plate and a tough out in the eight hole. And the guy simply turns it on in the playoffs.
OF: Raul Ibanez, Shane Victorino, Jayson Werth. Quick, name one Yankees outfielder you'd rather have on your team than Ibanez, Victorino or Werth. Can't do it, can you? That's because every last one of the Phillies outfielders is better than anyone the Yanks can throw out there. Melky Cabrera, Johnny Damon, Nick Swisher, Brett Gardner, Jerry Hairston, please. Shit, I'd take Ben Francisco over any of them to be honest. So far, the best of the bunch for New York has been Melky Cabrera, who is batting .314 with 4 runs, 4 RBI, .368 OP and .371 slugging. Damon is batting .238 with 4 runs, 2 home runs, 5 RBI, .273 OBP and .405 slugging, and Swisher has been dreadful, batting .125 with 2 runs, 1 RBI, .222 OBP and .156 slugging. Compare with the Phillies outfielders. Victorino is batting .361 with 8 runs, 3 home runs, 7 RBIs, .439 OBP and .722 slugging in the playoffs. Werth has been nearly as good, batting .281 with 10 runs, 5 home runs 10 RBIs, .395 OBP and .813 slugging. Admittedly, Raul Ibanez has struggled, batting just .226 with a .333 OBP and .387 slugging, but he has scored 6 runs and driven in 11, more than any Yankee outfielder. It's no contest who has the better outfielders, and that goes defensively too. Werth and Victorino are awesome fielders with great arms, and Raul has a good arm himself, if a bit slow. And in New York, Francisco, another excellent fielder, will be roaming left field anyway. Damon is not what he once was, evident by his move to left field, Swisher is not a very good fielder, and Melky is eh. Major advantage Philadelphia.
SP: Cliff Lee. No one has been hotter than CC Sabathia on the mound this postseason: 1.19 ERA, 3 wins in 3 starts, 22.2 innings, just 3 earned runs and one homer with 20 strikeouts and just 3 walks. Well, no one's been hotter than that except Cliff Lee, another lefthander who won a Cy Young in Cleveland. Lee is 2-0 in 3 games started with a 0.74 ERA, one complete game, 24.1 innings, just 2 earned runs surrendered, and 20 strikeouts to just 3 walks, just like CC. Not to mention, the Phils have had
plenty of success
against CC in the postseason, while Lee has been untouchable.
Beyond the top starter for each team, the rotations are pretty even. Andy Pettite is a money pitcher in the playoffs, and A.J. Burnett has filthy stuff. Here's the thing, the Phils have another former Cy Young winner in Pedro Martinez, who has done nothing but been excellent since becoming a Phillie. And in his only postseason start this year, he threw 7 innings of shutout ball with just 2 hits surrendered. He has all the experience in the world, and he certainly won't be intimidated by this potent Yankees lineup. Then there's Cole Hamels, last season's NLCS and World Series MVP. Yes, Cole's been awful this season and continued to struggle in the playoffs, but he has the credentials no Yankee hurler does. If I had to put my money on Cole having a great series or any of the Yanks pitchers beyond CC, I'd go with Cole. He's done it before.
Of course, the bullpens will be key in this series. Mariano Rivera is simply the greatest closer who ever lived, and I wouldn't want to face him in the postseason. He's clearly better than Brad Lidge, but here's a fact: Mariano has given up more runs this postseason than Brad Lidge, and for all his struggles this season, Lidge has never blown a save in the playoffs for the Phillies. Even Rivera can't say that. The way Lidge is going this postseason, it's simply a matter of which team can get to their closer first.
Add in the way Chan Ho Park, Ryan Madson, Scott Eyre and Chad Durbin have pitched, and suddenly a big question mark for the Phils, their bullpen, has become a strength. Seeing which pen pitches better will be key.
This is not to say the Phillies are necessarily better than the Yankees. But they are the defending champs for a reason. And earlier this season, they went up to New York and took of three from the Yanks, the only loss coming on a blown save by Brad Lidge. These are two evenly matched teams. Two teams that can pound the baseball, play solid defense and throw quality arms out there. These are the best two teams in baseball, and the first one to win four games will be crowned champions.
I'm not saying that team is going to be the Phillies, but as my friend Chase Utley once said, I like our chances. Never underestimate the heart of a champion.
THE TIME IS HERE, WHO YOU GOT? PHILLIES? YANKEES?
Ed's Prediction - Phillies in 7
Kenny's Prediction - Phillies in 7
-The Rev (Paul Revere)
http://www.edthesportsfan.com/