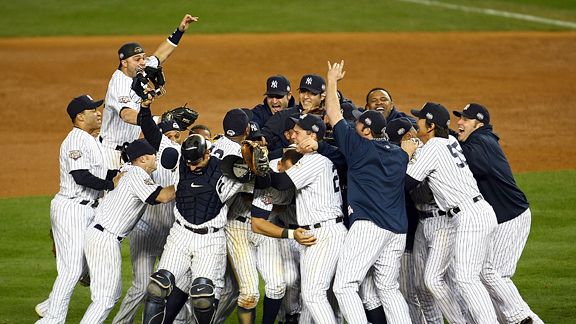 First off, I want to officially want to congratulate the 2009 New York Yankees for winning their 27th World Series championship.
This Yankees team has probably the greatest chemistry I've seen since the '04 Red Sox. They actually got some cool players on the squad (Sabathia, Swisher) and loosened up the ever stiff A-Rod. I said this on
twitter last night
and I'll share it with you all, Alex Rodriguez is the Kobe Bryant of baseball. Absurdly talented, socially awkward, and surrounded by great talent...lucky bastards. The difference between Kobe and A-Rod was that when it counted most. You could easily say that Kobe was an integral part of the Lakers winning their championships, whereas with A-Rod you could easily say that he was the reason they lost when it counted most. Well, not this time, as
Mr. Hudson
Mr. Rodriguez was crushing the ball, single-handedly putting himself in the class of Bonds/Pujols/Manny where the opposing team will refuse to pitch to the man. (You happy Isiah? LOL)
How did this effect the series? Well, A-Rod wasn't the only one crushing, Chase Utley was doing MAJOR work. The Yankees said eff that, we ain't pitching to him either. So it puts the responsibility on the person hitting behind Rodriguez & Utley. One was Hideki Matsui, the other was Ryan Howard.
I think we all realized how that worked out...
So the Yankees now have ring #27. WTF. They got one for each of the fingers and toes, then they've got ring wristbands, headbands, three on a chain, etc. Just ridiculous. Plus, I know that my mailbox has already been hit with folks complaining about the Yankees salary, overall hate for Jeter/A-Rod, and other curse words that I won't share with you all, but the fact of the matter is this...none of this is the Yankees fault. Everyone would love to have their team have an owner like George Steinbrenner.

Think about a couple of quick facts.
- The Yankees spent $201 million dollars in salary for the 2009 season, tops in baseball. The Phillies spent $113 million, 7th in baseball. The Yankees spent $78 million more than the Phillies in salary, that $78 million is more that 15 teams salary, including playoff participants St. Louis Cardinals ($77M), Rockies ($75M), and Twins ($65M).
- The Yankees signed the three top free agents in the '09 class in Sabathia, Teixeria, and Burnett. Their 3 combined salaries equal $423.5 million. There are 16 teams who aren't worth more than $417 million. Here is the
full list on Forbes
to truly take in the absurdity.
- The Yankees have won 27 of 104 World Series in the modern era (starting in 1903) giving them a 26% win percentage of championship seasons.
And you know what the scary think about all of this is? They're going to have MORE money to spend in this offseason. That means players like Cliff Lee and Matt Holliday could easily be Yankees in 2010.
Again, this is not the Yankees fault. There is no salary cap in baseball at all. Hell, The #2 and #3 teams (Mets & Cubs) both didn't even SNIFF the playoffs so clearly money isn't everything, but MLB realizes something that we the fans probably don't care about. The big market teams have to spend the most money so those regions can keep the game relevant.

Think about it, this year you had two mega-markets (Philadelphia & New York) in the World Series, plus you had both teams from Los Angeles in the LCS. MLB reported that this was one of the highest rated playoff series in baseball history. You think the same ratings would happen if San Diego & Tampa Bay squared off? I don't think so. There will never be a salary cap in baseball, so just get over it. Their owner and general manager put their team in a position to win the World Series and they did it.
I hate the Yankees for two reasons: One, because they have the absurd amount of money to spend on players and my team (Atlanta, who does spend nice money) doesn't even come close. Two, I hate the Yankees because they are the powerhouse of their league, they are extremely polarizing, and they seem to have fans on every inch of this Earth. Its mind-blowing.

I didn't mind when Philly won last year, even though I hate them too (Atlanta's NL East rival) but it wasn't as bad because unless you are from Philly are have a real connection to them, there aren't just tons of Philly fans crawling around everywhere. Yankees fans? You mofo's were climbing out of the cubbyholes left and right (some of you I swear fo' Jesus I never knew were Yankees fans) screaming Yankee pride and singing Jay-Z and Alicia Keys song to the masses. It is maddening.
Truth be told, I need the Yankees to be great. I need them to win 100+ games every year, go out and pick up every great free agent, and secure the love of the media just like they always do. Except, I just want you all to lose in the end, because who wants to see the story of Goliath just crushing David. Goliath is supposed to crush David, that's the expectation. Who wants to see that? That's a story I'll pass on every time.
Congrats to the Damn Yankees, you were the best team this year. You bought chemistry, which is amazing, and I applaud you all because you were truly dominant. A tip of the cap to you lucky bastards.
THOUGHTS ON THE WORLD SERIES? HOW MANY OF YOU ARE TRULY YANKEES FANS? WHO'S READY FOR THE N-B-A!!! LETS US KNOW YOUR THOUGHTS!
-Ed.
www.edthesportsfan.com