(So there is no confusion, this article was written by Kenny Masenda aka Soul On Ice. LOL, thanks. -Ed.)



Before I begin, I must say thanks to The NFL Chick for contributing to the post at hand.

For some people, they may consider what I'm about to say a blasphemous statement, and I can see why. However, lets try our best to look past the glitz of the 11-0 record the New Orleans Saints have right now, and look at the entire picture. It's a story that goes back well before this season, and has been on display for the past few years. The reality, harsh or otherwise, is that Philip Rivers is not only a top-five quarterback in the NFL, he is better than Drew Brees. That's right, I said it.

Let me get this outta the way, before people call me a hater: Drew Brees is my dude. I liked him in college, he's Texas Made, and I love what he's been able to do for the Saints, so there's no hatred. I like Rivers too, which I've mentioned before on the site. More than anything, it's taking a look at the two quarterbacks, how one was brought in, with the sole purpose of replacing the other, and how things have played out in that time.

Take a look at something that I already know people will disagree with me on, but I honestly think is true: Rivers does more with less than Brees. We all see New Orleans' offense. They have a three-headed monster at tailback with Bell/Bush/Thomas, and terrific wide receivers. San Diego has LT, whose best days have been behind him since 2007, and Darren Sproles, not someone I consider a true running back. New Orleans throws Pierre Thomas in there, and they don't miss a beat. The same goes for Mike Bell, and we don't even need to discuss what happens when Bush is playing well. Hell, he could go to San Diego and be their number-three receiver. Okay, I'm reaching, but the man is extremely versatile for the New Orleans attack.

Vincent Jackson is good, but I think Marques Colston is a top-15 receiver, so advantage Saints. Same with the remaining receivers: Henderson > Floyd, and since the Chargers don't have a true number-three receiver, but the Saints have Moore/Meachem/Thomas, the advantage is overwhelmingly in favor of New Orleans. The Chargers do have a better tight end, so I'll concede that point.

New Orleans plays in a pass-happy offense, while San Diego does not. Rivers has shown he can sit back and throw all day long, and get gaudy numbers, from the fact he tied for the lead in touchdown passes last season with Brees. Their defenses both specialize in certain areas, and they're nearly identical in terms of how good they are, so feel free to draw your own conclusions in that department.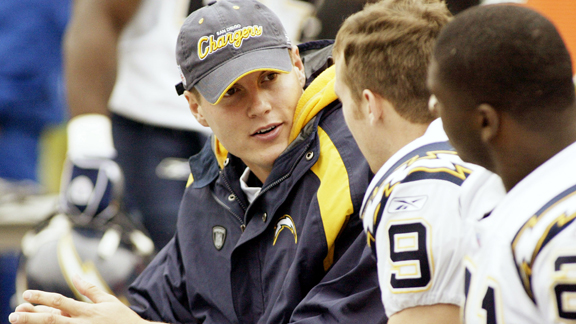 Now I'm aware Philip Rivers plays in the AFC West, but the last time I checked, it isn't like the NFC South has been worth a damn at all this season anyway. Atlanta is up-and-down, Carolina is terrible, and Tampa Bay is rebuilding. How does someone explain the Falcons and Panthers free-fall, when they were both in the playoffs last year? At least the Broncos are attempting to make it interesting this season by playing some good football, and we knew going into the season that the Chiefs and Raiders were gonna suck.

Of course, something has to be said for playoff success. Rivers stumbled out of the gate in his first playoff game a few years ago, but since then, the Chargers have had playoff success, by beating the Colts (twice), and the Titans. Plus, he played those 2007 playoff games with a torn ACL! The Saints have one playoff win, against the Eagles, when Sheldon Brown damn near ended Reggie Bush's life (I know that has nothing to do with anything, but that's what I remember from that game, more than anything.)

With Rivers, the Chargers have made the playoffs every year he's been a starter. With Brees, the Saints made the playoffs in his first year as a starter, but have missed the playoffs the last two seasons. Once again, the Saints are off-the-chain this year, but it's not like it's a year-in-year-out thing with them.

Like I said, this isn't an attack on Drew Brees, because he's very good, and I like the guy. However, Philip Rivers has been doing work for quite some time. The Chargers went and got Rivers (via draft trade with the Giants, who wanted Eli), even though they already had Brees. The Chargers had to know something, because they eventually let him walk, so they could start Rivers. Given how things have gone since then, it's safe to leave it at this: #17 > #9.

Be easy.



HAS KENNY GONE INSANE? HOW GOOD REALLY IS PHILIP RIVERS? LET US KNOW YOUR THOUGHTS!



-K. Masenda
www.edthesportsfan.com