I just want to briefly say one thing, "Thank God to the brain trust of ESPN for creating what might be the greatest collection of documentaries in the history of sports, 30 for 30. Thank you." -Ed.
Watching the ESPN 30 for 30 documentary, "The U" last Saturday was probably the 2nd greatest documentary I've ever seen. (Nothing surpasses Hoop Dreams, I'm sorry but William Gates and Arthur Agee are superstars as far as I'm concerned.) Trust me, if you didn't watch this on Saturday, which by the way...I know it was scheduled to come on immediately following the Heisman (won by ETSF predicted Mark Ingram) and made young males like myself make a life decision between watching "The U" or going out for the night. I think we all realize what option I chose...
The Miami Hurricanes from 1983 to 1991 was the definitive dynasty of my generation, something that a Nebraska team couldn't do for such a stretch in the 90's, something that a future Miami team, USC, and Florida couldn't sustain in the 00's. 4 national championships, 1731258 1st round draft picks, and 4123851023 NCAA sanctions. The personalities that were on those teams were simply amazing. Alonzo Highsmith, Melvin Bratton, Michael Irvin, Jerome Brown, Bennie Blades, Bernie Kosar, Cortez Kennedy, Jim Kelly, Robert Bailey, Randall "Thrill" Hill (one of the greatest football names of all-time), Lamar Thomas, Vinny Testaverde, Steve Walsh, Brett Perriman, Duane Starks, Leon Searcy, Russell Maryland, Jessie Armstead, Michael Barrow...ok look, that was the amount of players I could name from Miami off the top of my head! Goodness gracious.
This team is the definition of swagger, they created the diva athlete in college football, and single-handedly had "unsportsmanlike conduct" become a badge of honor on the football field. I even opined about how much Miami has been missed in this day of college football, and even when they were beating the breaks off of a legendary Oklahoma team in the 80's you couldn't do anything but sit there in awe and appreciate what I was watching. The army fatigues, the Notre Dame-Miami battles, beating the dogsh*t out of Texas with over 200 yards of penalty yards, knocking the jheri curl juice out of Deion Sanders' head. I mean goodness, who was doing that in the 80's and 90's? These dudes were dope, simple and plain.
Here are a couple of quick thoughts I had about the documentary and how it reflects on today's college football landscape...
- Did you see some of the rankings Miami had and the rankings the teams Miami played against for the National Championship? A #4 Miami in 1983 beat a #1 Nebraska for the National Championship. What happened to #2 and #3? A #2 Miami beat a #7 Oklahoma for the national championship? Really? #2 vs. #7? Wait, there's more. A #1 Miami beat a #11 Nebraska for a title? WTF...you know what, thank God for the BCS. If I was coherent enough as a child to understand what was going on back then, my head would've exploded.
- Did you all notice the footage of the Rock aka Dwyane Johnson? He was celebrating hella much with no pads on the sidelines, lol. However, it does look like he was a beast back in the day.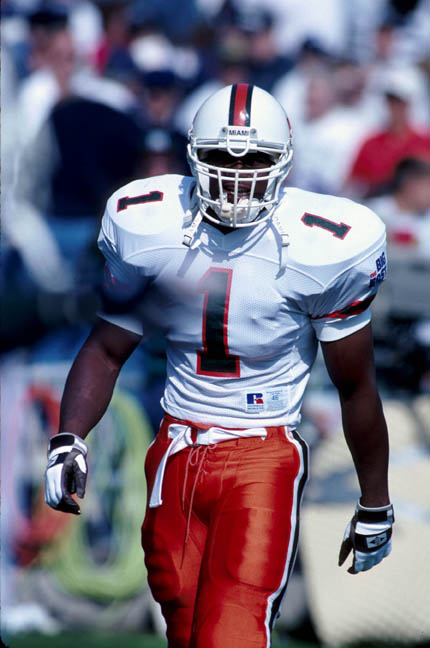 - Luke Campbell creating "The Hit Club" at Miami should become a national program at every university just so I can see more incredible tackles and hits in football games. Agreed? Done and done.
- How live was it seeing all the brawls, trash-talk, and endzone dancing from the 'Canes back then? As a matter of fact, why the hell didn't Chad "Ochocinco" Johnson go to Miami? LOL
- Howard Schnellenberger making the choice to leave Miami to go coach in the USFL has to be one of the worst career choices in the history of mankind.
- Seeing Jeremy Shockey compare playing for Miami to being a members of the Crips or the Bloods made me laugh and upset all at the same time. Thank you Jeremy, you would be an Oklahoma legend (Ada, Oklahoma) and then say some craziness like that. Thanks J.
After watching the documentary, I wish they would've went more into detail into the revitalization of the 'Canes in the late 90's in Butch Davis and then the title runs in the 2000's with Larry Coker. The pros that came out from '96 to '05 at Miami were just as ree-damn-diculous. I truly hope Randy Shannon can continue to build on what this current crop of young 'Canes has become and can lead them to continued success for years to come.
Because as Michael Irvin would say, "Its All About Da U."
THOUGHTS ON THE DOCUMENTARY? HOW LIVE TRULY WERE THE 'CANES? WEIGH IN AND DISCUSS!
-Ed.
www.edthesportsfan.com