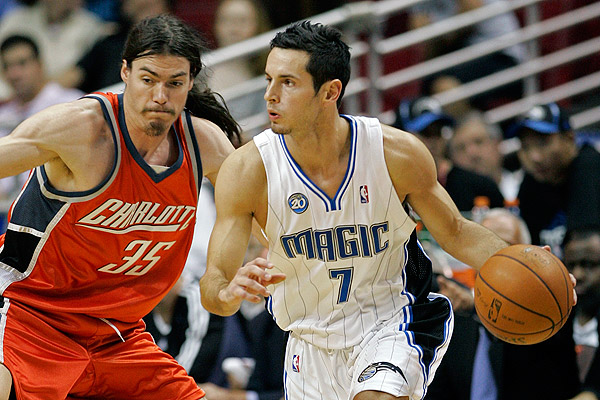 "I got him."
These three words, no matter where you play, are uttered before the start of any pick-up game of basketball anywhere. Teams are picked, you see what you're up against, and you find someone to guard. Now if you throw a White dude in the mix, and if no one knows who he is, then it really gets interesting, because someone will willingly go guard him, because he's already assuming the dude can't play, or he won't be able to guard him. I'm saying all this to set the table about the perception of White dudes, who are born in the United States, in the NBA.
First things first: you have to be able to play the game if you're in the NBA, so when people say there aren't any good U.S. born White players, they are already off-base, and dead-wrong. The glaring issue may be the lack of star power; the ones that change and transcend the game. Shoot, we can take a look at the past several drafts, and see what's going on. In the 2004 Draft, you had Luke Jackson (out of the league), Kris Humphries (currently on the Dallas Mavericks), and Blake Stepp (out of the league). In 2005, there was David Lee (currently on the New York Knicks), and Travis Diener (currently on the Indiana Pacers). In 2006, there was Adam Morrison (currently on the Los Angeles Lakers), JJ Redick (currently on the Orlando Magic), and Steve Novak (currently on the Los Angeles Clippers). I could keep going, but I simply don't feel like it.
There's something to be said about the fact that, in those three drafts I named, eight U.S. born White players were drafted, and two of them are out of the league. Adam Morrison, who I thought was gonna be very good in the league, hasn't done a damn thing, so that leaves Lee, Humphries, Diener, Redick, and Novak. Lee is a starter, and probably the Knicks best player, but the same can't be said for Humphries, Diener, Redick, and Novak. Those exactly aren't household names, and while they're all solid players, and have a niche`, it's not like anyone coming to see them play.
Truth be told, I'm kinda surprised there aren't more U.S. born White players in the NBA, especially after I saw some of these guys in college. I was certain that Adam Morrison was gonna be a nice pro, and when he does get the chance to play, he looks decent out there, but this man was a number-three pick in the draft, and can't see the court to save his life. Joe Alexander is another player who I thought was gonna be a serious problem at the next level, and hell, I can't even count him, because he was born in Taiwan! Nick Fazekas was drafted in 2007, and he's out of the league. Josh McRoberts was drafted in '07, and he barely sees the court for the Pacers. Thank God for Kevin Love coming in 2008, because it was getting bleak there, but he's a key player for the T-Wolves, as they're trying to get things turned around. There's Mike Miller, who won the Rookie of the Year in 2001, and still does work for the Wizards, and Jason Williams, who's playing the point for Orlando, but see how far back I'm reaching to find guys?
There's a stigma there, in terms of White dudes being able to play in the NBA, but I've seen too many who can play the game of basketball, and play it at a high level. Okay, there are no LeBron-type players, but there aren't too many Black players who are LeBron-type players, except LeBron. The more I think about it, I think there aren't that many in the NBA today, because the NBA simply doesn't want them. It may be hard to swallow, but as I said, it doesn't make sense to see as many as are out there, who can play, but aren't on a roster. There are more in college right now, who I think can get there, if things go in their favor. John Scheyer, Luke Harangody, and Troy Alexander (he's not anything right now for Santa Clara, but I've seen this kid with my own eyes, and he's an extremely gifted basketball player), but will they be superstars, or just some other guys on the court? It remains to be seen, but it's definitely an issue that leaves plenty to be discussed.
Thanks to Outside the Lines for triggering the discussion.
Be easy.
-K. Masenda
www.edthesportsfan.com
**Ed The Sports Fan will be hosting a new contest called the College Football Bowl Pick'em Challenge. Can you choose all of the bowl winners this season? Let's find out. Winner will receive a smattering (nice word) of gifts. Lets see what you got.
Click HERE to sign up.
**