In a few days, 2009 will officially come to an end. On top of that, it also marks the end of the decade, a decade in which I have seen some great things on the court. As an avid basketball lover, I've experienced a wave of feelings over the past ten years, but there have been some constants as well. This post is comprised of my five favorite players of the past ten years. Keep in mind this does not mean they are the five best players of the past decade; it's simply a collection of the players that mean the most to my experience of watching the game I love. Without further ado…



5. Gilbert Arenas

I remember watching Hibachi back in his Arizona days, when he was simply Gilbert Arenas. My initial memories are of him on a loaded Arizona Wildcats team, which included Jason Gardner, Michael Wright, Richard Jefferson, and Loren Woods. To this day, I'm convinced they would have beaten Duke in the National Championship, if Arenas didn't get hurt in the National Semifinal against Michigan State. In that Michigan State game, he was all over the court, playing D, hitting jumpers, and finishing fast breaks. He's been one of the most exciting players in the league, and we've seen him hit plenty of buzzer-beaters, as well as put up a 60-point game this decade. He's back to doing work this year, giving teams plenty of buckets, and even though he's on a bum team, my hope is he'll be in Dallas next year, playing in the All-Star Game.



4. Dwyane Wade

When it comes to Wade, the game against Kentucky in the 2003 Elite Eight was the breaker. He destroyed the Wildcats, when people thought Marquette was just happy to be there. When he got drafted by the Heat, he went head-to-head with The Baron, in his first postseason, and by the end of his third season, he was an NBA Champion, and a Finals MVP. Next to T-Mac, he's my favorite player in terms of destroying cats on the court, and doing it with a quiet killer instinct. There are times when he may scream after he mashes on somebody, but he usually gives off that same look, which lets everyone know what time it is.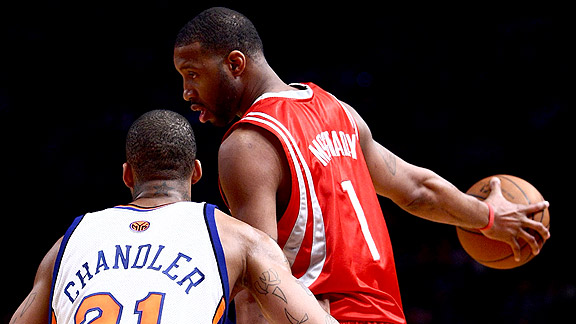 3. Tracy McGrady

Trust and believe, there was a time when T-Mac was one of the five best players in the entire league. He could do it all on the court, and did it so easy that you would think he wasn't even trying out there. I don't know why he continues to be cursed, in terms of playoff success and not being able to stay healthy, but I'll never get it twisted, nor should anyone who saw him when he was in his prime. It sounds crazy to say it, because it's not like he's an old man. Yet, it seems like he's been around forever, even though he's only 30 years old! At this point, he's no longer the T-Mac we came to know and love, but if the basketball gods are kind enough, we'll get a chance to see the reincarnation of Tracy McGrady, whether it's this year, or in the near future. I'm convinced he can still get it done.

2. Kevin Garnett

No matter who's on the court, or on the sideline (when he was hurt last season), KG remains the realest dude in the room. I could go on and on about why KG has always been my dude, but I'll do my best to limit it. In 2004, he went nuts on everyone in the league, by winning the All-Star Game MVP, as well as winning the NBA MVP. To this day, if I was to take a forward to start my team, in my lifetime, I'm taking Kevin Garnett. He's the most loyal superstar I've ever seen, because there were plenty of times he could have raised hell about getting out of Minnesota, but he always felt like he was the one who could get them to the promised land. No superstar matches this man's passion, and it showed even more once he broke down in front of John Thompson, about how much losing was killing him (watch from the 4:19 mark).





To this day, I watch that interview, and it still breaks my damn heart. After Kevin McHale did the right thing, and traded him to Boston, and he got around some players who were hungry to win as well, he got his first championship. Watching him lose his damn religion, and scream in tongues during his post-game interview with Michelle Tafoya remains the most memorable moment of my basketball watching life.


1. Allen Iverson

At the beginning of the decade, he was the best guard in basketball (think I'm lying? There's a 2001 NBA MVP with his name on it), and remained one of the top-three guards through a majority of the decade. On top of his performance on the court, he is easily the most culturally-relevant player in basketball, since Jordan, and there are marks Iverson has left that even The Great One's supporters (myself included) must admit were never done.

Iverson is the epitome of keepin' it 100. He wasn't the first player to wear cornrows, but he's the first one that made other dudes wanna grow their hair out, and rock braids. He's not the first player to be tatted up, but he's the one who made it cool for cats to run and get tats. Hell, he wore a sleeve, because he had inflammation in his elbow, and now dudes rock sleeves, even though they may not even see the court! Other people wore headbands before Iverson, but I'm convinced headband sales went up, once he started rocking them in 2004.

See where I'm going with this? No player, not one this decade, can say they had this type of impact on the game of basketball, on and off the court, and if there is a person that tries to make a case for someone else, I'll punch them in the face. The same reason why people love him is the same reason he pisses people off. He keeps it 100, even to a fault. He's pissed me off, especially over the past year, but that doesn't take away all the good he's done over the past ten years. If it wasn't for Iverson, there's no way my basketball watching experience would be fulfilled. No way.

Be easy.

WHO ARE SOME OF YOUR FAVORITE PLAYERS OF THE DECADE? LET US KNOW!

-K. Masenda
http://www.edthesportsfan.com/