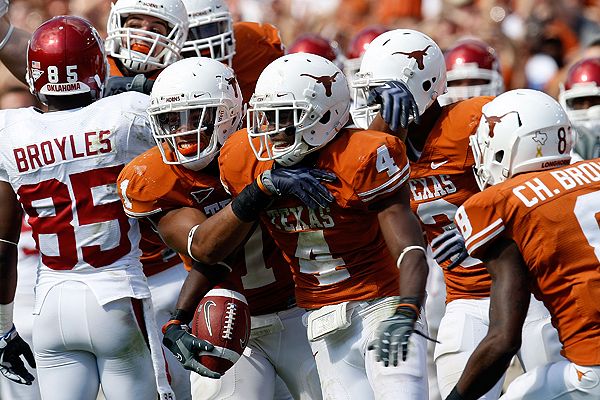 Lord knows I despise the Texas Longhorns, but they deserve to be in the BCS National Championship. They took on all comers, and defeated them. Sure, you can look at their road to the Rose Bowl with skepticism, but they did what they had to do. To put into words what the Texas Longhorns have accomplished this year, we can take a look at a time when there was one second left on the game clock, in the fourth quarter of a tight game, against one of their Big XII rivals. However, I'm not going to look at the recent Big XII Title Game. I'm going to go back to a time when things did not work in their favor.
November 1, 2008: Michael Crabtree (Dallas, STAND UP!!!) just caught a pass from Graham Harrell on the sideline, got his grown man on against two UT defensive backs, and strolled into the end zone. Even though there was one second on the clock, the Longhorns knew they were done. They almost completed a Murderer's Row schedule of epic (and honestly, unfair) proportions, which included wins over Oklahoma, Missouri, and Oklahoma State. Unlike this year, all of those teams were at full strength, and the Longhorns defeated all three of them. Maybe it was too much to ask of anyone to complete this type of brutality, and even though it came down to one last possession, the Longhorns failed to complete the job.
December 5, 2009: Thanks to a horrible kickoff from Nebraska, as well as a 15-yard penalty for a horse-collar tackle on Jordan Shipley, the Longhorns are driving down the field, against Nebraska, to win the Big XII Championship. Even though they are down 12-10, the thought of Texas losing this game didn't really go through some people's minds. The clock continued to tick, and I swear Greg Davis and Mack Brown crapped on themselves, because they left Colt McCoy out there to pretty much figure out a way to win this game on his own. On the final play, Colt rolls out and throws an incomplete pass, and the clock rolls to zero, and Nebraska wins! However, the officials decide to put one second back on the game clock (which was the right call), Hunter Lawrence kicks a pressure-packed 46-yarder to win the game, and send the Longhorns to the title game.
The tale of two seasons of Longhorn football were told in one second. This is exactly why I think UT is mentally tougher than last year's team. People claim the '08 version was better, and talent-wise, I agree. However, the fact that last year's team crashed and burned at the end, but this year's team kept finding ways to win proves to me they not only deserve to be in the National Championship, but that they will beat Alabama. As a Sooner fan, it pains me to say this, but in a year where there is no clear-cut #1, there is a team that found a way to not let one second ruin their season. That's the team that will prevail on January 7th, 2010. That team is the Texas Longhorns. I'm gonna go shoot myself now.
Be easy.
WHAT A DIFFERENCE A YEAR MAKES...IS THIS KARMA WORKING IN UT'S FAVOR? OR SHOULD THEY REALLY NOT BE THERE THIS YEAR? LET US KNOW YOUR THOUGHTS!
-K. Masenda
http://www.edthesportsfan.com/
Ed's Note - Big thanks to the 100+ listeners and over 20+ callers who came in participated in our new online radio show, "Unsportsmanlike Conduct" the official show of ETSF. Shoutout to B-Lew's moms for calling in! We'll be on next Wednesday, December 16th at 11pm. Listen in and we thank you for your continued support!