It saddens me that I even have to write this story today, but it must be done. The King is one of my favorite players, and has been for quite a few years now. Rarely do I refer to him by his first name, and instead, prefer to call him The King, even though it drives some of my friends crazy. He's the present and the future of the NBA, but that doesn't excuse him from this latest Benedict Arnold act. When you tell the world you're going to be in the 2010 Slam Dunk Contest, and the line-up comes out, with your name nowhere to be found, it's irresponsible, inexcusable, and unacceptable. He bamboozled the fans, and that can't be rationalized, not even by me, a proud card-carrying fan of The Unofficial LeBron James Fan Club.

Any NBA player, who has been considered a slam-dunk giant, has been in the Slam Dunk contest during All-Star Weekend. Whether they won or not wasn't the issue. They were in there, and competed. Everyone from The Jordan, to Dominique, Larry Johnson, Shawn Kemp, Kobe Bryant, Tracy McGrady, Vince Carter, Jason Richardson, Josh Smith, Andre Iguodala, Dwight Howard, and more have all been in the premier event of All-Star weekend. With that said, not all of them won it, but they were all in it, and for that, they'll forever be known as the cream of the slam dunk crop.

The King has done many a great deed since he came into the NBA, and as Steve Bardo on First Take said, no player before him has gone through the scrutiny he has gone through, since he came into the NBA, seven years ago. What that has to do with him not being in the dunk contest this year is beyond me, but as I said earlier: this man went on national television, and made this bold proclamation when asked by one of my favorite sideline reporters, The Great Cheryl Miller:





Now…how the hell is this excused by anyone? When did it become fashionable to be a bald-headed lie? Well, in this case, he aint bald-headed, so when did it become acceptable to be a taper-faded or ceasar-faded lie? As the Honorable Louis Farrakhan once asked, "If you have made a promise you don't keep, what are you? You are a liar." For anyone who tries to say he didn't say definitely, and instead said "preliminary," he also followed it up with "primarily," so he either didn't know what the hell he was saying, or he did, and for whatever reason, has decided not to keep his word, and now we get a slam dunk contest that doesn't even have four contestants. The NBA has decided to have a fourth contestant via a dunk-off between Eric Gordon and Demar DeRozan. This is the same Demar DeRozan who, courtesy of Phil Barnett, tweeted "who's gonna when tonight," before the National Championship game a couple of weeks ago. This is the man who has a chance to be the final contestant in the 2010 Slam Dunk contest? Excuse me while I go do zig-zags in traffic.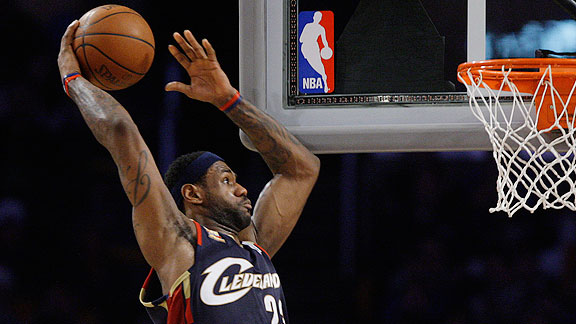 This All-Star weekend had a chance to be memorable for the fans of Dallas, since the last time we hosted one, we had an epic dunk-off between Dominique Wilkins and Spud Webb, back in 1986. No disrespect to Gerald Wallace, Shannon Brown, and Nate Robinson at all, but the fans wanted to see The King in the contest as well, and since he decided to not honor his word to basketball fans everywhere, as well as the history of the dunk contest, I'll pass on the final event of All-Star Saturday night this year. I'll continue to refer to him as The King, but one that has a huge kink in his armor: the inability to keep his damn word.
Be easy.


-K. Masenda
www.edthesportsfan.com