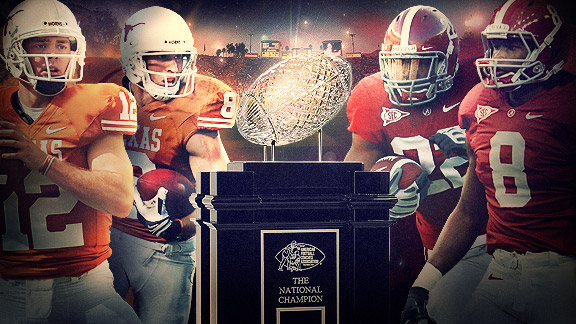 Somehow, Kenny and I have come down to a disagreement on who will win tonight's BCS National Championship. This should be easy right? We're both Oklahoma Sooners fans, and we both hate Texas. Where is the problem in this situation?
I'll tell you the problem, Kenny's been rubbing noses with those Longhorns fans and he's got his mind in a bunch, because the man truly believes without a shadow of a doubt that Texas will not only win, but give it to Alabama tonight. Maybe I've been hitting the bottle early, or maybe I'm just plum dumb...which its not all that impossible for me to just be dumb, however I just can't see Alabama losing to Texas after their tougher and much more competitive season. What is the reality? Well, we won't know until 3 hours after kickoff.

With that being said, here's our picks to who will in the 2010 BCS National Championship.
Texas is gonna Molly-Whop Alabama
(Kenny Masenda)
It's been a while since I was completely sure about a national championship. The past few years, I really had no idea who would win, but tonight's game leaves me no doubt. From what I've seen this season, as well as the build-up for this game, I am confident, more than ever, in the words that are being uttered by me: The University of Texas is going to molly-whop the University of Alabama in the Rose Bowl tonight.
Now allow me to clarify some things here. I still hate the Texas Longhorns with an unrivaled passion. Hell, I may never like the Longhorns; I'll probably start eating ketchup before I like the Longhorns; I may start smokin' reefer and sippin' drank before I ever like the Texas Longhorns. I hate them, hate their fans, and everything they stand for, so this should all be taken into consideration. Brandon Lewis, Glenn Napier
, Chasity Colomb, Karen Hazel, and many other Longhorn faithful are friends of mine, but I can't stand to hear them when Texas is doing well. Simply put, they make me sick. Even with those factors in play, they're going to spray Alabama, and I honestly don't understand how people have the audacity to think otherwise.
Colt McCoy is one of the best quarterbacks in college football, but folks are letting one game (the last against Nebraska) cloud their better judgment. He can make all the throws, runs when he needs to run, and knows how to make the right football play. By now, I have little faith in any other offensive playmakers, but Texas has done it by committee all year anyway. Their defense is so underrated that it angers me, and while people are fawning over the Crimson Tide's defensive unit, Texas has killers as well. Folks already know about Sergio Kindle, but they also have the Acho boys, as well as a very underrated secondary, led by Earl Thomas. Alabama has Southlake Carroll's finest under center, with Greg McElroy, but he's gonna have trouble with Texas, believe me. Alabama better hope Mark Ingram does his thing, because if McElroy has to win the game tonight, it aint gonna happen. Julio Jones and Marquis Maze are nice receivers, but they won't be worth a damn, if McElroy can't get them the ball.
Here's another thing to keep in mind, which everyone likes to conveniently overlook. Alabama came into this season with a single focus, and that was to beat Florida. We all know Florida shattered their dreams last year, and I aint mad at 'Bama for going into the season with that mindset. On the flip side, the National Championship wasn't played in December; it's being played tonight. As for Texas, this entire season has been geared toward winning the National Championship, and tonight, they will make their dream a reality. As much as I hate to say it, it must be said. Texas is gonna win.
Alabama Is Battle Tested, Texas Ain't Ready
(Eddie Maisonet)
If you listened to the radio show last night (shame on you if you didn't) then you missed one hell of a debate about the merits of Texas just PLAYING in the national championship game. I've said it once, and I'll say it again...Texas received the easiest cake-walk to a national championship I've seen in recent memory. Fact is, the Big 12 was horrific this year with Oklahoma losing its top two offensive playmakers (Sam Bradford, Jermaine Gresham) and Oklahoma State losing its top two offensive playmakers (Dez Bryant, Kendall Hunter) therefore causing no legitimate challenge to the Big 12 throne. Now lets be clear, its not Texas' fault that this happened. Its just that when you look at their non-conference schedule, and look at the teams in the Big 12, name one good team that they've really played...Nebraska?
Oh yeah, the Nebraska game in the Big 12 title. Also known as the "Ndamukong Suh breakout party and one-way ticket to the Heisman ceremony" game.
Fact - The two best defensive teams Texas faced this year are Nebraska and Oklahoma. They scored a combined 29 points (16 vs. OU, 13 vs. NEB) agains
t them and won by a combined 4 points.
Do we really think someone's going to beat Alabama, who's defense might be better if not just as good as Oklahoma's or Nebraska's, by scoring 13 to 16 points against them in the National Championship?
I don't think so. Its not happening. You see, Alabama doesn't have the problems that Oklahoma did. Alabama can actually run the ball, quite well actually. I think some RB over there received the Heisman Trophy this year for his ability to run the ball, especially in big games. Mark Ingram you said his name was? Oh yeah, that's him. Alabama doesn't have the quarterback issues that Oklahoma or Nebraska had either, as Greg McElroy is an efficient quarterback who doesn't make mistakes. (17 TDs, 4 INTs this season)
Oh wait, you said defensive tackle? Yeah, Oklahoma and Nebraska both have top-5 draft picks in the 2010 draft in Suh and Gerald McCoy...but have you seen Terrence (Mount) Cody? The man is 6'4", 373 pounds and likes to eat QB's and take his
helmet off in celebration. Good luck with that Longhorns offensive line.
I don't think Alabama's going to blow out Texas, not at all. I believe it will be awesome game with big plays on both sides, however, Alabama's battle-tested against better foes. The SEC is the best conference in college football, period. Alabama's stood strong against LSU, Ole Miss, South Carolina, and almighty Florida. Plus, don't forget about the non-conference victory against a very good Virginia Tech team earlier in the year.
Final score: Alabama 20, Texas 10.
You're gonna pay what you owe Texas, pay what you owe.
OK FOLKS, GAMETIME IS JUST AROUND THE CORNER! WHO ARE YOU PICKING TONIGHT AND WHY! LET US KNOW YOUR THOUGHTS AND WEIGH IN!
-Kenny & Ed.
http://www.edthesportsfan.com/