Many moons ago, true centers roamed the earth and wreaked havoc on basketball courts. There were so many that you really couldn't see the day coming when they would become extinct. However, the more I watch basketball today, the less centers come across the tube. A few years ago, Shaquille O'Neal, aka The Big Aristotle, prophesized that he was the last center left, and even for me, someone who grew up seeing true, dominant centers play in the NBA, I laughed off what the man said. Now you look around, and see what The Big Homie said was true. Sure, there are some good ones, but are there truly any killers left at the center position?


Before Yao Ming got hurt, I had him as the best center in basketball. The man could score with jumpers, as well as true post moves. He could rebound well enough, and could protect the basketball well enough. On top of that, he was the one cat who I could see playing and surviving in the 1990's, the days when the center position was truly what that was. Now that he's hurt, I've given the title to Big Al Jefferson, which may seem a little over-the-top for some people, but I'm convinced if he wasn't on a bum-ass team, more people would realize how much of a monster the man really is. He shoots a high percentage, can rebound, and has about a million old-man post moves. Those are the only two names that come to mind when I think of centers that can be dominant in today's NBA.

Now having a dominant big man doesn't gift-wrap a championship for you, but we can look back and see what it did do, when a team had one. The Lakers won three rings in a row, from 2000-2002, when The Big Homie was anchoring the middle. On top of that, he went through countless centers that, if not great, were all pretty darn good. Cats like Arvydas Sabonis, Vlade Divac, Rik Smits, David Robinson, and Mount Mutombo. Imagine if the centers in today's NBA were even as good as these guys. It could possibly make the difference between a team being good, and a team winning a championship. Before the Lakers, Houston repeated in '94 and '95, and we all remember what Hakeem Olajuwon did to opposing centers in his day. Patrick Ewing, The Admiral, and even Young Shaq didn't have a shot in hell in dealing with The Dream back then. Not even close.

Look at today's NBA, and ask this question: is there's one center, even one, that puts the fear of God in anybody when they get on the court? Is there even one? Dwight Howard leads the league in rebounds and blocks, but to this day, I don't think people fear him as a basketball player. Freak of nature, yes. Monstrous athlete, absolutely. But when you see him, do you think of him as a dominant center? Same with Marcus Camby, Joakim Noah, Kendrick Perkins, Andrew Bogut, Andrew Bynum, and the list goes on. They're all good centers, but would you build a team around any of these dudes? I understand they do what their teams need them to do, which, in actuality, is all that should matter, but it's still hard not to think back on the days when dominant centers were rampant. Back in the day, you could build a team around Ewing, Alonzo Mourning, The Admiral, The Dream, and Shaq. The only one that doesn't have a ring is Patrick Ewing, but he played in the era of The Jordan.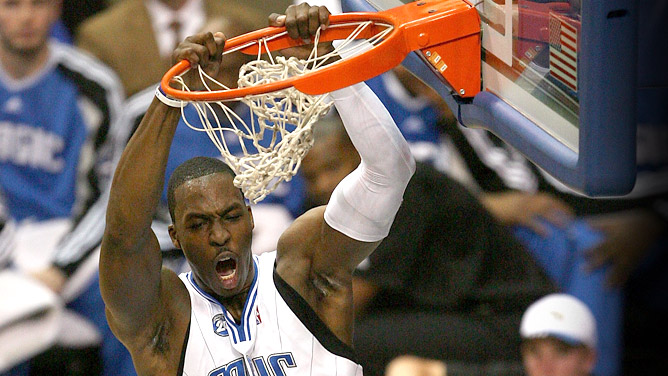 Maybe it's nostalgia setting in for me, seeing today's NBA and being of the belief that if even one contender had a monster at the center position, they'd be in serious contention for the championship. If a contending team had that one player they could throw the ball to in the post, and let do work, they'd be hoisting the Larry O'Brien trophy in June. For now though, all that's left to do is reminisce, and unless Yao comes back healthy, or Big Al gets a change of address, the days of seeing dominant centers on a regular basis are over.

Be easy.
-K. Masenda
http://www.edthesportsfan.com/