With the Super Bowl quickly approaching, plenty of debates have circled around for football fans everywhere. Who's got the edge? Who's this, and who's that? For us at

ETSF

, we figure the best way to culminate a debate is by publishing our own top-ten list, and for this particular list, we'll be looking at the top-ten signal callers in the NFL.

A big thanks goes out to The Rev, The NFL Chick, and

MKRob

, who all handle their business in the

blogosphere

. The three of them helped to make this post a reality, and for that, we are grateful. To make this clear, each panelist used this season as their barometer, but were also given the freedom to use previous success for a player as well. With that said,

lets

gooooo

...

10. Tony

Romo

, Dallas Cowboys -

Romo

was around this position last year, and even with another division title, leading his team to their first playoff win since I was in middle school, as well as helping turn Smiles Austin into a star,

Romo

remains on the lower part of the top-ten. It isn't a total indictment against him, though. He'll continue to be scrutinized to no end, seeing how he has The Star on his helmet, and it's something even his most loyal backers (ex. Kenny, Kevin

Jiles

, and B-Lew) have come to accept. Every panelist has

Romo

on their list, with two of us having him as high as #8. However, when you play for the Cowboys, success is measured by Super Bowls, point-blank.


9. Matt

Schaub

, Houston Texans -

Syreeta

says he's probably the dark horse of this entire list, having him ranked at #6.

MKRob

went higher on his ante, and has

Schaub

as the third-best signal caller in the league, only behind

Brees

and Manning. He led the Texans to their best season in franchise history, and if it wasn't for Kris Brown forgetting how to make field goals, they would have easily made the postseason.



8. Aaron Rodgers, Green Bay Packers

- All five of us sing the praises of Aaron Rodgers on one level or another. The Rev insists the 49

ers

are kicking themselves for taking Alex Smith over him, while

Syreeta

went one further, by saying the loyal

cheeseheads

are saying "Brett Who?" He's definitely on his way to stardom, and it may be sooner than later.



7. Kurt Warner, Arizona Cardinals

- Despite the fact Warner filed his retirement papers, he still has enough juice to make this list, and honestly, how couldn't he? All he did was make the Arizona Cardinals relevant, by leading them to the Super Bowl in 2008, and to a victory over Green Bay in the wild card round this season. He could sit around the house, hang out, go back and bag groceries, miss training camp, and STILL come back to the Cardinals and be their starting quarterback.

6. Lorenzo

Favre

, Minnesota Vikings - It's truly something to see the panelists opinions of The Great Brett Lorenzo

Favre

. The Rev has the ultimate love-hate relationship with him, by acknowledging his ridiculous season, yet being ridiculously annoyed with his retirement antics. Ed became a

Favre

backer, after seeing him get his tail whooped, but continuing to come back and play like a G, in the NFC Championship Game. I'll admit that

Favre

is my dude, and will most likely continue to give him the benefit of the doubt. After the year he had, he can take all the time he wants to make up his mind.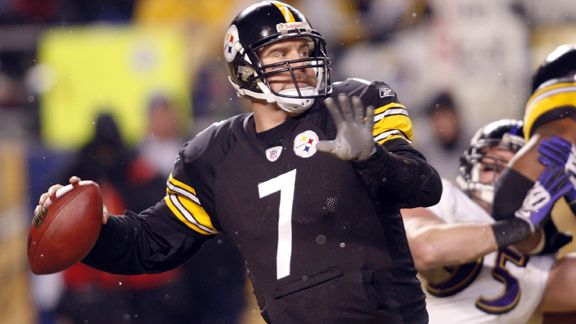 5. Ben

Roethlisberger

, Pittsburgh

Steelers

- Ed gives Big Ben the ultimate benefit of the doubt for last season's struggles of the

Steelers

. The fact that Ben has two rings, and has consistently led his team to victory after victory gives him a pass. The Rev truly hates Ben

Roethlisberger

, which pretty much comes with the territory of being the quarterback of the

Steelers

. Even with that, he has him ranked #7 on his list. In his words, "the guy is good, even if he is a stupid oaf who holds onto the ball too much." For me? Big Ben is second only to Peyton Manning, as the best quarterback in football. I trust him more at the end of a game than any other quarterback in the entire league.



4. Philip Rivers, San Diego Chargers

- I'll forever hate

Norv

Turner for not coaching his team to a victory over the Jets in the playoffs. If he did his damn job, my article about Philip Rivers being better than Drew

Brees

would be plastered everywhere, because HE would be the quarterback representing the AFC against Drew

Brees

and the Saints.

Nonetheless

, he still ranks pretty high on

everyone's

lists.

Syreeta

loves him even more than I do, while The Rev acknowledges that Rivers continues to get better and better each season.


3. Tom Brady, New England Patriots

- At this point, it's safe to say Brady gets the benefit of the doubt more than any quarterback in football, but when you look at what he's done, with a various cast of characters, along with coming back from his knee injury, how can anyone argue he hasn't earned it? He's better than a majority of the

QBs

right now, despite the obvious fact that he's not fully recovered from his injury. Ed would take him in a "Brady-Manning" Best QB of All-Time Debate

anyday

, as would I. However, since this list is about right now, he's right where he should be. The best way to sum up Brady's greatness? In the words of

Syreeta

, he's top-five, because "he's Tom Freaking Brady." No argument here.

2. Drew

Brees

, New Orleans Saints -

Brees

has been dancing with elite status for the past few seasons, and now that he's in the Super Bowl, he's officially arrived in the eyes of every panelist for this post. The Rev says no one has played better than

Brees

this season, and as far as he's concerned, he puts

Brees

and Manning on an equal level, as far as this season goes. Ed gives

Brees

the nod over Rivers, due to the title games appearances and the Super Bowl berth. If

Brees

leads his team to victory on Sunday night, he'll be responsible for the biggest celebration that the city of New Orleans will ever see.


1. Peyton Manning, Indianapolis Colts

- The unanimous selection for the best quarterback in football is Peyton Manning. Do we really have to explain why this is? The Rev says there's not another player alive who frightens you to death at the end of a game more than Manning (I disagree, but whatever).

Syreeta

calls him a machine, I call him a maestro, but whatever you call him, when it comes to right now, you gotta call him...the best.

Omissions:

Donovan

McNabb

, Philadelphia Eagles -

McNabb

just missed the cut, which leads me to believe, more than ever, that it's time for him to find a new home. I'm convinced it can't work in Philly anymore, no matter what anyone says. Four of us have him on our list, but

no one

has him higher than #8.



Vince Young, Tennessee Titans

- The consensus was if Young was put in sooner, the Titans would have been back in the playoffs. You may not be a fan of how he gets it done, but the man knows how to win, and when you look at it, that's all that matters.





What do you think, who's in your Top 10? Weigh in and discuss.



Be easy.

-K.

Masenda


www.edthesportsfan.com