Lets take a flashback to 2004...

In March of 2004, the Philadelphia Eagles were at a crossroads. They had an elite team, with a swarming defense and an offense who effectively matriculates the ball up and down the field. Donovan McNabb at this point had asserted himself as the best QB in the NFC, yet at that time besides do everything back Brian Westbrook, had ZERO weapons in the receiving core. I'm sorry but James Trash Thrash, Freddie "Fraud" Mitchell, and Todd "I'm Made Out Of Balsam Wood"
Pinkston were not cutting it.

Philadelphia had to make a decision, because they were facing a more horrible fate only held prior by the Buffalo Bills, to go to the NFC Championship and LOSE 3 times in row. Something had to be done.

They went out and traded for Terrell Owens, and things changed for better and for worse for the Eagles.

We all know how this story ended, in 14 games magic was made in the City of Brotherly Love. Owens made life easy on McNabb, and with the pressure lifted off of Westbrook, Chad Lewis, and the other anemic wide receivers the unit turned into a powerhouse. An ankle injury from Owens almost derailed their season, yet McNabb and the Eagles defense got Philly to the Super Bowl, then T.O. miraculously pulled off one of the greatest performances in Super Bowl history. Missteps on defense and costly interceptions on offense prevented Philadelphia from bringing home an ultimate prize, the championship. The Eagles lose by 3 to the Patriots.

(Ok, yes there was a fallout the following year and it invariably broke up one of the most dynamic QB-WR duos in history. However, ask any Eagles fan was it worth it to get a chance to the Super Bowl. All Eagles fans are nodding silently)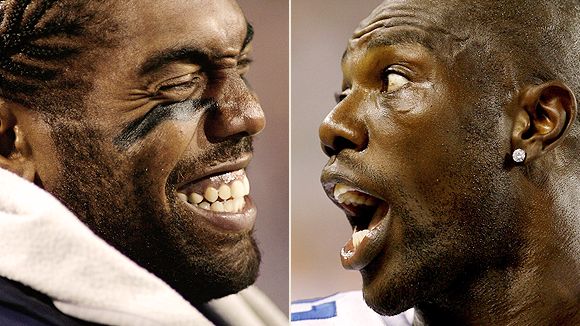 Now, in my honest opinion the Indianapolis Colts offense AS IS is better than the Eagles offense in its finest hour with T.O. Yet, have we watched Indy over the last couple of years? They are a finesse offense, with pretty good athletes and a cerebral QB who fits footballs into tight windows. Yet, is there one person on the offensive side of the football field that you fear?

Fear my friends, has a harrowing effect on a defense. Ask folks who had to deal with Randy Moss in his prime.

Now, we all know who Brandon Marshall is? He's affectionately referred to as "Beast" and one could make the claim that he is the best WR in football. He's 6'4", 229 pounds. He runs a 4.5 40-time. He already holds the record for most catches in a game in NFL history. In his last 3 years he's caught over 100 passes per season and has 23 touchdowns in that time frame.

Hell, we know believe that Kyle Orton is a legitimate QB in this league. That my friends, is exceptional.

We remember what happened when Randy Moss went to the Patriots, who also already had an elite offense. They went on to have the greatest offensive season in NFL history, with Tom Brady throwing for more touchdowns then anyone ever in single-season history, resurrected Randy Moss as the scariest wideout in football, and thrusted Wes Welker into the best slot receiver in the game today. They went 18-0 and go to Super Bowl 42 and their offensive line basically went to shambles. The Patriots lose by 3 to the Giants.

Is this a theme or is this a chance to break the trend. You add an elite wide receiver to an already elite offense, thrust your team into the stratosphere of football teams yet ultimately lose by 3 in the Super Bowl.

Well, the Colts lost to a team in the Saints who broke the ultimate trend of suckitude in their franchise's history. I say Peyton Manning would love to have Brandon Marshall to throw to, and I honestly believe that if you add #15 onto that squad who's defense is much better than anyone truly understands...why not?



This seems to easy of a decision to me, you make this happen if you can afford it. Make a real run for greatness Peyton, go get Marshall in a Colts uniform.

-Ed.
www.edthesportsfan.com
**Quick note - Please check out tonight's radio show "Unsportsmanlike Conduct" on BlogTalkRadio at 10pm Eastern!
CLICK HERE
for more information! See you tonight!**