After watching the Celtics lose another game they had no business losing last night, a revelation settled within me that's been bubbling for the past month or so. It's one that I've finally come to accept, despite the fact that one of my favorite players who ever lived, Kevin Garnett, is on the court. It's one I've swallowed, despite the fact that Rajon Rondo has become a legitimate top-ten point guard in the entire league. It's one I've come to accept, even with Kendrick Perkins becoming one of the better centers in the NBA. The fact of the matter is the three-year window I gave the Celtics to win championships has officially slammed shut. The locks are on, and the holes where windows used to be are now boarded up with the same nail gun Chris and Snoop used in The Wire (season four). Too many things would have to happen for the Celtics to win the championship this year; things which I've come to accept aren't going to happen. So why has the window slammed shut on Boston now?

They Got Old - For one, to quote the narrator in Life, "they got old." We all knew the team was originally built around Pierce/Garnett/Allen, and for the first year of them playing together, they stayed healthy, and stormed their way to the championship. They were on their way to the same thing last season, and then KG hurt his knee on a play that he and Rondo had run countless times. Once that happened, the wheels went out of alignment, and now, they've pretty much come off. Father Time doesn't give a damn who you are. When he comes to visit, he takes no prisoners, and hardly anyone is immune to his presence. Think about it: KG's missed time this year with a knee injury, as has Pierce, and Rasheed has missed time. Boston's relying on their youngsters to keep them in the hunt, and while it's good that they've improved, they need their old dogs to keep it together.


Other Teams Have Gotten Better - Secondly, and something that tends to happen in basketball, the teams who challenged them for the past few seasons have gotten significantly better. The best team in the East, record-wise, is Cleveland. After that, you've got Orlando and Atlanta. I've watched Orlando play, and I still think they're not that good, but they've also beaten Boston the last two times they played. Atlanta is scary good, and anyone who saw them play Boston a couple of years ago in the playoffs should know this isn't the same Hawks team from before. I don't think anyone else (Toronto, Charlotte, Miami, and Chicago) can beat them in the playoffs, but I know the ones above them can, that's for damn sure.

They Don't Close Games Anymore - On top of that, Boston doesn't finish games well anymore. What in the blue hell are they doing, losing games when they're ahead by ten or more points in the fourth quarter? I've seen this happen enough to realize it's not a coincidence. Teams aren't scared of the Celtics anymore, and it's showing at the worst of times for 'em.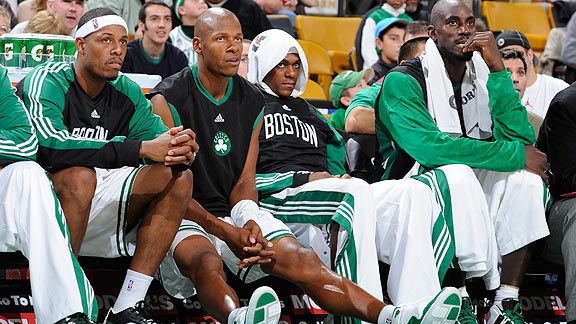 So how does Boston salvage their season? Wait, how does someone have the audacity to complain about a team who is 32-18 going into the All-Star break? Well, this is what happens when you watch the games, as opposed to watching the standings. The Celtics are 14 games above .500, but they aren't playing championship-style basketball. Like I said earlier, they got old, teams got better, and they're not finishing games well. There are whispers about making a move, but that's what they did when they got Shelden Williams and Marquis Daniels, and those moves haven't been worth the keys I'm hitting to type this post. At this point, they may be best riding it out. What is good for them is they've played together for a few years now, and are probably more optimistic than I am, meaning they feel they can turn it around with better play, and with the All Star break here, they can use some time to regroup. In a way, it's good they remain confident, but for someone who sees the writing on the wall, it's only delaying the inevitable. Here's one team that had dreams of getting back to the top of the mountain, but will come up short. It's better that I admit it now in February, as opposed to being sick about it in the playoffs. It was fun while it lasted, but the window has effectively been slammed shut on the Celtics to win a ring this year. The question now is…who's gonna assume the throne in the East? We have a few more months to find out.

Be easy.
-K. Masenda
http://www.edthesportsfan.com/