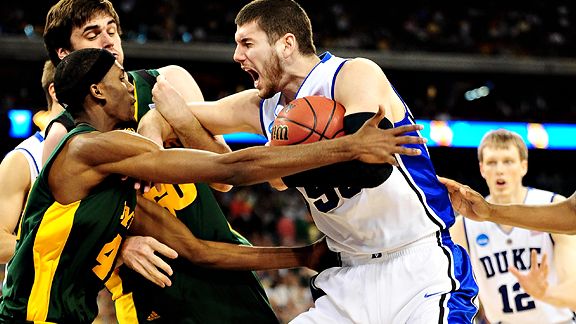 Every man in their life will eventually step into a crossroads situation where they can either stand for something or wallow in nothingness.
What happened between Duke and Baylor at the end of the game should teach all of you who will be potential fathers (and mothers, I know your reading too) that you as a parent have a certain set of responsibilities that you must hold up at all times. However, there is one for young boys that holds precedence over all others, and its really a simple one but if not attended to can go horribly wrong.
You can not under any set of circumstances let your young man grow up to be soft.
Last night we watched a clash of two totally different teams in the Baylor Bears and the Duke Blue Devils. Probably one of the most unlikely matchups in the Elite 8 that I have ever seen in my life. Yes, I am aware that Baylor is in the Big 12 and that Duke's been a perennial powerhouse since I was conceived into this world. However, this is BAYLOR we are talking about. The only two prominent things that their program is known for is a player killing someone and Dave effing Bliss. (Just google him and you'll understand) The miracle job that Scott Drew has done in Waco is nothing short of astounding.
Nevertheless, Duke's overall tenacity per possession was simply amazing and Coach K just out-coached Scott Drew. It happened. Baylor without a doubt had better athletes at all 5 positions and Duke really had no business winning that game. As it were, the game definitely swung when 7-foot-1 big man Brian Zoubek landed a purely blasphemous charge on Quincy Acy and then went free throw, three, and three and the game was over. Baylor went from up 61-60 to being down 67-61 in one freaking minute. It was stunning to watch really, to see the refs flip the script and make the game 8 on 5 vs. Baylor (come on now, you know CBS was not really gonna let Baylor win...do you see who's in the final four? Butler (who is now two wins away from Kenny's prophecy coming true), Michigan State, West Virginia, and now Duke. They weren't gonna have Baylor in there, because no casual fan would watch. They'd say "Why are they letting their Butler play in the Final Four." Yep.) and the prolific long range abilities of Duke. Duke really only allows 3 people on the team to shoot, that's it! And they win games.
So with the game in hand and Baylor doing whatever they can to win the game and a simple inbound to John Scheyer seemed innocent enough, and a newly minted legends in LaceDarius Dunn and Tweety Carter (I told yall about Tweety) went to steal the ball and was called for a foul. Now...Scheyer probably had never been that up close and personal to two characters quite like LaceDarius and Tweety before, so he reacted with a flailing elbow towards their dome. Now...you don't throw an elbow towards someones head and not expect a reaction, right? See, Scheyer didn't know who he was dealing with. LaceDarius is the nice type so he politely shoved him across half-court and basically told him get on with that. Quincy Acy however, saw it a little different and he wasn't really asking for any clarification. What does Scheyer do? He looks at the refs and says, "will you come get LaceDarius and Tweety, please?"
WHAT? You initiated the entire engagement, you don't swing at someones head and not expect some damn retaliation. Quincy Acy was about two seconds away from going Kermit Washington on Scheyer (thus making him Rudy T, if you don't know what I'm referring to
then watch this...
) and effectively turning out the lights. Poor Nolan Smith, I give him some credit as a Dookie and having some honor, recklessly coming to the defense of Scheyer...and he almost caught Scheyer's mollywhop from Acy as well. The refs cowered down to the CBS elite and gave a technical foul to ACY of all people, and gave Duke the ball at half-court, essentially sealing Baylor's fate. Duke wins.
The point? I have two of them...
One, Scheyer's daddy should be ashamed, letting his son give an incredulous look like that after almost elbowing Tweety and LaceDarius like that. If Scheyer had some balls, he would've stood tall for what he did but no he's softer than Charmin, hot Velveeta, pixie sticks, balsam wood, cray paper, and fairies' wishes.
Two, I'm bitter. Yep, no shame in me admitting it. Duke is awesome...they play a phenomenal brand of basketball, there's no way in hell the Blue Devils should've won that game. If the basketball gods have any say so on this Earth, then Duke most go down. Because if they do, the brainwashed collective of Duke Nation (which if they win 2 more games could be the most annoying thing ever...) will continue to grow, and will bring in a new generation of soft-ass basketball players with no soul whatsoever. This just can't happen.
THOUGHTS ON THE WEEKEND? WE ARE DOWN TO FOUR: BUTLER, MICHIGAN STATE, WEST VIRGINIA AND....DUKE. WHO YOU GOT? WEIGH IN AND DISCUSS!
-Ed.
www.edthesportsfan.com