Note: Today on ETSF, one of the fellas who make up our Three-Man Weave on ETSF Radio, Brandon Lewis, brings his insight into this year's March Madness.

Well it's about that time, where wives, girlfriends, and, in some cases, places of employment are put on the backburner. It's March Madness, whose one shining moment can be accomplished. A lot of experts have their locks for the Final Four, such as Kansas, Kentucky, Syracuse, Duke, but there are some teams in the field that may rain on some of these teams' parade, and also destroy your tournament brackets…


Cornell Big Red:

Well most of my patnas know why I'm biased towards this team, but we won't get into that (111111119…..) but this team from the Ivy League has the formula to make a serious run in the tournament. This senior-laden squad, which is led by former Ivy League POY Louis Dale, shooter in Randy Wittman, and a 7-footer Jeff Foote has shown its competiveness throughout the season, so opponents beware. This team has played powers such as Syracuse, and was actually leading the Kansas Jayhawks with under a minute until the "Chi-town Killa" Sherron Collins put a halt to that upset bid. This team you would hate to play as a first round opponent. A little side-note: all 14 players that are on the squad live in the same house. Talk about team chemistry and camaraderie. It's there, folks!!!



New Mexico Lobos:

I guess the Mountain West Conference has more than just football to crash the party. The Lobos finished ranked in the Top 10 this season and look very impressive, so it's safe to say the team from "The Pit" is back (shout-out to Kenny Thomas). Coach Steve Alford has put together some solid talent down there in Albuquerque. The team had a record of 28-3 to end the regular season, but the impressive part about their record is that they are 5-0 against Top 25 opponents. I know that Texas Tech may not count, but during that time they were ranked. They are led by Darrington Hobson and Ramon Martinez. They lack size, but they make up for it, by being scrappy in their frontcourt. With A.J. Hardeman to control the middle at 6'8", they have a legitimate chance to be dancing longer than what people may think.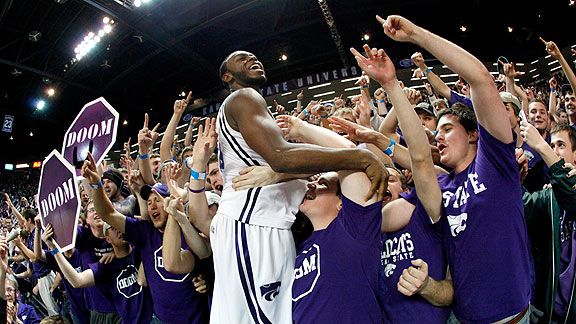 Kansas State Wildcats

: People laugh at me when I say this, but this team is built for a run to the Final Four. Coach Frank Martin is building something special in the "Little Apple," in Manhattan, Kansas. Many fans thought after Bob Huggins left for West Virginia, they would go back to mediocrity, but that was not the case. They arguably have the best backcourt in the NCAA (shout-out to my man @thetillshow) in Denis Clemente and Jacob Pullen. With other role players in Jamar Samuels and Curtis Kelly, they are a formidable threat in crashing the party. With wins over Texas, which at one point was the top-ranked team in the NCAA, and near misses with Kansas, who says they can't go to Indianapolis? I feel they have the mental capacity to put together a solid run. Everyone knows that tournament is all about matchups, and if they get the right one…LOOK OUT!!!



Siena Saints

: Now this team is no Cinderella to the dance. The last two years, they have won in the first round game, and also have a Sweet 16 appearance. They are led by NCAA assist leader Ronald Moore and Alex Franklin. This squad is battle-tested, so they won't have any tournament jitters this time around. Look for them to advance in the tournament this year. Last year's tournament, they upset Ohio State in overtime. In my opinion, look for this team to advance to the Sweet 16 again (yeah, I said it).

Now there are many teams in the field of 65 that I could break down, but I would be writing all night long. Its March Madness time folks, so for those who don't work on Thursday kick back and have a great time while I'm at work(…bummer isn't it)? Lets gooooooooooo!

-Brandon Lewis
www.edthesportsfan.com