They should've never let George Mason crash the party.

When George Mason conquered UConn in 2006, they exercised the demons of past teams, such as Saint Joseph's, Xavier, Memphis, and players such as Jammer Nelson, Lionel Chalmers, Rodney Carney, and more. Those teams got close, but didn't make the Final Four. Before George Mason, the last mid-major team that won the National Championship was the UNLV Runnin' Rebels, but since then, it's been dominated by traditional powers. Sure, the smaller guys would get invited, but they weren't able to crack in the Final Four. That's why what you're seeing right now is beyond special, and also why, sooner than later, a mid-major is gonna win this thing we call March Madness, and when it does, remember who told you it would happen and why.

Players leave early, which affects a bigger program's ability to build: There aren't too many coaches who can handle the realization that they're only gonna have a player for a year, and in the case of John Calipari, he's knows he's probably gonna have three leave on him, once this season's over. Sure, he'll be able to replace them, but something has to be said for the fact that when this philosophy is adopted, it's impossible to build continuity. Plus, when you get players, you're also getting radical AAU coaches, parents, and other hangers-on, who are determined to stick around; partly because they do care about the blue-chipper, but also because they're about to get paid.


Mid-majors are learning how to build effectively: As my boy Jeremy said on ETSF Radio last night, a school that keeps a starting five, learns the fundamentals, and stays together for 3-4 years can beat a team of freshmen who's only played together for six months. Hell, just look at Cornell's team. Eight of the their players live together, so if that doesn't build camaraderie, unity, and continuity, I don't know what does. We've seen it happen, and it will continue to happen at a more rapid clip.

Coaches want to win, and will do what it takes (especially high-profile coaches): John Calipari is King when it comes to being able to handle one-and-done players well. His system is perfect for point guards who want to showcase their skills for the next level, so as long as he wants, he'll be able to get the best guards in the country to play for him. The trade-off is he's not going to have them for long. Bill Self has a similar situation with Xavier Henry, Cincinnati with Lance Stevenson, Georgia Tech with Derrick Favors, and the list goes on. These coaches will do what they gotta do, in order to get the most talented players, but when they do that, they're under more pressure than others, because those same players are gonna dip early to the league.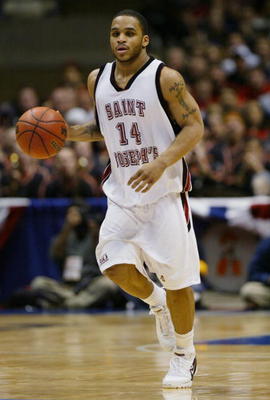 Combo of players leaving early and coaches selling souls = low graduation rates for teams: The graduation rates of college basketball players are pathetic as it is, and it certainly isn't better when you know players are going to leave early. On the flip side, players from mid-majors don't have the huge platform the traditional powers have, so they're more prone to stay around, play for three (if not four) years, and earn their degree. Plus, a coach doesn't have to sell their soul to get them to join his team, and play on a smaller stage.

Georgetown (my team) hasn't won a national title since 1984. Indiana hasn't won one since 1987. UCLA hasn't won one since 1995. Sure, there's Duke and UNC, but besides those, where are the dominant powers in college basketball, in the traditional sense, in today's scope of winning The Big One?

Mid-majors will not sell their souls. They can't afford to, so they're going about things the old-fashioned way, and building programs. George Mason making the Final Four in 2004 was the beginning. It's only a matter of time before they make them by the pound, and when they do, remember that we told you so.


-K. Masenda
www.edthesportsfan.com