**Today on ETSF we have special contributor Phillip Barnett aka "I'm So Hideous" who is a lead contributor at

Forum Blue & Gold

, an ESPN Affiliate of the TrueHoop Network and also the co-creator of Momma There Goes That Man

, a site where true basketball conversation happens. Phil did a review of ESPN's 30 for 30 documentary,

"Winning Time - Reggie Miller vs. The New York Knicks"

so check it out!**



"There is a time to play, and there is a time to win. What do you do in winning time?" These were the words that were permeating through my television's speakers as I re-watched Reggie Miller hit a three over John Starks with his Pacers down by six in game five of the 1995 Eastern Conference Semifinals.

He would go on to steal Anthony Mason's inbounds pass, step back behind the three-point line and knock down another clutch trey over Greg Anthony and then knock down the game winning free throws. Those eight points in nine seconds were relived through Dan Klores' documentary Winning Time: Reggie Miller vs. The New York Knicks, a part of ESPN's 30 for 30 series.



Winning Time, by all accounts, was extremely fun to watch. Klores did more than just put together a collection of highlights from those gruesome Pacers-Knicks playoff series, he put together a story. Watching Winning Time was like reading fiction. Klores built characters, incorporated an interesting plot – rising in action until those epic eight points in nine seconds – until the ending that was tragic for all involved, but extremely enjoyable for those who watched.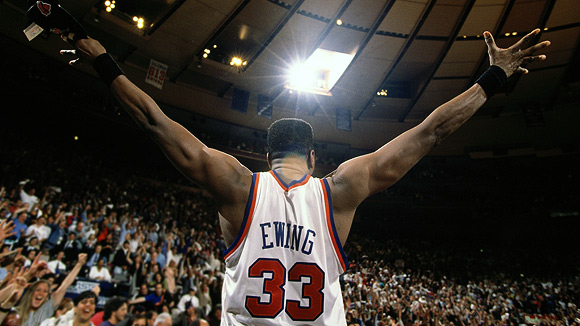 Along with game film, Klores interviewed Reggie Miller, his sister Sheryl, Spike Lee, Patrick Ewing and Mark Jackson among others whose respective perspective gave helped move the story along. We get a look at Reggie's life growing up living in the shadow of Sheryl, who scored 105 on the same night Reggie had his best of his high school career (a measly 40 points in comparison). We get a look at the Reggie Miller/Spike Lee dynamic that will forever live on in NBA lore as it was one of those surreal moments for those who watched it when it happened (the choke sign and the nut grab).
Both Ed and Kenny have heard me rag on and complain about Reggie Miller calling Lakers games on TNT (or any game on TNT for that matter) because I just find it extremely hard to tolerate his voice and gimmicky antics, but it was hard not to like Reggie Miller the player. (And of course, everyone knows that Ed is one of the biggest Reggie Miller fans of all-time...) Klores did a great job of profiling one of the most entertaining NBA players of my lifetime. Klores' Winning Time put on a show in the same way Reggie was able to do when he was at his best.
Some of my favorite things about the documentary included the way Klores took on the Indiana, small city with mid-western values versus the big New York City dichotomy. The portrayal of the cultural differences of the New York fans versus the fans in Indiana was fascinating.

Also, I loved how Klores paid special attention to the physicality of '90s basketball. I loved the montage of guys getting clobbered trying to drive through the lane. Lastly, some of the quotes of Winning Time were incredible. At one point, former New York Knicks shooting guard said, "Man, did this dude just did this?"
If you missed it, Winning Time re-airs on Tuesday, March 16, at Midnight on ESPN2, Thursday, March 18, at 10:30 p.m. on ESPN Classic, Friday, March 19 at 9:30 p.m. on ESPNU and on Saturday, March 20 at 4 p.m. on ESPNU. You can also purchase Winning Time from Amazon.com or from iTunes.



WHAT WERE YOUR THOUGHTS ON THE 30 for 30? DO WE MISS THE HOOP STYLE OF THE '90s? WEIGH IN AND DISCUSS!
-P. Barnett
www.edthesportsfan.com