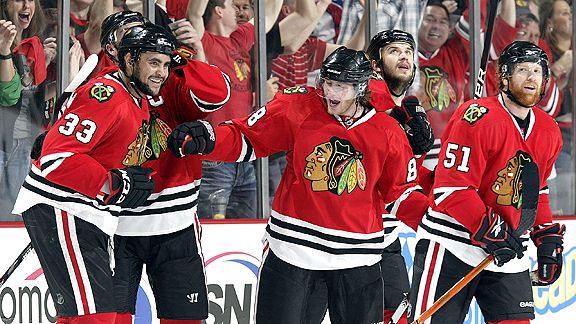 One of the things that come with writing on a sports blog is the exposure that you get to other sports. Admittedly, I came onto ETSF wanting to write about nothing but basketball and football. Despite the fact that Ed still uses middle-school soap to take showers (listen to the end of last week's radio show to understand this; too funny), his lack of growth in that department doesn't hinder his versatility as a sports fan. He's much more knowledgeable about other sports than I am, which is evident in the fact that he's written posts about soccer, the UFC, and other sports that I either don't understand, don't care to understand, or have no interest in. Thanks to his expertise as a sports fan, this postseason serves as an attempt to step out of my familiar confines and step into unchartered territory. This postseason has me escaping from what I've known my entire life, and venture into a place much colder, with a different crowd, rules, and different language, altogether. This postseason constitutes my forum…into hockey.


The journey began a few weeks ago, thanks to some persuasion by Mtrible on Twitter, as well as my brother-in-crime, The Reverend Paul Revere. The Rev's been telling me, for at least the past 12 months, how great hockey is, but I wasn't really trying to hear it back then. However, a sports bar in San Jose finally served as the place where my first actual hockey game would be viewed, and along with my good friend Celia Kelly, we decided to partake in the festivities with the Sharks faithful. There were two TVs, side-by-side, with Game One of the Sharks-Blackhawks on, and the other with Game One of the Eastern Conference Finals on, between Boston and Orlando.

Now, it may be hard to remember how you learned how to read, or how you learned to walk, or even how you learned to drive a car, and if it was even as close to hard as attempting to follow a sport you know nothing about, I'm surprised I'm literate, able to walk in a straight line, or drive a stick-shift right now. The puck was moving so damn fast, the players were moving so quick, cats were just jumping on the ice when they felt like it, and feelings of confusion, bewilderment, and frustration were evident in my body language, if not in actual verbal language. While everyone was screaming, cheering, yelling, groaning, and speaking in hockey-talk, I sat there lost, looked to Celia, and just prayed the basketball game would start. It was evident this would be one of the toughest challenges to date.

Two weeks have passed, and I'm still lost as hell, albeit not as much as before. Since then, there have been a few Twitter watch parties, which consist of a bunch of folks, on Twitter, watching the same thing at the same damn time. My hockey knowledge still sucks, but I was able to sit through (at least) half of Game One of the Stanley Cup Finals and not be totally lost.

Being lost comes with the territory of learning something new. You'll sure to stumble quite a bit, before you're able to prop yourself up and take a few steps, but eventually, you get there, and once you do, the road you had to travel was well worth it.

Onto Game Two.

Be easy.
-K. Masenda
www.edthesportsfan.com
P.S. If you missed our live show, you can download our weekly podcast of "Unsportsmanlike Conduct" on the ETSF Radio Network, as we are live Wednesday's at 9pm Eastern at http://www.blogtalkradio.com/edthesportsfan!