It was astonishing watching last night's game as the Suns bench out-hustled and out-worked a Los Angeles team who seemed ready to dance their way to the NBA Finals. Phoenix has 5 role players that do five completely different things on the floor, and that makes them extremely tough to guard against. Think about it for a second.
Dragic is a well-rounded playmaker, Barbosa is a speed demon with 3-point range, Dudley is the new JYD (does all the dirty work) of the league, Amundson has no other skill than be tough and hang around the rim, and Frye is basically a 6'11" shooting guard. Good luck guarding that crew. If Phoenix were to win the NBA Finals and win their first championship, this collection of players would go down in annuls of history as one of the better units, but who were the best?

Lets take some of the spotlight away from the stars and shine on the best bench units of all-time.
The 1993-95 Houston Rockets Bench:
Don't be fooled by the greatness that was Hakeem Olajuwon and Co... The "Co." was a group of guys that were emerging youngsters and cagey veterans. They were built around the philosophy of being long-range bombers to flank The Dream. That unit was lead by Sam Cassell, and as a rookie he was super fearless. A long range threat and an uncanny ability to drive the lane, Cassell proved early that he could be a starter for many teams in the league. Mario Elie's two main skills were hitting corner threes and fouling people real real hard. Pete Chilcutt? Same thing. Plus bringing "Wild Thing" Chucky Brown and Carl Herrera, they were the quintessential goons for that championship Rockets squad. They made life a lot easier for Rudy T, and ultimately were the supporting cast that helped bring two titles to "Clutch City."
The 1999-2002 Los Angeles Lakers Bench:
Let me just say that there's a part of me that believes that this bench might be as underappreciated as there is. The simple fact that they were pulling these guys off the bench at different times over the Shaqobe era like Robert Horry, Derek Fisher, Rick Fox, Brian Shaw, Isaiah Rider, Mitch Richmond, Devean George, Mark Madsen, and SLAVA MEDVEDENKO (Stephen A. what up) was just unfair.

Not that the group of guys were world beaters, but the Lakers bench at that time in Phil Jackson's hands were like trained assassins out on seek and destroy missions. They made so many plays that went unnoticed that it was unfair. The Robert Horry play. The Derek Fisher play. The Rick Fox curl. The Mark Madsen dance. You get my point.
The 1995-1998 Chicago Bulls Bench:

Toni Kukoc and Steve Kerr. When they were brought on the court you knew what time it was, there wasn't any surprise, there wasn't any doubt, you knew what was going to happen. Toni Kukoc was the lead dog on the second unit along with Pippen down low on the block. Toni had a great ability to be a long range bombed but also facilitate the offense as a 6'10" passer. Steve Kerr was going going to do to two things well, shoot the three and foul the other team's point guard real real hard. (This is now a prerequisite for being an elite bench/role player, you must know how to foul real 'real' hard. Its quite effective, i'll detail this soon.) Along with Randy Brown, who most notably was the biggest camera hog maybe in NBA history (along with ML Carr) as it seemed he was ALWAYS in the camera along with Jordan. Remember when the Bulls won title #4 and Jordan was crying because it was Father's day and his dad passed the year before? WHY WAS RANDY BROWN HUGGING THE BALL WITH HIM??? WTF! Go celebrate and spray champagne on reporters.
Anyway, this bench was very good, but Phil's Bulls team that preceded was better so....
The 1990-1993 Chicago Bulls Bench:

I bet you can ask any diehard fan right now every player on the Bulls bench during their first three titles and they can name AT LEAST five players. Go ahead and try for a minute...
(waiting...)
(waiting...)
(almost...)
Ok, I guarantee the first person you came up with was Cliff Levingston. Probably the livest bench player of all-time. Why? Two reasons.
#1. He came up with the greatest pre-game get hype session of all-time. "WHAT TIME IS IT? GAMETIME, HOOAH!"
#2. Cliff Levingston was an original "JYD", aka Junkyard Dog. Its a great title for players that probably don't fit any one position, and don't have a great skill set for the NBA, but do things that no one else is willing to do. You know, take charges, box out, and dive for loose balls. However, you know what they do the best? They foul real Real REAL hard! Levingston used to come into the lane with all elbows and knees. Dude was like 6'5" (listed at 6'8") and played with a mean disposition the whole time.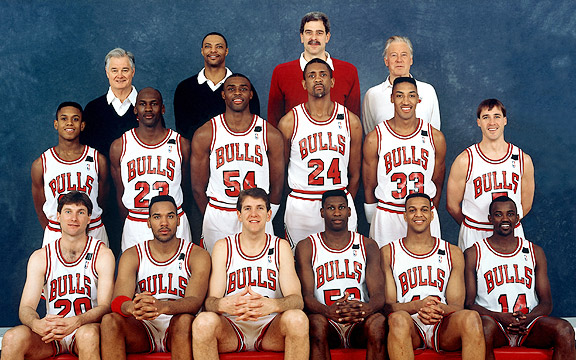 Plus, they had the ultimate 3-point assassin in Craig Hodges. Yes, the same Craig Hodges that won the 3-point shooting contest 3 times. Add in BJ Armstrong, Will Purdue, and my main man...hometown legend Stacey King (Lawton, Oklahoma stand up!) and the Bulls had an entire second unit that could do major work.
The 1988-90 Detroit Pistons Bench:

There was no bigger collection of goons than what was assembled in Detroit. Mind you they had Dennis Rodman, James "Buddha" Edwards and Bill Laimbeer as starters who were goons, but add in Mark Aguirre, Rick Mahorn, John Salley off the bench? They had a 6-man frontline rotation that was unparalleled for being tough, interchangeable, and relentless. Chuck Daly had the Pistons bench playing like, in the words of Lawrence Taylor, "a bunch of crazed dogs having some fun."
Yet for all that being said, there was one player on the Pistons bench that was the most feared player off of one team's bench maybe ever, plus he had arguably one of the best nicknames of all-time.
Some of you might know him as, "The Microwave."
With the ability to spell both Isiah Thomas or Joe Dumars, Vinnie Johnson was simply the scariest man to ever come off the bench. Danny Ainge dubbed him "The Microwave" because Vinnie could heat up the offense of the team in short order, he had the high release jumper, he had handle, and no one on the court could check him. Let the record show that Vinnie hit the game winning shot in 1990 over Portland to win the Pistons' 2nd championship. Detroit doesn't win those titles without #15, and with the goons doing all the hustle work, they were unstoppable.
Notes: I wanted to rank the 1980's Lakers/Celtics bench on here, but I never really watched them play.
Did I forget anyone, who were some of the best bench units you remember? Give us your thoughts!
-Ed.
www.edthesportsfan.com
P.S. If you missed our live show, you can download our weekly podcast of "Unsportsmanlike Conduct" on the ETSF Radio Network, as we are live Wednesday's at 9pm Eastern at http://www.blogtalkradio.com/edthesportsfan!